Stay and play – an endless summer adventure – Myrtle Beach, SC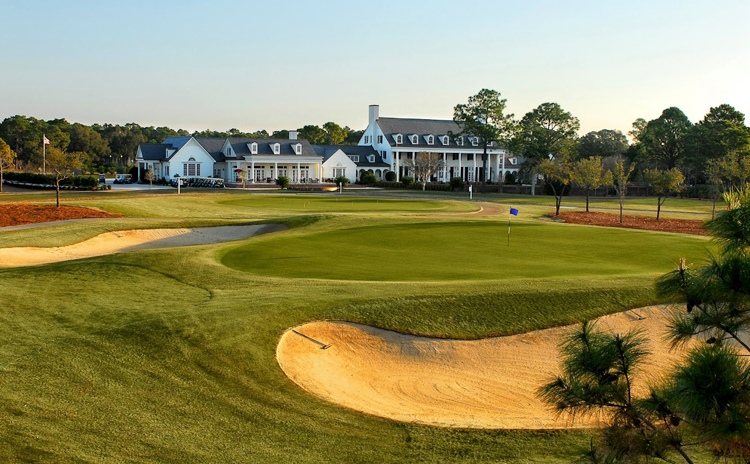 Estimated reading time: 8 minutes – SBFL* Stop 29 – Planned – Hold on tight, fellow adventure seekers! We're continuing our nostalgic journey down memory lane as we compare two epic Intracoastal Waterway (ICW) trips, chronicled in National Geographic. We compare and contrast the observations made by Dorothea and Stuart E. Jones in their 1958 article, "Slow Boat to Florida," and Allan C. Fisher Jr.'s 1973 book, "America's Inland Waterway (ICW)." We have been uncovering the ways in which the ICW has been transformed over the past few decades.
Our journey along the ICW started at our very own Milliarium Aureum – Golden Milestone, the Mile Zero. We embarked on our own Slow Boat to Florida (SBFL) adventure and have had the time of our lives planning to explore all the towns along the way. Now, it's time to say goodbye to our last stop in North Carolina, Southport, and say hello to the sun-and-fun-filled destination of Myrtle Beach, South Carolina!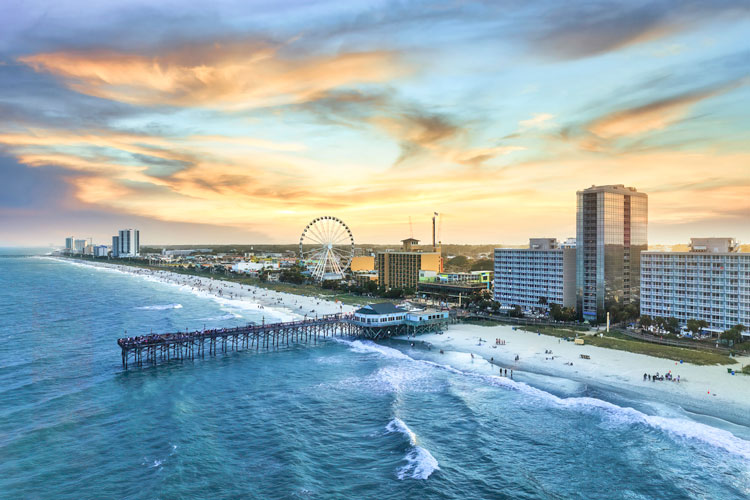 After an uncomplicated, 28-mile trip down the ICW from Southport, North Carolina, we've officially now entered South Carolina and are ready for some more R&R (as if we have not been taking it easy all along the way). Don't you think the more, the merrier? With so many exciting options for adventure, we're excited to see what this stay-and-play destination has in store for us! Myrtle Beach is a popular destination for pleasure boaters along the ICW. With its sunny beaches, bustling marinas, and exciting attractions, it's no wonder why so many boaters stop in this coastal city. From the Atlantic Ocean to the ICW, there is plenty of opportunity for boaters to explore and experience all that Myrtle Beach has to offer. Whether you're looking for an action-packed day of water sports or a relaxing sunset cruise, Myrtle Beach has something for everyone. You can take your boat to one of the many marinas and dock it for the day or, as in our case, for many days.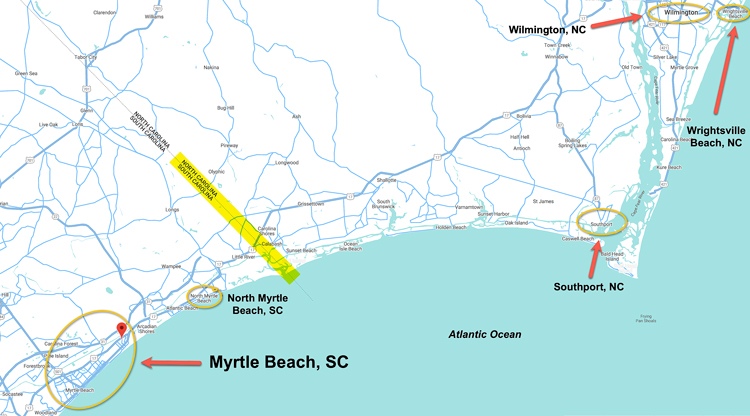 Myrtle Beach, home to about 35,000 permanent residents and millions of visitors, enjoys wide beaches, warm weather, and an incredible range of entertainment and activities. Myrtle Beach was incorporated in 1938 and became a city in 1957 when the permanent population first topped 5,000.
The area that is now Myrtle Beach was originally inhabited by the Waccamaw Native American tribe. The late 1800s saw the beginning of the area's development as a resort destination. By the early 1900s, Myrtle Beach had become a popular vacation spot, with visitors coming to enjoy the scenic oceanfront, the area's many golf courses, and the warm climate.
You are at Grand Strand
The 60 miles of coastline called the Grand Strand connects all the Strand's towns and flourishes in the people, culture and history that thrive there. Centuries ago, the first recorded name for the Myrtle Beach area was "Chicora," which means "the land," by the region's Native American inhabitants. European settlers later dubbed it "Myrtle Beach" for all of the wax myrtle trees common in the area. It was in 1949, a few years before Myrtle Beach officially became a city, that the "Grand Strand" name was brought to life.
An interesting part of the history of the area goes back to the early 1500s. Spanish explorers sailing north from Hispaniola were the first along the Grand Strand. Lucas Vazques de Allyon and his group originally landed near the Cape Fear River in the 1520s. Like Columbus before him, de Allyon was searching for a water route to the Far East. Working southward, he established the first European settlement in the United States at Winyah Bay, SC, 30 miles from present-day Myrtle Beach, in September 1526. That settlement, San Miguel de Guadalupe, was abandoned early the following year when de Allyon and most of the 600 settlers died from hardship and disease.
Golfer's heaven
Today, Myrtle Beach is the premier golf destination in the country! It prides itself on being home to the best, most challenging, and most fun golf courses. How many golf courses do they have? Well, they have not a dozen, two dozen, nor even four dozen. Try over 80 golf courses in the region! From private, semi-private, and public courses, golfers can create a golf experience like no other. Curious about what is out there? Check these links GolfTreck and Myrtle Beach Golf and locate what your heart desires. If it is hard to decide which one to play in, you can always try one golf club a day for a few days or a couple of months.
The Granddaddy
When the Jones' visited Pine Lakes Country Club, "The Granddaddy" was only 30 years old. They were met by Fred Miles, operator of the club, who showed them around. It was Myrtle Beach's first golf course, which opened in 1927. Originally known as Ocean Forest Country Club, the course survived the Great Depression and was renamed Pine Lakes in 1946, helping jump-start the area's emergence into becoming the game's most popular destination.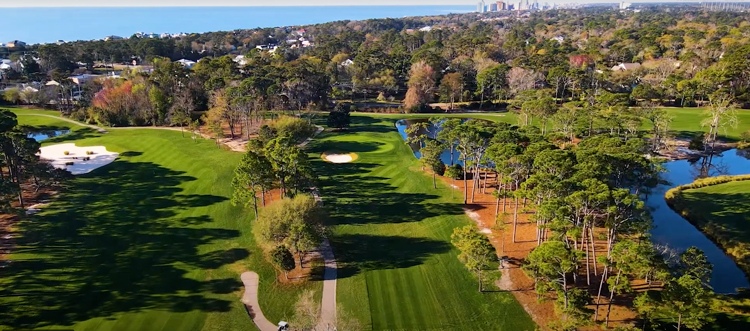 The storied layout was designed by Robert White, a native of St. Andrews, Scotland, and the first president of the PGA of America. Its integrity remains intact today, particularly on a back nine that plays along land featuring considerable undulation.
Complementing the on-course experience is the club's rich history, highlighted by a clubhouse that is part of the National Registry of Historic Places. Pine Lakes was the birthplace of Sports Illustrated. All in all, Pine Lakes International Country Club is known for its challenging golf course, its scenic beauty, and its rich history.
Brookgreen Gardens
While at the country club, Fred Miles also took the Jones' to Brookgreen Gardens to visit. The Jones' wrote, "Brookgreen, 10,000 acres of Carolina low-country beauty, was once the home of the distinguished Allston family. From the Oaks, a neighboring plantation now part of Brookgreen, Aaron Burr's daughter 'Theodosia, bride of Governor Joseph Alston (some of the family used the single "I' spelling), set forth in 1812 for New York. Her ship never reached port. Presumably, it sank in a storm, but some believe pirates seized it. Archer M. Huntington, who gave Virginia the Mariners Museum at Newport News, bought Brookgreen in 1930. He also purchased the Oaks and two other plantations and gave the combined tract in trust for the State. The gardens contain more than 500 species of trees and plants as background for sculptures by a notable group of artists, including the donor's wife, Anna Hyatt Huntington."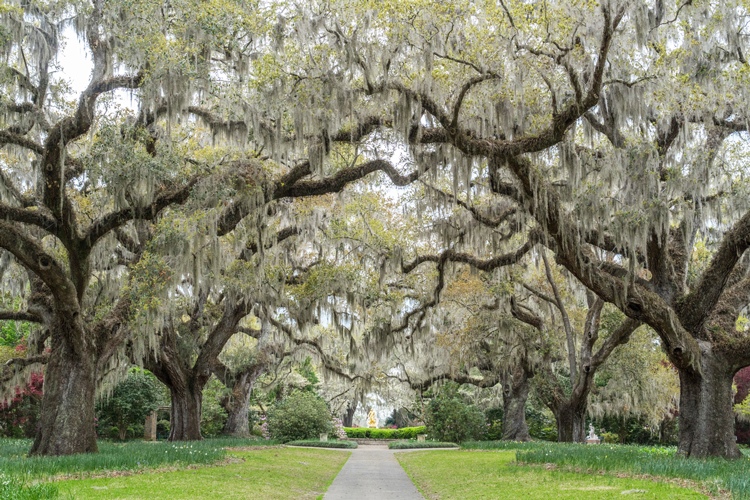 Today Brookgreen Gardens is a unique melding of art, nature, and history. Since its founding in 1931 by Archer and Anna Hyatt Huntington, Brookgreen has been a cultural center for the community. It is America's premier garden and one of a few select places in the United States to have earned accreditation from the American Alliance of Museums and the Association of Zoos and Aquariums, as well as being designated a National Historic Landmark and listed on the National Register of Historic Places. Every day, Brookgreen offers a selection of tours, programs, and exhibits for all ages.
Spend a day swimming and sunbathing
Myrtle Beach is known for its beautiful coastline and stunning beaches, so don't miss the opportunity to relax on the sand, swim in the ocean, and soak up the sun. The City of Myrtle Beach has 114 public beach access points to its gorgeous beaches.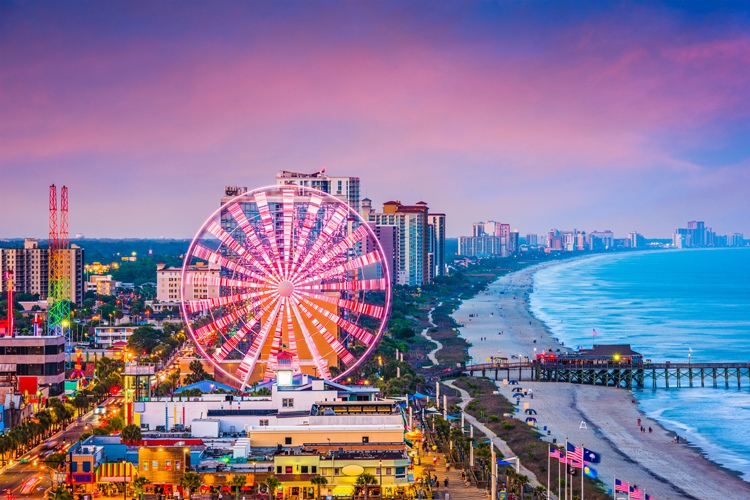 After a day on the water, there is plenty to do on land too, with attractions like the SkyWheel, Broadway at the Beach, and the Myrtle Beach Boardwalk. (See my recommendations below.)
Well, that's it for now. Stay well. I hope to say hello to you if you spot my boat, Life's AOK, in one of the locations that I'm hoping to visit in 2023, that is, if whatever the latest version of the pandemic permits us.

I bid you Fair Winds and Following Seas.
---
Cover photo: Pine Lakes International Country Club
---
A few things I learned
Famous names from Myrtle Beach, SC, include:

Vanna White (television personality)
Darius Rucker (singer and songwriter)
Calvin Borel (jockey)


The Atlantic coast of South Carolina was a popular target for pirates during the 17th and 18th centuries, due to the large number of shipping lanes that ran through the area. Pirates would ambush ships carrying valuable cargo, such as sugar, tobacco, and other goods, and would sometimes hold sailors and passengers for ransom. The pirate presence along the South Carolina coast led to the development of fortifications, such as Fort Sumter in Charleston, to protect against pirate attacks. Today, the history of pirates in South Carolina continues to be an important part of the state's cultural heritage, and many pirate-themed attractions, including museums, tours, and reenactments, can be found throughout the region.

The city has a statue of Elvis Presley wearing a Hawaiian shirt, playing the guitar, and standing in front of a pink Cadillac. This quirky statue is a popular photo opportunity and a source of amusement for visitors and locals alike.

The area has some very interesting geography. Aerial photographs taken near Myrtle Beach in 1930 first revealed the presence of thousands of crater-like features known today as the Carolina Bays. In 1932, officials shared their findings with the scientific community. A 1933 Harper's Magazine article by Edna Muldrow, "The Comet that Hit the Carolinas," alerted the entire country to the bays' existence. The Carolina Bays are tens of thousands of shallow, oval depressions ranging from 200 feet to seven miles (Lake Waccamaw) across, all oriented in a generally northeast-to-southwest direction. Most have an elevated sandy rim more prominent on the southeastern edge. Carolina Bays heavily dot southeastern North Carolina and northeastern South Carolina but can be found scattered along the mid-Atlantic seaboard. Similar oval depressions also have been found in Alaska. The exact origin of the bays is unknown and the subject of much discussion. According to some theories, they were formed by a meteor or comet that broke up upon entering the Earth's atmosphere. Other theories through the years for the bays' formation include giant beavers, whale wallows, underground springs, ocean currents, and wind action.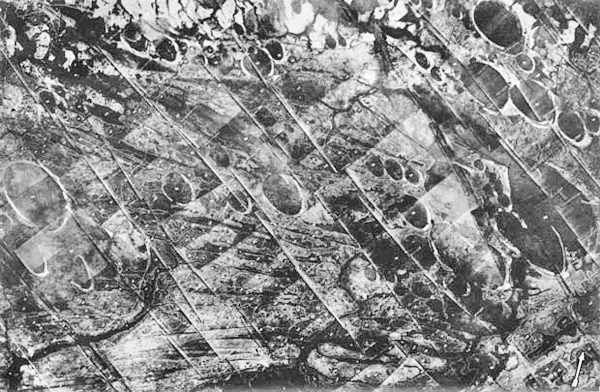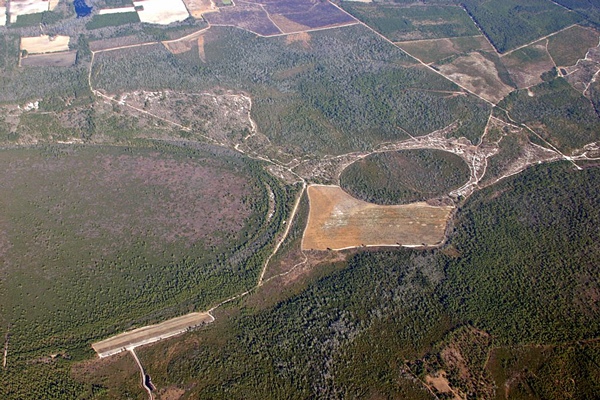 The country music group Alabama played for tips as the house band at The Bowery, just off Ocean Boulevard in downtown Myrtle Beach, beginning in the summer of 1973. The group left Myrtle Beach for Nashville and a major record label contract in 1980, then opened Alabama Theatre at Barefoot Landing in 1993. The name "Alabama" came from a sign used as a backdrop on The Bowery's stage.
You can rent beach chairs and umbrellas through two companies, John's Beach Service and Lack's Beach Service. Locations are Northern City Limits through 82nd Avenue North (Zone 89), 82nd Avenue North through the North Side of Pier 14, between 12th and 14th Avenues North (Zones 39-88) and South Side of Pier 14, between 12th and 14th Avenues North, through Southern City Limits (Zones 1-38).
11 things I recommend
Walk along the Myrtle Beach Boardwalk, a 1.2-mile long oceanfront promenade with shops, restaurants, and attractions.
Visit Broadway at the Beach, a shopping, dining, and entertainment complex with over 100 shops, restaurants, and attractions.
Play a round of golf at one of the many world-class golf courses in the area.
Captain George's is the seafood experience of the Grand Strand. Located directly across from Broadway at the Beach, Captain George's serves up a world-famous seafood buffet in a one-of-a-kind environment that's a treat for all the senses. They have a large all-you-can-eat seafood buffet featuring a wide variety of dishes, including crab legs and other seafood specialties.
The Boathouse Waterway Bar & Grill. This popular dining spot features a menu of fresh seafood and steak, as well as an extensive drink menu and a lively atmosphere.
River City Cafe. This casual eatery offers a menu of classic American fare, including burgers, sandwiches, and salads, all with a waterfront view.
If you are willing to drive out of the city a bit, eat at Gulfstream Cafe. It's not a seafood restaurant known for its fresh seafood and oceanfront dining experience.
Have a drink at The Chemist. This speakeasy-style cocktail bar is tucked away in an unassuming location and offers a menu of creative cocktails and light bites. The Chemist's culinary laboratory is full of exciting and delicious surprises, from craft cocktails served in beakers that bubble and steam to extraordinary cuisine prepared and presented under the molecular gastronomical supervision of Executive Chef Sean C. Thomas. The ambiance is thoroughly scientific, from the periodic table on the floor, elements on the tables, and mad scientist-inspired lighting and glassware. Lab assistants wear lab coats of course, and they guide guests through entertaining and photo-worthy meals.
Pirates Voyage Dinner & Show: This interactive dinner show features a cast of pirates who perform daring feats and acrobatics, as well as live music and a meal served onboard a pirate ship.
Blackbeard's Pirate Cruise: This family-friendly pirate cruise takes visitors on a journey through the Intracoastal Waterway, complete with pirate games, treasure hunts, and face painting.
The Pavilion Park: For kids of all ages. For family fun time.
How easy?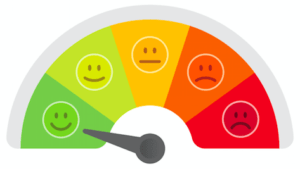 Marinas where you can stay overnight
Grande Dunes Marina, next to Marina Inn at Grande Dunes
This upscale marina is located in the heart of Myrtle Beach and offers a range of amenities for boaters, including slips for boats up to 150 feet, a ship store, a fuel dock, and more. Mile marker 357.


Myrtle Beach Yacht Club
Mile Marker 346, 1.3 miles north of the Little River Swing Bridge.





Harbourgate Marina Club
This exclusive marina club offers a range of amenities, including private boat slips, a swimming pool, a fitness center, and more.





Barefoot Marina
Located outside of Myrtle Beach at North Myrtle Beach, SC. Mile marker 354.
---
*SBFL stands for Slow Boat to Florida. Each numbered heading has two parts. The first is "Planned or Planning to Visit," and when we visit the planned location, a "Visited" label appears at the beginning, next to SBFL.
Join us on our journey of discovery along the Atlantic Intracoastal Waterway (ICW)! We're taking you with us, through our blog "Trips of Discovery," as we follow in the footsteps of three National Geographic editors – Dorothea and Stuart E. Jones and Allan C. Fisher Jr. In this series, we'll show you the past, present and a glimpse into the future, as we compare and contrast the locations visited by the Jones' (1958 National Geographic article, "Slow Boat to Florida") and Fisher (1973 book, "America's Inland Waterway") journeys, respectively. But don't worry, we'll add our own personal touch by sharing our observations and interviews with local residents during our visits.
In this series, we'll take you to some of the most historic and charming spots along the ICW and share our personal observations and experiences. Who knows, you might even be inspired to plan your own adventure!
My wife and I hope you'll be able to join us on the journey, either by boat or by car. Don't hesitate to reach out and share your own insights or experiences about the locations we visit. We'd love to hear from you and keep the conversation going! And if not, don't worry, you can still follow along as armchair travelers! So sit back, relax, and let's embark on our Trips of Discovery of the ICW.