Tips for cruising through America's Great Loop – Part 2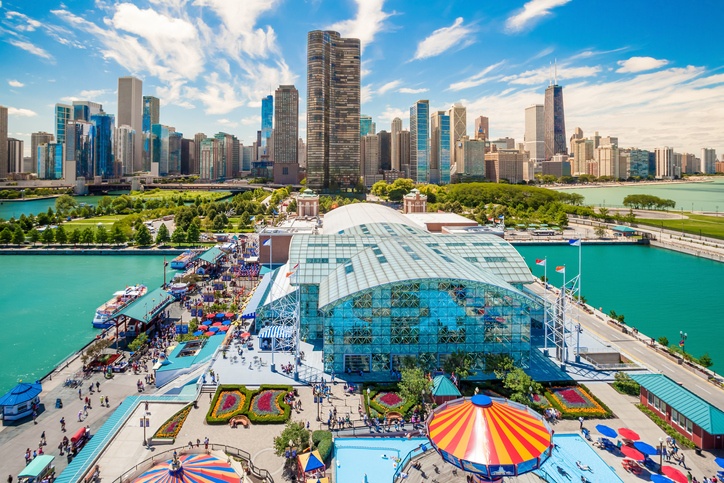 It doesn't matter where you start, as long as you begin .
… Estimated reading time 16 minutes – In Part 1 of this story, perhaps you started to dream about America's Great Loop and got a glimpse of what it is to be a Looper through Phyllis and Dick Radlinskis' eyes and experiences. They left the Chesapeake Bay in the summer of 2014, went North to New York, and from there passed on to Canada's great canal network. After piloting through Canadian waters, they transited through two historic canal systems and 90 locks—yes, 90 locks—then Georgian Bay and the North Channel of Lake Huron.
In September 2014, they finally traveled down the west coast of Michigan, stopping in Harbor Springs, Petoskey, and another beautiful Michigan town, Charlevoix. Finally, they reached Traverse City at the bottom end of Grand Traverse Bay, with its many picture-perfect towns worth visiting.

As they say, there are about 29,000 mornings, that is all we humans get. For me, experiencing the early morning magic on the water or on the shore is a rejuvenation of body and soul at any age. Those who know me well, whenever I am in a beautiful spot or town, especially in coastal locations, know that sooner or later they will always hear me saying, "Should we live here?" That drives my wife crazy, of course. We live in a truly beautiful coastal area and have no reason to think otherwise, but I can't help myself wondering and, yes, dreaming, even if it is momentarily. Honestly, I think I need many lifetimes to enjoy all those wonderful, magical coastal towns on earth that I really would love to live in. The Radlinskis' boat journey inspired me to ask one of those rapid-fire-should-we-live-there-questions, and yes, of course, drove my wife crazy.

One of the Radlinskis' favorite locations happens to be Traverse City in Michigan. After they completed the Canada leg of their trip, they spent a week there. Little did they know, health issues were about to force them to take a sabbatical from their adventure. Consequently, they had to take an extended pause in Traverse City and had to come back at a later date. They stored their boat, "Wye Tug," in a heated marina building in North Port, near Traverse City, until they could come back in August 2016.

Recalling that time, Dick said, "Even at that point, our journey had been the experience of a lifetime and we were anxious to continue on." At that point, they had spent three months on the Wye Tug and slept on it every night.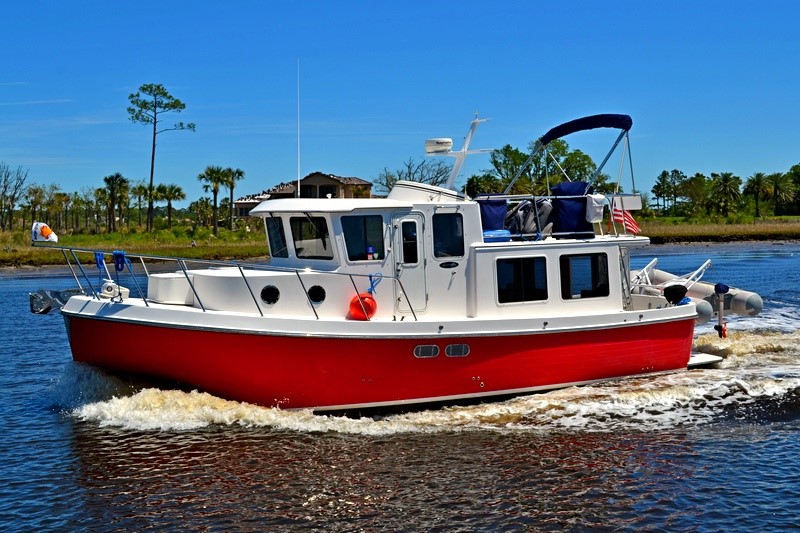 The Wye Tug was a 35' boat. The reason that I am saying "was" is that the Radlinskis sold the boat at the end of their 6,000-mile journey. It took only two weeks to find a buyer, which is very unusual. Today, especially, Phyllis is still missing and talking about their boat. In a reversal of roles, she said, "I did not want to sell it."
If you think that you would need a much larger boat for a year-long journey doing America's Great Loop, think again. It is a very well-known fact that over a century, people with all kind of boats have done the journey using anything from a rowboat to 48' and larger boats. The only requirement is that your boat should not have a draft of more than 5', that is all. (For those who are not familiar with boating lingo, the draft or draught of a boat's hull is the vertical distance between the waterline and the bottom of the hull.)

Recalling their life that was spent living one year on the Wye Tug, Dick said, "It was not a big boat but was very comfortable and we got accustomed to it being our home. Before starting the trip, Phyllis was somewhat apprehensive about the trip and our living together in such a small space. But as it turned out, she liked cruising as much as I do." Phyllis added, "A couple of weeks after returning home, we woke up one morning in our four-bedroom house, looked at each other and both said, " I wish we were back on the boat." Believe it or not, you could hear that from many boaters who have spent a night or more on their boats, who have fallen in love with the magic of boat life.
The adventure must continue
After an extended pause in Traverse City, the Radlinskis resumed their America's Great Loop adventure in the summer of 2016. The boat and they were ready to continue their adventures where they left off. Recalling Traverse City, Dick said it was one of their favorite places. "We spent a week there enjoying it. The water was so clear that you could see the bottom when it was 15' deep," said Dick.

All charged up and health issues left behind, it was time to travel south to Florida via Chicago and the Western River System (Illinois, Mississippi, Ohio, Tennessee, and Tombigbee), ending up in Mobile, Alabama, on the Gulf of Mexico.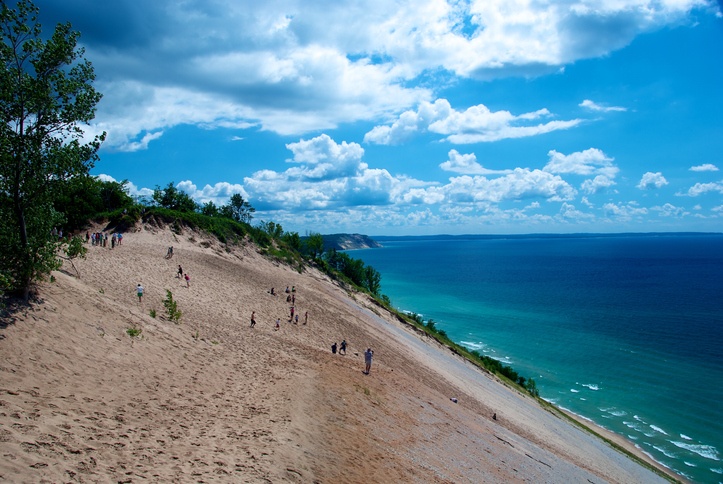 After leaving Traverse City, the couple worked their way down the western shore of Michigan (which is the eastern side of Lake Michigan). Geographically, most of the Michigan shore all the way down to Indiana is high sand dunes. The Radlinskis passed the famous Sleeping Bear Dunes National Lakeshore. Perched along the edge of the large dune that towers above Lake Michigan, this dune, at one time, resembled a sleeping bear.

Along the coast, about every 25-30 miles there are ports where boaters can stop over, referred to as "ports of refuge." Some have a fun atmosphere, like the town of Muskegon. It's the type of town that even if you don't want to, the energy of it would pull you in, to enjoy restaurants, festivals, farmers' markets, and colorful life. Before they reached Chicago, Illinois, the Radlinskis stopped over at 8 different marinas in Michigan and 1 in Illinois.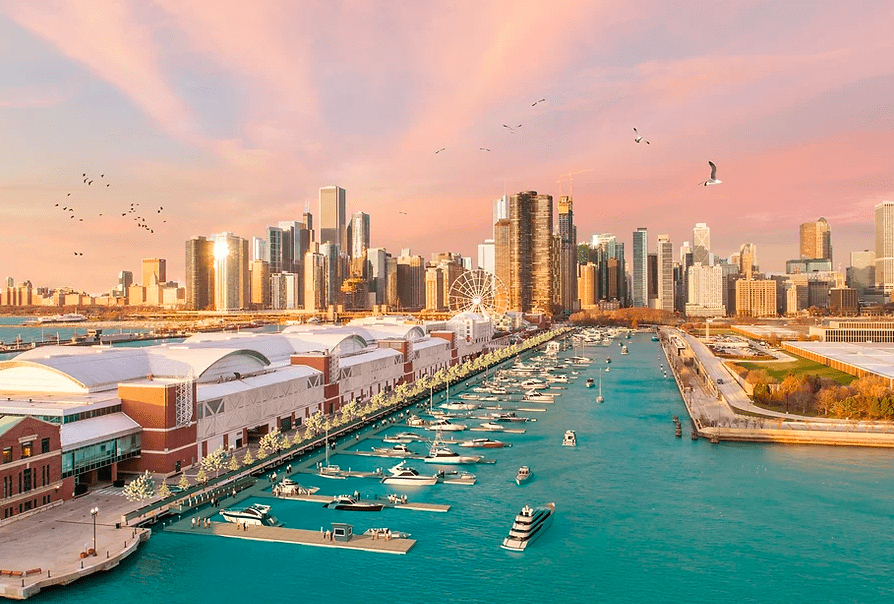 Finally, the couple reached Chicago. They spent five days in a very large marina in downtown Chicago near Navy Pier. They went sightseeing and took the Architectural Tour, which is a narrated boat ride on the Chicago River right through downtown. Dick said, "We did this so that we could take our own boat on the same route and understand what we were looking at along the way."
How do you get from Lake Michigan in the north to the Gulf of Mexico in the south?
One way to do that is you go from Lake Michigan on the north, down to the Gulf of Mexico via the Inland River System, also known as the Western Rivers, a part of the Inland Water Way that the US Army Corps of Engineers maintains. Of the 25,000 miles of inland, intracoastal and coastal waterways and channels in the United States, approximately 12,000 miles constitute the commercially active inland and intracoastal waterway system maintained by the Corps. It includes 191 commercially-active lock sites with 237 lock chambers. Some locks have more than one chamber, often of different dimensions. These locks provide the essential infrastructure that allows commercial vessels to "stair-step" their way through the system and reach distant inland ports such as Minneapolis, Chicago, and Pittsburgh. Along the way, we pleasure boaters also benefit from these well-maintained canal/river roads.
So, let's say this leg of your journey starts at Chicago, near Navy Pier with its 3,300-foot-long pier on the shoreline of Lake Michigan. The brand new Navy Pier Marina will lure you nicely, offering immediate access to hundreds of dining, shopping, and entertainment options for short-term docking, along with everything needed to have a great boating experience in Chicago. It offers luxury 5-star features and amenities for boaters of all kinds on Lake Michigan. In other words, Navy Pier Marina is ideal for any type of guest—Loopers, locals, charters, sailing, yachting and boating clubs, or vacationers.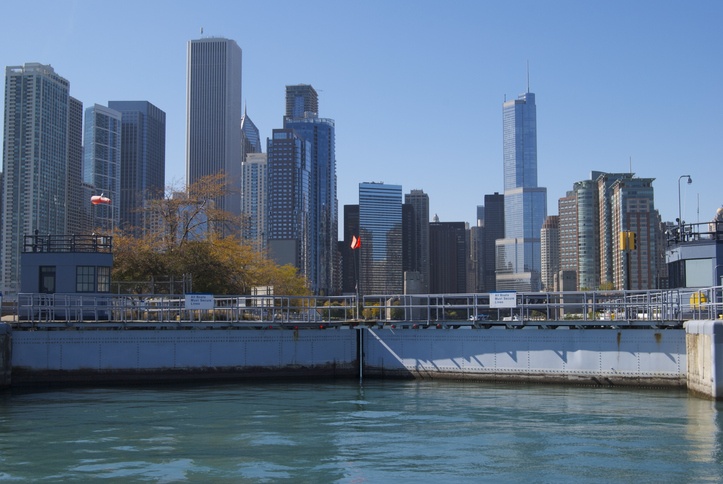 After spending a few days in Chicago, it would be time to take the Chicago Harbor Lock that connects the Lake to the Chicago River. Parts of the Chicago River are not, strictly speaking, a river. In 1900, the U.S. Army Corps of Engineers connected the Illinois River to Lake Michigan by opening the Chicago Sanitary and Shipping Canal, reversing the flow of the Chicago River. Today, the Chicago River flows through canals, as well as rivers, before connecting to the Illinois River. This segment is collectively known as the Illinois Waterway and it connects Lake Michigan to the Mississippi River. It has 8 locks designed to accommodate large commercial barge traffic. The water system conducts river traffic along 333 miles of waterway, which drops nearly 160 feet in elevation between Chicago and Grafton, Illinois.
Asian carp fish barrier on the Illinois Waterway
As you head south of Chicago on the Illinois Waterway, you are about to witness a bizarre event. Welcome to one of the best-known spots to see and, hopefully, not experience being hit by jumping fish. As this true story goes, Asian carp were introduced to the US, supposedly to help southern catfish farmers. Upon their escape into the wild over 30 years ago, they have been migrating north. Today, this invasive fish species now threaten the Great Lakes. In order to prevent the Asian carp from reaching Lake Michigan, there is an electric fish barrier on the Waterway. The US Army Corps of Engineers, which maintains the complete Inland River System, operates a mile-long stretch of river that is electrified. Periodically, the Corps increases the voltage in the water, but they have to make sure they don't go too far to the point that it impacts the electronics on the vessels that pass through it.
Several years ago when they first increased the voltage, recreational boats had to be towed through the barrier until they could confirm that no damage was being done to their electronic navigation equipment or electronically-controlled engines. Obviously, no fishing, swimming, or even stopping is permitted in the barrier. Some groups are so concerned about the Asian carp getting through the barrier and into the Great Lakes that they are demanding that the river system be closed to navigation. It is a major political issue in the Midwest.
Well, here is a tidbit for you. Besides their destructive impact on the aquatic habitat, these carp are known for their tendency to jump into boats. Yes, into boats, no kidding. Just check out the video below!
Dick said that two of the boats that were traveling along with them experienced this phenomenon. "In one case, a large carp jumped on board and when it was being removed, another carp jumped up striking our friend hard enough to cause a lot of pain. In our other friend's case, two fish landed on their beautiful teak deck, making a heck of a mess. They have thin skin and self-destruct when they hit the deck hard. We saw them jumping, but we were lucky enough to avoid them."
Mighty Mississippi vs. Loopers way
If you look at the map, you will notice that on the north, in the Great Lakes area, you can catch the Illinois River, then the mighty Mississippi River and eventually reach the Gulf of Mexico in New Orleans.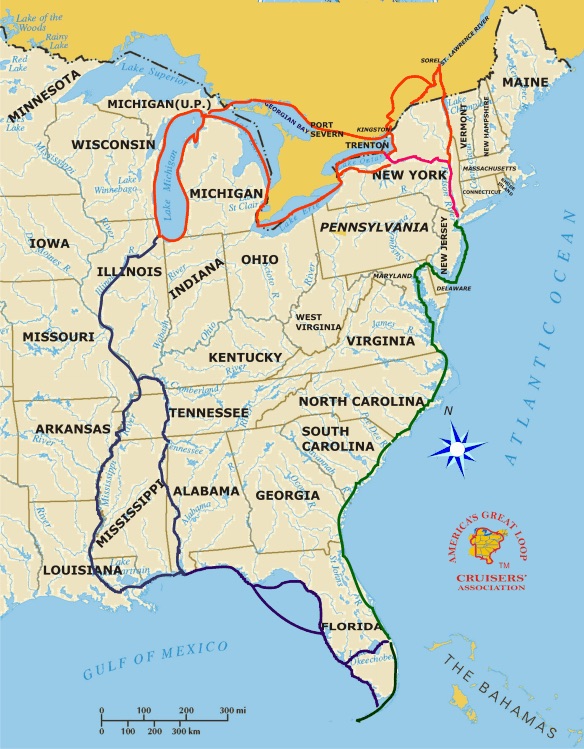 That is one way to go from north to south. However, the lower Mississippi River, with its swift and not-so-clean waters, infrequent fuel stops and few marinas, is not considered very friendly to recreational boaters. Most Loopers take a more scenic, pleasure-boater-friendly route.

Basically, after reaching the Illinois River, you stay on the Mississippi River for only about 200 miles. After passing St. Louis, Missouri, and clearing the urban area and all the parked barges, you head to Hoppies Marina at Mile 158 on the Mississippi River. Hoppies Marina is legendary among Loopers! It is four rusty barges tied to the shore with a fuel station on the middle barge. Transient boaters are put on the outside of the barges, while permanent boats are on the inside. At the end of your 200-mile Mississippi journey, you turn up the Ohio River for 65 miles, then get into the Tennessee River. Then Tennessee Tombigbee Waterway and Tombigbee River.
If you are at Mobile Bay, congratulations, you made it. You have crossed the entire US from north to south and are about to enter the Gulf Of Mexico.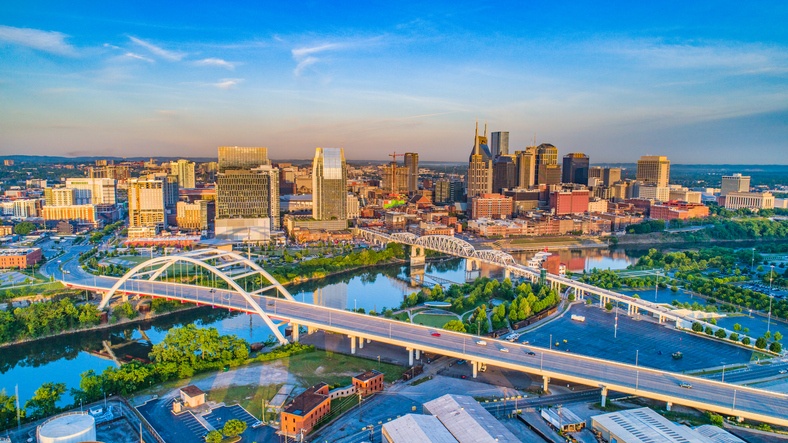 Wait, just remember, you are not in a sprint but on a marathon. Slow down and stay awhile on those major rivers that I mentioned before and only after visiting a few towns, trackback to catch the southbound waterways.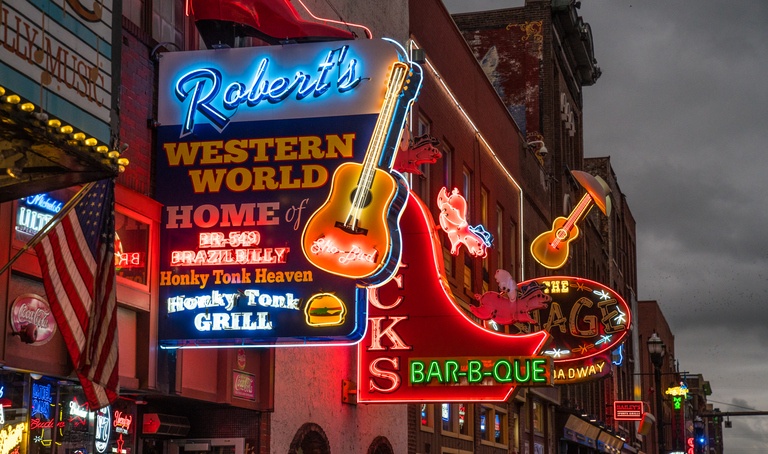 Many cities built on the shores of those rivers are by themselves well-known metropolitan areas and tourist destinations that will guarantee many hours of entertainment and enjoyment, such as Nashville, Tennessee.
So, after their Chicago visit, the Radlinskis headed to take the more common Tennessee River Looper route. While they were piloting through the Mississippi River and the sizable amount of debris in the water, Dick said, "Both of us had to be very focused on the water ahead to avoid striking logs and other debris to keep from damaging our prop, rudder, and shaft. A few other Loopers were not so lucky and ended up spending thousands of dollars on repairs, as well as time onshore." Referring to the whirlpools in the region, he added, "There were also lots of whirlpools in the Mississippi due to under-water structures put in place to direct the flow of water and scour the channel to keep it deep enough for commercial barge traffic. At one point, I looked out the cabin door at the water and realized that if I accidentally fell overboard, I would never survive. I was much more careful after that."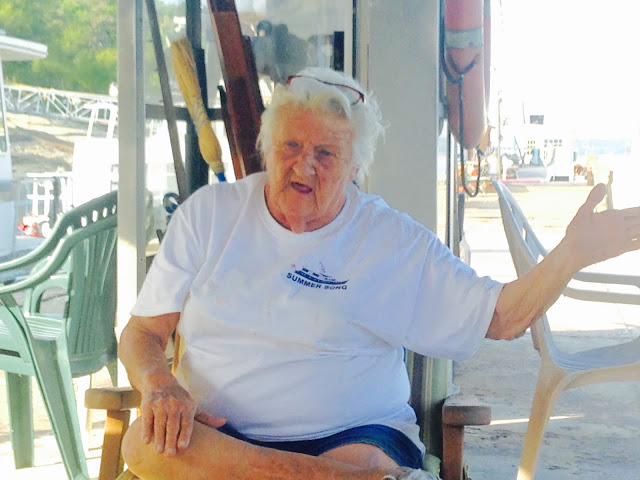 After those challenging spots in the Mississippi River, the Radlinskis said hello to the city of St. Louis as they were passing by. Next came one of the most memorable moments of their journey, they reached Mile 158, the famous Hoppies Marina complete with, yes, a telephone booth on a barge, the very last gas station for miles to come. They had to fill up their gas tanks and definitely attend Fern Hopkins' court, held everyday at 4:00 p.m. next to the gas pumps while Fern took a few puffs of her cigarette. Their pay-off was to get a few important daily insights on what was ahead on the rivers and locks, and got her implicit blessings of their voyage and safe travel. They continued on.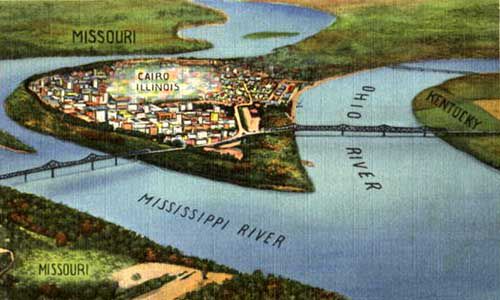 After completing their 200-mile trek down the Mississippi, they reached the point where they needed to get off the Mississippi and get on the Loopers' preferred route on the way further south. They made an eastbound left turn up the Ohio River at Cairo, Illinois (pronounced "Care-O"), on the way to the Tennessee River. The peninsula with the Cairo turn is an interesting location geographically, having the state of Missouri on one bank, Illinois in the middle, and Kentucky on the other bank.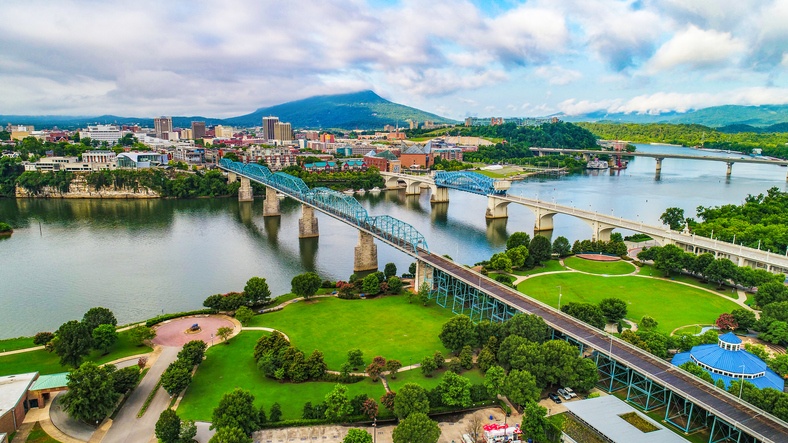 The Radlinskis, as planned, took the Tennessee River all the way to Chattanooga, a town that was named by Lonely Planet magazine as the "Best in the U.S." and "One of 10 U.S. destinations to see in 2018." For boaters, it has a great waterfront.

Dick said, "The Tennessee is a beautiful river that is navigable all the way to Knoxville, and there are multiple dams and locks that form large lakes along the way." The river was once popularly known as the Cherokee River, among other names, as many of the Native American Cherokee Nation had their territory along its banks, especially in eastern Tennessee and northern Alabama. Its current name is derived from the Cherokee village Tanasi. It is the largest tributary of the Ohio River and approximately 652 miles (1,049 km) long and is located in the southeastern United States in the Tennessee Valley.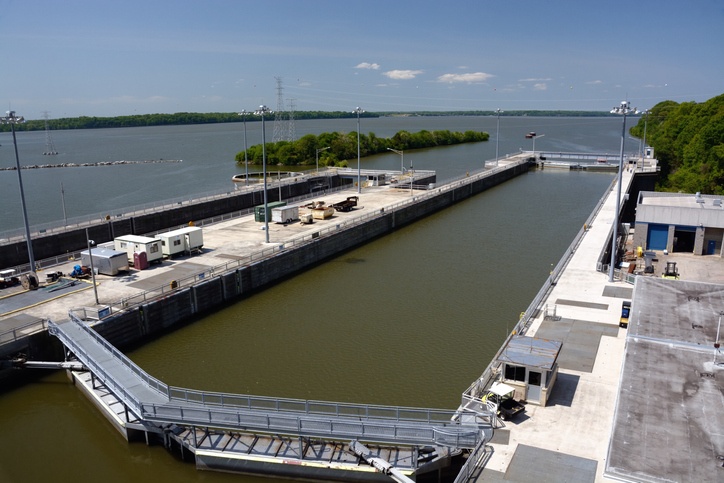 After spending a few days in Chattanooga, it was time to track back in the Tennessee River and reach the entrance of the Tennessee-Tombigbee Waterway. The "Tenn-Tom" joins the Tennessee River in Northeast Mississippi with the old Tombigbee River near Amory, Mississippi. Then they entered the famous Wilson Lock and Dam on their way to the Tenn-Tom.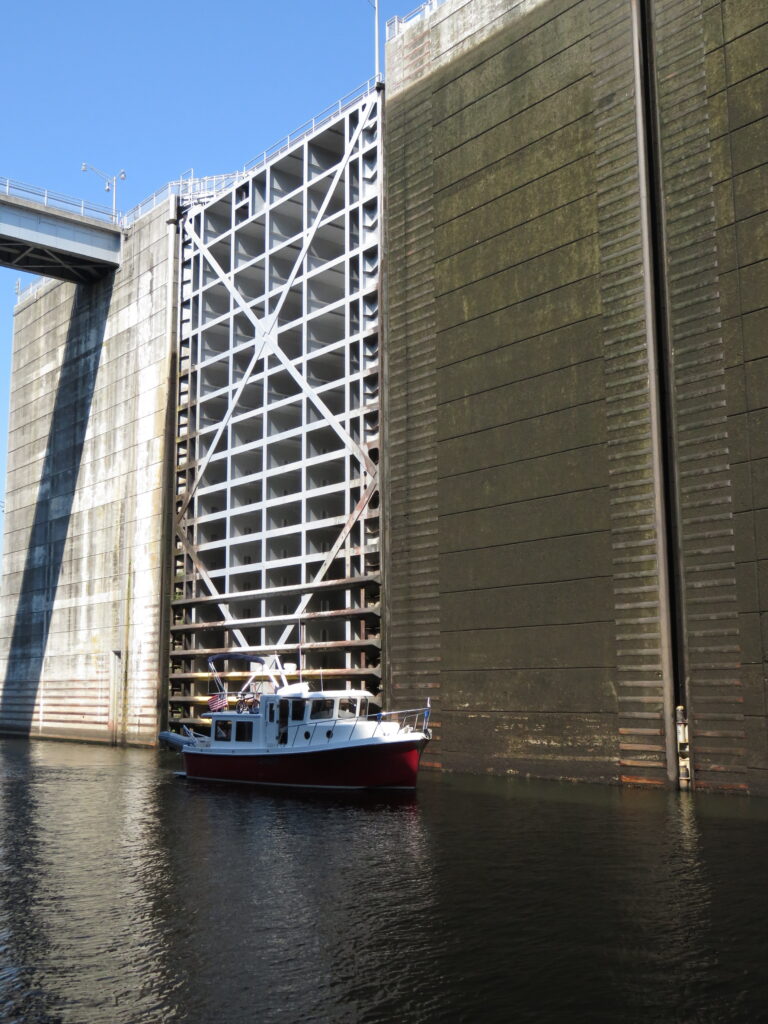 At 120 feet tall, the Wilson Dam Lock that the Radlinskis went through is the tallest single lift lock east of the Rocky Mountains. While some locks lift or lower boats in stages, the Wilson Dam Lock lifts or lowers boats and barges as much as 100 feet in a single operation. Dick said, "It is a site to be seen." (Okay, just like me, if you wonder where the tallest single lift lock in the US is, you have to look west of the Rocky Mountains. The John Day lock on the John Day Dam on the Columbia River has a lift of 110 ft and is the highest in the US. The dam features a navigation lock plus fish ladders on both sides.)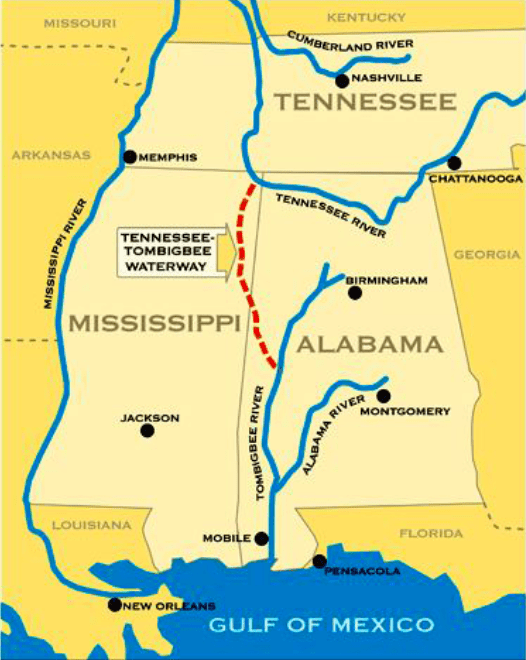 The Tenn-Tom Waterway is 234 miles long and runs from Yellow Creek Port near Pickwick Lake to Demopolis, Alabama. The system features 10 lakes and 12 locks and dams that allow for a shorter navigational route from the interior United States to the Gulf of Mexico. It was constructed by the US Army Corps of Engineers and opened in the 1980's. This is the final link that allows boats to travel from Chicago on Lake Michigan to the Gulf of Mexico. Many people are unaware that such a trip is possible and that this is a major route for commercial barge traffic.
The Radlinskis traveled across Mobile Bay to the Gulf Intracoastal Waterway (GICW), which skirts the northern border of the Gulf and allows traffic to go east and west on the Florida Panhandle without entering the open waters of the Gulf. But of course, the Radlinskis had to take the shorter route and cross the open waters of the Gulf of Mexico. I know a lot of people are doing it, but you could not pay me enough to do it.
Next, in Part 3 of this story, we will complete the full 6,000-mile America's Great Loop and the journey of the Radlinskis.
Well, that's it for now. Stay well. I hope to say hello to you if you spot my boat, Life's AOK, in one of the locations that I'm hoping to visit in 2020, that is if Coronavirus permits us.
I bid you Fair Winds and Following Seas.

---
Cover photo: Navy Pier, a 3,300-foot pier built for tour and excursion boats, as shown before the skyline of Chicago. It is Chicago's number one tourist attraction.
---
4 things I learned
Northern Michigan has exceptional natural beauty. Here are a few sights for you.
The mission of the US Army Corps of Engineers, comprised of soldiers and civilians, is to "Provide vital public engineering services in peace and war to strengthen the U.S security, energize the economy, and reduce risks from disasters." Their duties include building facilities and maintaining them, dredging inland water channels, designing structures that can withstand storms and hurricanes, and participating in national disaster cleanup.
At 120 feet tall, Wilson Dam Lock that the Radlinskis went through is the tallest single lift lock east of the Rocky Mountains. While some locks lift or lower boats in stages, Wilson Dam Lock lifts or lowers boats and barges as much as 100 feet in a single operation. It is a sight to be seen. If you wonder where the tallest single lift lock in the US is, you have to look west of the Rocky Mountains. The John Day Lock on John Day Dam on the Columbia River has a lift of 110 ft and is the highest in the US. The dam features a navigation lock plus fish ladders on both sides.
Cherokees are the largest Native American Nation in the US. "That, from time immemorial, the Cherokee Nation has composed a sovereign and independent State, and in this character have been repeatedly recognized, and still stand recognized by the United States, in the various treaties subsisting between their nation and the United States. Justia US Supreme Court – Cherokee Nation v. Georgia, 30 U.S. 1 (1831)
3 things I recommend
If you are excited about the idea of becoming a Looper but concerned about the cost of it, listen to Captain John's wisdom. "Believing one has to be "rich" to cruise the Loop is a myth. One simply needs to be financially healthy. Indeed, most of us with experience have purchased good used boats near 36-feet, costing $50,000 or less, and we're the ones having the most fun." – Live the Dream
Life may or will happen and get in the way of your adventure. Learn from the experience of the Radlinskis. Start slow and take it slow! This should be the motto of your journey. You are not in a race, but on a journey to have fun. Plan all your spots and excursions to have the most fun out of this once-in-a-lifetime experience so that we will all be envious of you.
If the America's Great Loop journey appeals to you, become a member of America's Great Loop Cruisers Association. Join in their events, start dreaming and learning, and one day execute your plans when the time is right.
How easy?