Tips for cruising through America's Great Loop – Part 1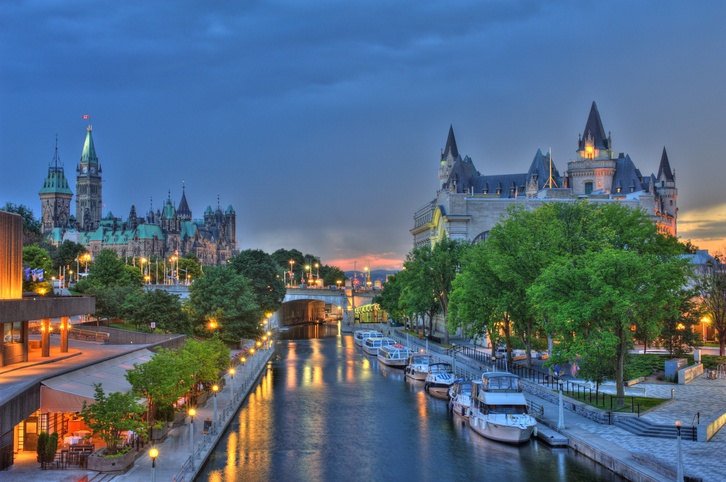 Become a Looper and have the adventure of a lifetime .

… Estimated reading time 16 minutes —  Let's start with the word "Looper." When I say Looper, I'm not referring to a futuristic action-thriller movie nor to a garden looper. I'm referring to a status that you would earn, becoming part of an exclusive club of boaters who have done, one or more times, America's Great Loop by boat, kayak, or whatever floats safely as a watercraft. If you have no boat, that is not a problem—find someone and become a crew member. Remember the old saying, the smartest boater is the one who has a friend with a boat. So you have no excuse not to become a Looper if the idea excites you. Go out there and make some memories.

Start imagining and planning a great adventure, an experience that will most likely change your life for the better. America's Great Loop is one of the great adventures that you can do in your lifetime, safely, and at the end become a member of an exclusive club of Loopers and gain well-deserved bragging rights.
What is America's Great Loop and a "Looper"?
As the National Ocean Service of NOAA explains clearly, "The Great Loop is a continuous waterway that recreational mariners can travel that includes part of the Atlantic, Gulf Intracoastal Waterways, the Great Lakes, Canadian Heritage Canals, and the inland rivers of America's heartland. Anyone who completes the journey is then named an official 'Looper.'" The adventure that is waiting for you will make it possible for you to visit a number of national marine sanctuaries, estuarine research reserves, great American cities, charming Canadian towns, and much more.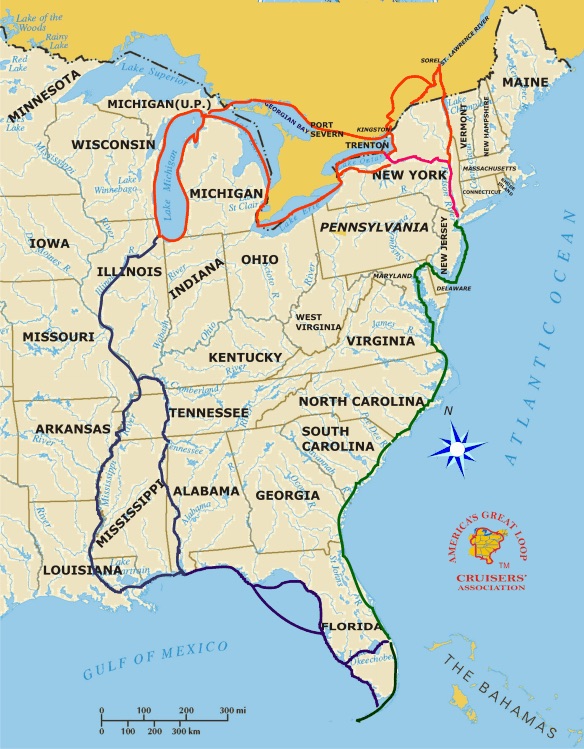 You are looking at a safe and enjoyable boat trip, but you will need a great amount of time. You may be able to do it faster, but give yourself 7 to 12 months—remember, it's the journey, not the destination that makes the adventure great. You also will need a boat with less than a five-foot draft to travel on the inland waterways, as well as NOAA nautical charts, a few other electronic charts, informative books relating to your route, and books about living aboard a boat to give you insights on what to expect in your new lifestyle. Also, most definitely, well before you start your journey, you need to become a member of America's Great Loop Cruisers' Association. In my opinion, having good information and detailed knowledge far in advance, becoming part of a network of like-minded boaters, is not optional.

I have briefly touched upon America's Great Loop in two of my previous posts titled, "Pick your inspiration — 1902, 1958, the 1960s, or 1999" and "7 Tips for a summer vacation with social distancing and Erie Canal Adventures." Also, in my series, Slow Boat to Florida (SBFL*), we have been planning and writing about doing the Eastern part of the Great Loop, the Atlantic Intracoastal Waterway (AICW), from the Chesapeake Bay to Florida. If not for Covid-19, we would have started our six-month-long journey south this October. However, in the end, we still would not have become a Looper, of course.
Freedom is the word to describe the feeling
What is it about the Great Loop? The best way to capture the essence of it is to reach out to others who have done it. First, I will let Super Loopers describe it for us: "There are a few thousand miles of amazing, awe-inspiring natural wonders with ever-changing landscapes. There are hundreds of incredible destinations. You will voyage across Sounds, Bays, Estuaries, down Rivers, across big Lakes, through Canals and Locks, and the experience is breathtakingly spectacular. But when all is said and done, this voyage is ultimately about freedom. That's freedom like most of us have never experienced. 'Out here', you are the Captain. You can go where you want, when you want, and stay as long as you want. You have no job, boss, or business dictating your day's 'to-do list'. You are free to do nothing or free to do something. The choice is totally up to you. Because 98% of this voyage is along very safe inland protected waters, your voyage will be made in safe, easily manageable 'one day at a time' segments."
All of us, pleasure boaters, either know or can definitely relate to the special feeling of freedom on the water. Go anywhere, any which way you wish to and do anything that you want to. From planning and safely piloting a boat, to sleeping and waking up in it, it is definitely an escape from the ordinary. That special feeling of gently rocking to sleep on your boat. Of waking up and saying hello to the sun, feeling the fresh morning air in your lungs, noticing the early morning dew droplets on the surface of your boat reflecting the sunshine. Of a brand new day, reminding you that the horizon that you are looking at on the open water is not a boundary, but an invitation for discovery. These are some of the feelings driving the desire to share our experiences with you—the engine driving TripsOfDiscovery.com since it started back in 2018.

The pay-it-forward attitude of all boaters when a fellow boater needs a favor, a helping hand, or support is an intrinsic part of the truly unique experience of being a pleasure boater and being on the water. If you have not experienced this yet, just wait, keep boating, enjoy it fully, sooner or later you too will observe it. Don't ask me how and why, but somehow our relationships on the water, in the boating life, are inexplicably different and often better than life on land. It is a true form of escaping from the ordinary.
Living the dream
Recently, my wife and I caught up with a couple who became Loopers a few years back. They are Phyllis and Dick Radlinski. Phyllis is a retired United Methodist ordained minister and Dick is a retired engineer. As a lifetime boater, Dick got started boating at age 11 when he and his dad built a Sears 12-foot rowboat kit in their backyard. His dream to become a Looper started back in the 90s after he first read a book about the Great Loop. However, first Dick had to talk Phyllis into retirement in order to do the trip. Although Phyllis has been a boater for 35 years, ever since they got married, she was at first very reluctant about doing the Great Loop. After the journey started, she surprised herself by really enjoying it and starting to feel excited about it, just like Dick. The couple's dream of doing the Great Loop became a reality.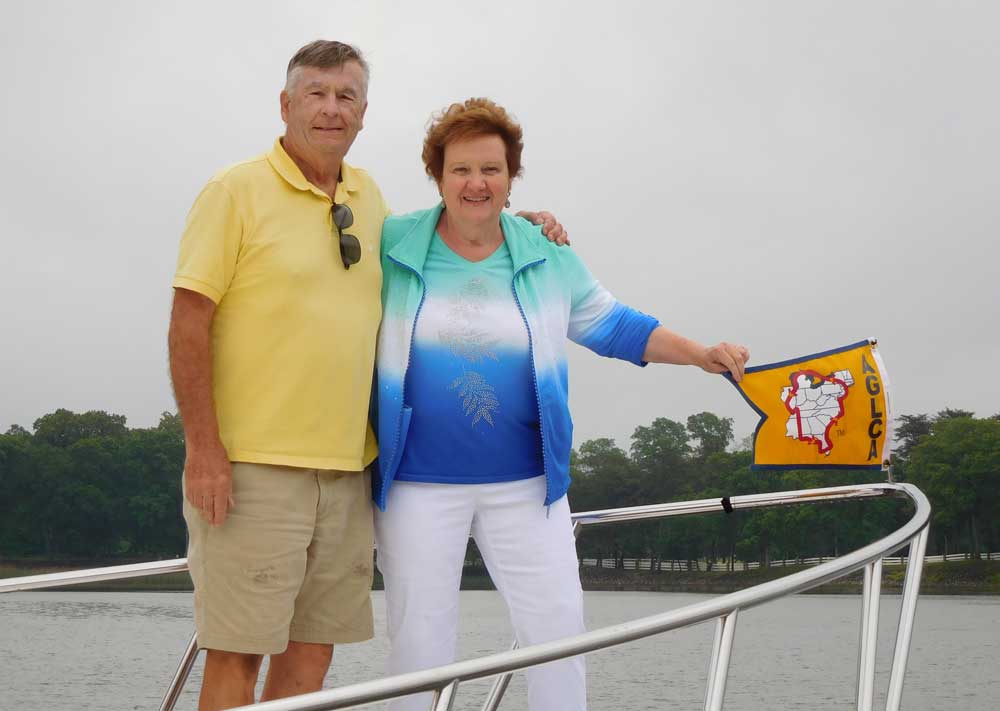 When I asked Phyllis if she was sorry that she had retired, her response, without hesitation, was, "Oh, no, no, no." She found connection looking at all the beautiful things that God has made and saying a prayer every morning for everything. She said, "We have so many beautiful things that I have never seen before."
Dick took on some consulting work while they were on the journey. A couple of clients even came to meet with him while he was in Northern Michigan. He privately thought it was an excuse for the clients to travel there and visit the area.
Car stories
What does one do in order to get their groceries on a long journey? Dick said that a lot of marinas have a car to lend boaters so that you can go shopping. He laughed and added that everyone among the Loopers has a car story because marina cars tend to be mostly "junkers."

Phyllis said they met so many people along the way in the marinas that did not even know them and handed them their car keys, saying,"We know that you will need groceries, go get them." Dick explained that typically when you pull into a marina, you find one to four Loopers and end up meeting other fellow boaters.

Dick talked about a pleasant experience once where they were going to stay in this marina a week and were talking about their plans with other boaters. Their plan was to meet their son in Chicago. There was a local guy with a sailboat talking to them. "He said, you know, I got a third car that we're not even using. You can have it and use it for the week." Dick added, "Then up in Michigan, this Looper had done the Great Loop in the early 90s. When he saw that we were doing the Loop, he said, "You're going to need a car to shop, here take it." He gave us a brand new Chrysler van to drive around to get groceries; he did not even know our names."
First step to becoming a Looper
The very first step to becoming a looper is to become a member of America's Great Loop Cruisers' Association (AGLCA.) That is, you need to do that far in advance of doing the Loop, while you are dreaming or planning to do the Great Loop. As far as I am concerned, that is a "must take" first step. The benefits of AGLCA are priceless, starting with having their burgee. That is a vital key that will open doors for you.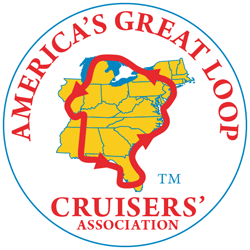 The organization was started back in 1999 by Ron and Eva Stob. They had a simple plan: Form a Great Loop Cruiser organization, distribute a newsletter, mine the minds of the members, include their stories, sell some books. That was about it. At the Stob's first TrawlerFest in Melbourne, FL, in 1999, where they were presenting a seminar, they were given a booth to sell their new book, Honey, Let's Get a Boat. On the table, they placed a sign-up sheet for those who wanted to be part of a new organization, AGLCA.

As the history of AGLCA goes, the Stobs never intended to foster, attend, or manage gatherings, but when TrawlerFest canceled their event in Grand Haven, Michigan, in August 2001, they went there anyway and met the Loopers coming down Lake Michigan. The city was open to their presence and promised to make room for a few boats that might make the stop-over. Twenty boats and seventy members showed up. They did a one-day get-together with a presentation on cruising the rivers, open forum discussion, Getting to Know You game, Looper Crawl, and a potluck dinner. That was the first official gathering, which they called a "Rendezvous."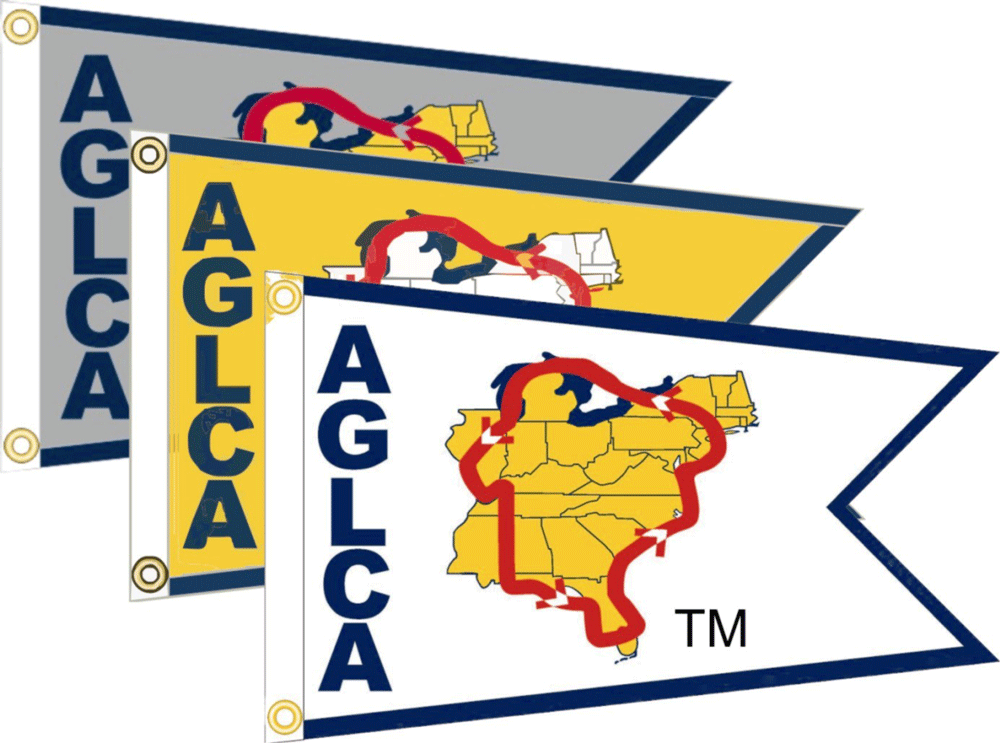 Today, as Kimberly Russo, the Director of AGLCA explains, "We are a group of nearly 7,000 boaters who dream of completing the Great Loop. Joining us means you're surrounding yourself with like-minded people who share your passion for this journey and giving yourself the best resources possible for ensuring the trip is safe and enjoyable." When I asked about the benefits of being a member, she said, "Access to other members who have successfully completed all or parts of the Loop to answer questions and offer advice, seminars to help plan and execute your Great Loop Adventure, the Association's burgee that identifies you as a Looper, newsletters, webinars, podcasts, and more."
Radlinski dreams become a reality
As they say, if you do not have a dream, your dreams cannot become a reality. Well, the Radlinkis had a Great Loop dream and the dream became a reality starting with their first mile, in the summer of 2014. The couple completed the first 2,000 miles, or about one-third, of their cruising of the Great Loop with their 36-foot trawler "Wye Tug" over the three months of that summer. They started out from their dock on the Wye River on the Eastern Shore of the Chesapeake Bay in Maryland.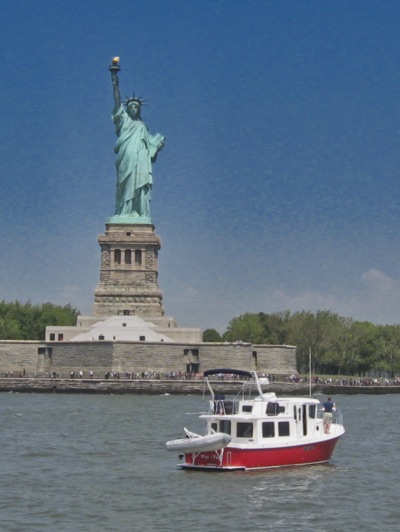 They traveled north up the Atlantic Coast, past New York City into the Hudson River. They continued on through Lake Champlain into Quebec and the St. Lawrence River, where they turned west, heading to Montreal and Ottawa. In Ottawa, they entered a series of canals that took them across Southern Ontario. Next, they took the small craft route through Georgian Bay and the North Channel of Lake Huron, eventually crossing over to Lake Michigan through the Straits of Mackinac. The Radlinskis noted that Canada can be very rocky, particularly in Georgian Bay. You have to be particularly careful there because boats can get damaged on the rocks.
It's the journey, not the destination
Most pleasure boaters do not encounter a canal in the US. The Radlinskis' first canal that they encountered was at the north end of the Hudson River. At this point, boaters have a choice: you can turn left into the Erie Canal heading west towards Lake Erie or Lake Ontario, or you can go straight into the Champlain Canal that takes you north to Lake Champlain.
The couple chose the Champlain route and soon entered the first of the 124 locks through which they would transit over the next three months. Each lock was different and some, as they would discover in Canada, were very unusual. Most were built in the 1800s and are hand-operated, typically by college students.

Hello, Parks Canada
When you buy a lockage and mooring permit for the Historic Canals and Waterways, it is valid in all Parks Canada waterways and canals. Site access is free. However, fees apply for boating services. Also, fees vary depending on the site, the number of locks to pass through, and boat length. The historic canals provide you with a fascinating journey through Canada's history.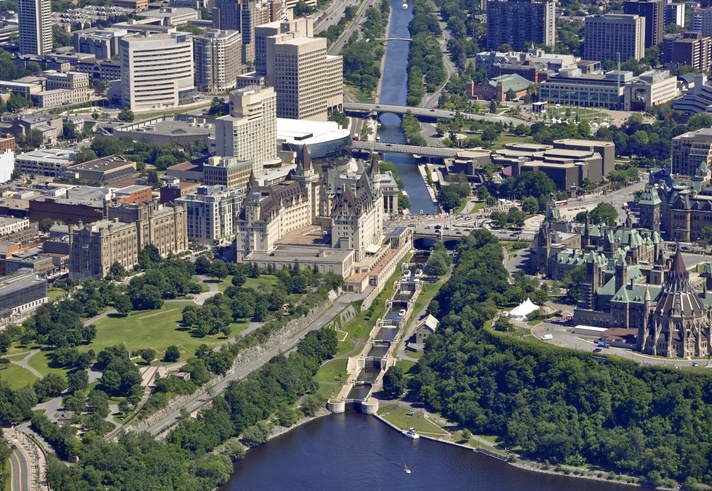 Referring to the surroundings, Dick said, "The grounds are park-like and you are allowed to tie up overnight. Many are in the center of small towns, which allowed us to get off the boat and enjoy the local color. We carried folding bikes on the boat and used them quite a bit to get around on land. They were great for making runs to the grocery and hardware stores for supplies."

Dick continued, "One of the largest locks we encountered is located near Montreal on the St. Lawrence. It permits ships (as well as small recreational craft like ours) to bypass the rapids on the St. Lawrence at Montreal. Commercial traffic has preference and we had to wait 5 hours here to let several big ships go through. Ships barely fit in-between the lock walls. Lots of scraping noise when these guys enter and exit the lock."
Lock 21 – Peterborough Lift Lock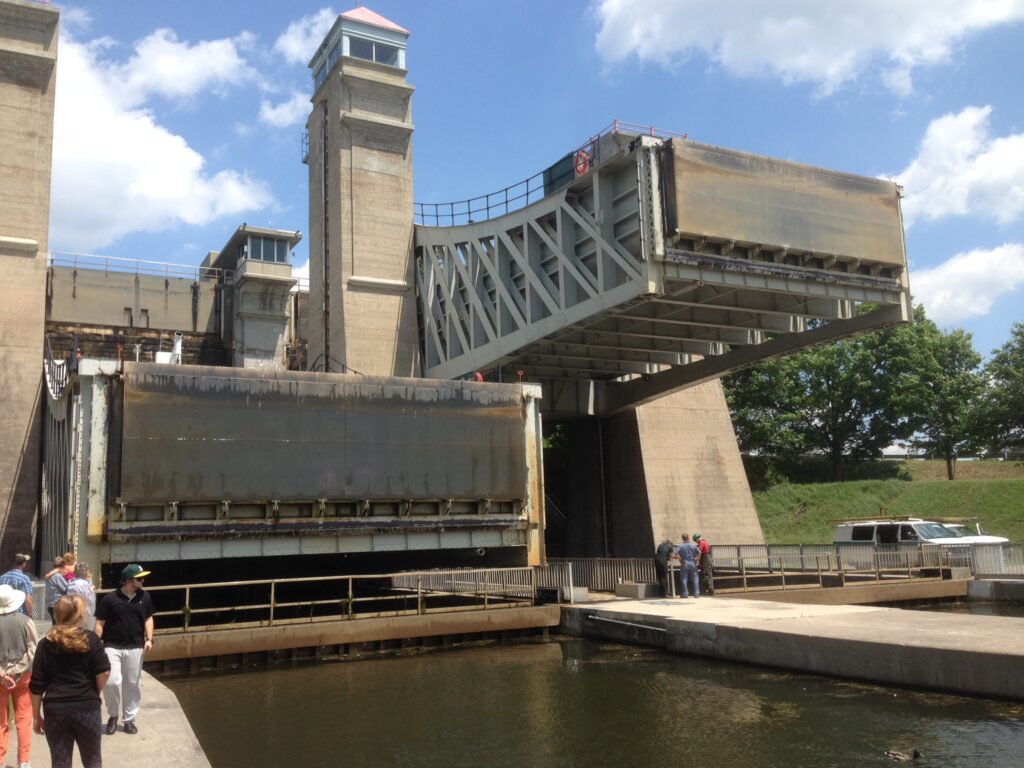 He added, "Along the way, there is a very unusual lock in Peterborough, Ontario, called a lift lock. You actually run your boat into a "tub" of water The upper tub, which is filled with an extra foot of water, pushes down on a piston which creates pressure to raise the lower tub.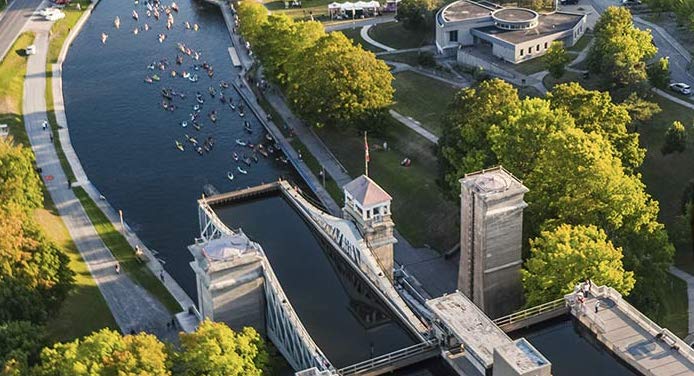 There are doors on each end of each tub which can open and close to seal off the tubs. This lock raised us up 65 feet in the air to connect to the upper canal. Guess what, this was built in 1905!" 
Lock 44 – Big Chute marine railway
Another very unusual lock in Ontario is on the Trent Severn Waterway, called "The Big Chute Marine Railway." You run your boat into a submerged railcar, the operators support your boat with adjustable slings (controlled by hydraulics) and then the railcar comes out of the water, travels over a road, and descends a very long, steep hill into a body of water below. You stay on the boat the whole time.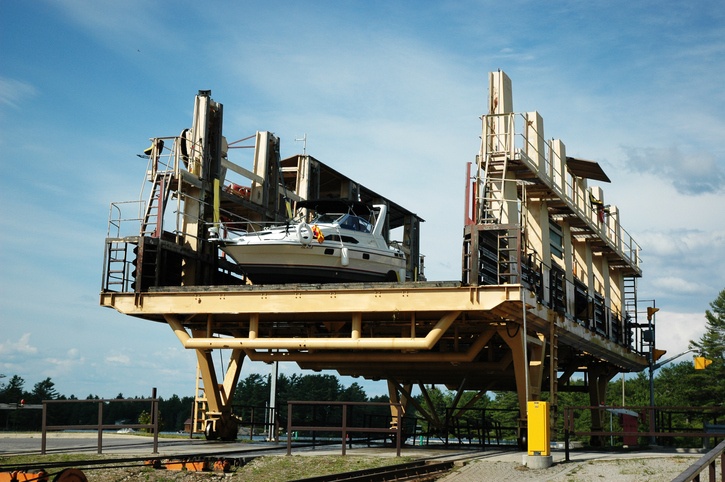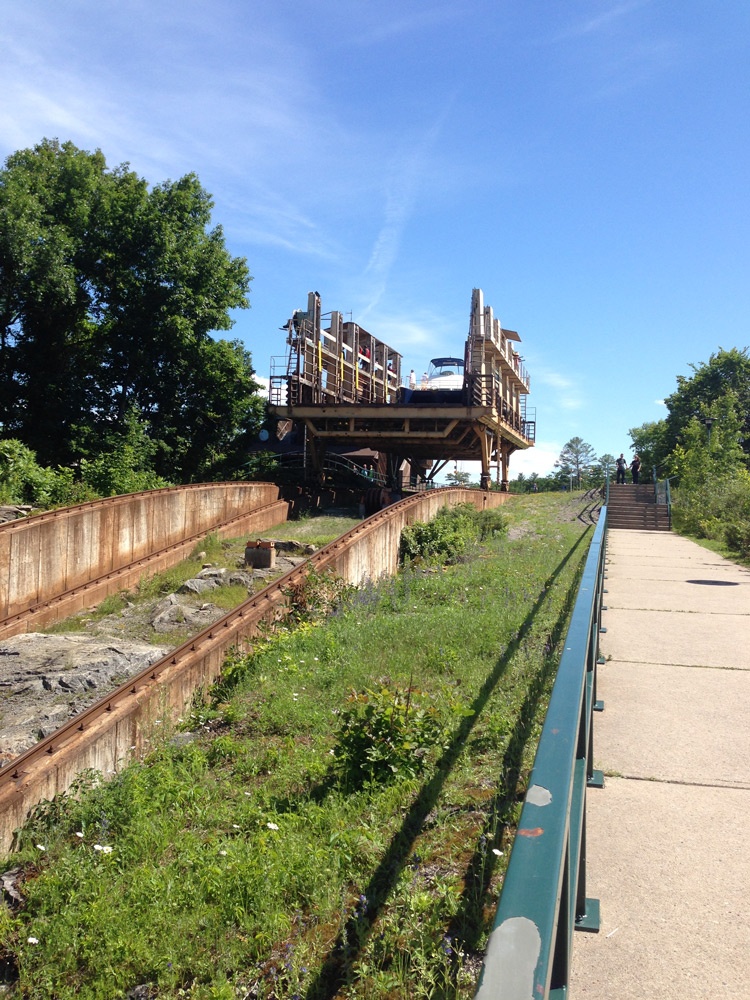 Dick said, "What a ride, like a roller coaster in slow motion." Phyllis added that it was the only time she was scared, when the boat got out of the water high up and a bit shaken.
After sailing through Canadian waters, the Radlinskis transitioned into America's natural beauty on the rest of their Great Loop journey. From Michigan down the Mississippi, through the Western Rivers, across the Gulf of Mexico to Florida, and then up the eastern seaboard with the Intracoastal Waterway—it's an amazing trip. We'll cover it all in Part II.

Well, that's it for now. Stay well. I hope to say hello to you if you spot my boat, Life's AOK, in one of the locations that I'm hoping to visit in 2020, that is if Coronavirus permits us.
I bid you Fair Winds and Following Seas.

---
Cover photo: Ottawa, Canada, at sunset with storm clouds advancing. Featuring Parliament Buildings, Rideau Canal (a UNESCO world heritage site), Chateau Laurier Hotel, National Art Gallery, and National Conference Centre. Boats docked along Rideau Canal.
---
6 things I learned
Due to the richness of the destinations of the potential stopovers on the 6,000-mile-long America's Great Loop, there is a lot to learn about the journey.
A frequently asked question is how much does doing America's Great Loop cost? Just like any other travel arrangement, it will depend on your lifestyle choices plus direct expenses relating to your boat, such as gasoline and repairs. The Super Loopers site offers great insights on the topic of cost for you to set your expectations.
To get some idea about Parks Canada historic canals and waterways and locking through safely, visit their web site, where they offer tips to give you an idea about how-to's.
There are no charges for the US locks, but expect some on the Canadian side.
Of the 25,000 miles of inland, Intracoastal, and coastal waterways and channels in the United States, approximately 12,000 miles constitute the commercially-active inland and Intracoastal waterway system maintained by the US Army Corps of Engineers. That segment includes 191 commercially-active lock sites with 237 lock chambers. Some locks have more than one chamber, often of different dimensions. These locks provide the essential infrastructure that allows boats to "stair-step" their way through the system and reach distant inland ports such as Minneapolis, Chicago, and Pittsburgh. The locks can generally be categorized by three different sizes, as expressed by length. About 15 percent of the lock chambers are 1,000 to 1,200 feet long, 60 percent are 600-999 feet long, and 25 percent are less than 600 feet long. Lock widths are mostly 110 feet. The 1,200-foot locks can accommodate a tow of 17 barges plus the towboat, while the 600-foot locks can accommodate at most eight barges plus the towboat. The lock size and tow size are critical factors in the amount of cargo that can pass through a lock in a given period of time. Over 50 percent of the locks and dams operated by the Corps are over 50 years old. Many of the 600-foot locks on the system were built in the 1930s or earlier, including those on the Ohio, Upper Mississippi, Illinois, and Tennessee rivers. These projects are approaching the end of their design lives and are in need of modernization or major rehabilitation. Since many of today's tows operate with 12 or more barges, passing through a 600-foot lock requires the tow to be "cut" into two sections to pass the lock.
All inland waterways in the world have a very interesting history going back to the 7th century BC. You can find more about the topic here.
8 things I recommend
For your 6,000-mile journey, you need a huge amount of information. Become a member of America's Great Loop Cruisers' Association (AGLCA), today, yes, while you are dreaming and planning to undertake the trip. If it is several years before your journey starts, it's better. Join in AGLCA's pleasure boaters network.
Attend some of the AGLCA programs, now, in person and meet Loopers, learn and start networking.
Read Great Loop-related books and guides. You may want to start with the Super Loopers' choice just to give you a general idea before you start focusing on actual plans, perhaps using AGLCA recommended spots.
Read a few books on living in a boat.
You need to be very familiar with your boat. Try to have your boat a few years before the journey and get used to your boat. As a captain of your boat, preferably, it needs to become an extension of you.
Remember, your safety comes first. Also, join your local America's Boating Club, now, and take advantage of their training resources and courses on safety, piloting, radio communications, and more. Mingle with other boaters, even if you do not own a boat yet. You will learn a lot. If you are not in the country, you can still join in and become a cyber member and enjoy the benefits, such as attending online courses and meeting people in your club.
Always remember, a boat trip is not a road trip with an RV or car. It is a more complicated endeavor and you need to plan and be prepared much more than on any road trip.
Always plan to take half the clothes and twice the money that you originally plan for. All reputable marinas have washing machines that you can use for your clothes.
How easy?