There is a battleship at the end of this road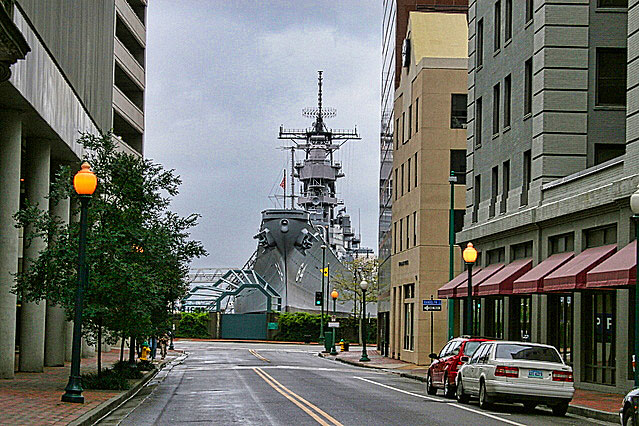 Estimated reading time 15 minutes – SBFL 13* – PLANNING TO VISIT – 2 Virginia towns not to miss on the way down to Florida on the ICW – Norfolk and Portsmouth. – Imagine this. You have some time on hand and are heading down south to Florida with your boat on the Atlantic Intracoastal Waterway (ICW). Let's say you left from somewhere in New York. It's going to be a fantastic trip, of course, that is, in part thanks to the ICW, that will help you to avoid popple. However, if you are too focused on getting to Florida or just so cheap that you squeeze a quarter so tight the eagle screams, I guarantee that you are bound to miss a lot of interesting and wonderful destination spots on the way down to Florida that you could have stopped and experienced. Chances are Norfolk and Portsmouth might be among those cities that you might miss. All I can say is slow down. Consider our approach, plan for a version of our Slow Boat to Florida* trip.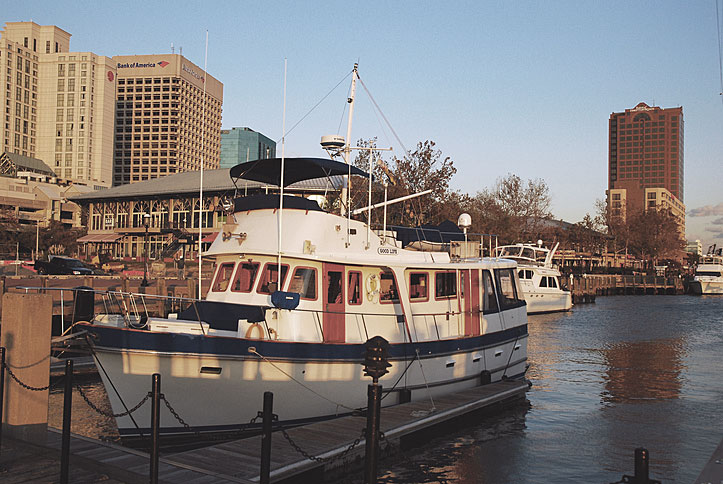 So, what do you do? Well, settle down in one of the marinas in Norfolk or Portsmouth. Plan to do a few excursions and enjoy a large number of restaurants all around you. In addition, you are a short, scenic drive away from such historic attractions as Williamsburg, Jamestown, Yorktown, and the James River Plantations. Also, don't overlook the theme parks, such as Busch Gardens, Water Country USA, and Ocean Breeze Water Park. Last, but not least, there is the Virginia Beach resort area oceanfront.
In short, you have a number of good options in the Hampton Roads region. It all depends on what you want to do while you're in the area, besides enjoying good restaurants, of course. For example, I would like to eat in the Freemason Abbey Restaurant, a local favorite for the last 31 years, which is located in a 147-year-old renovated church in the heart of downtown Norfolk. Also, I would like to follow the Cannonball Trail through the 400 years of Norfolk and American history. The trail winds along the shoreline of the Elizabeth River and through the districts of downtown Norfolk. I would like to walk along the cobblestone streets of West Freemason, the earliest residential street scene in Norfolk.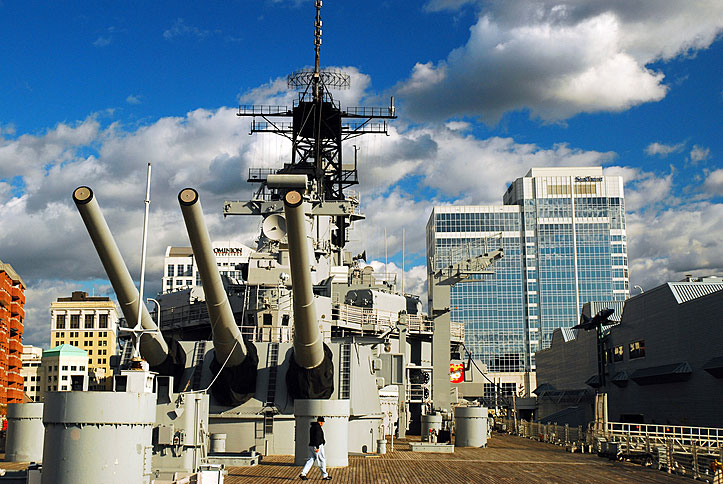 I can't wait to visit the Hampton Roads Naval Museum, co-located at Nauticus, which features the Battleship Wisconsin. Nauticus is a contemporary museum that uses the natural setting of Norfolk's harbor to showcase global maritime commerce and the world's largest Navy, the U.S. Navy. It inspires and educates with engaging & interactive experiences that celebrate our connections with today's maritime world. You can touch a shark, learn about marine life, explore naval history, catch a 3D educational movie, and then climb aboard a battleship, the USS Wisconsin. Of course, if you still have enough energy on the same day, you can do all of the 40 stops of the trail and check all of them out. Or you can simply explore downtown Norfolk. Then, don't forget about visiting the U.S. Naval Base there, the world's largest naval base, that accommodates over 60,000 plus personnel.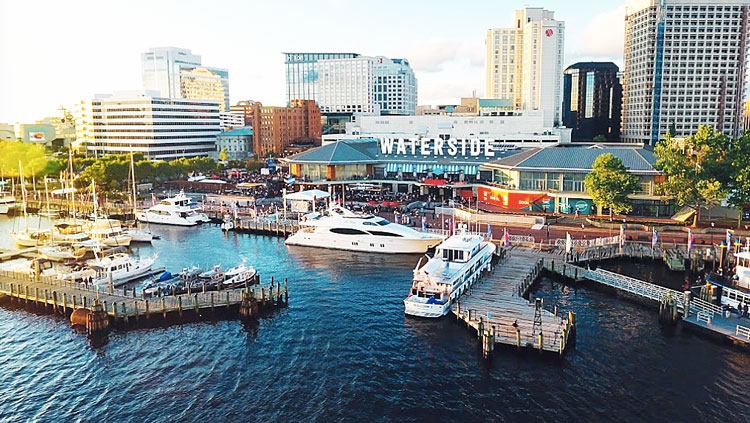 One of the good choices is the Waterside Marina, which is conveniently located in Downtown Norfolk on the Elizabeth River – N 36 50 38, W 76 17 37 Mile Marker "0" on the ICW. It has new floating docks and power, installed in 2020. Amenities include: showers, floating docks, 20-foot depth, ice, complimentary grocery shuttle service, free wireless internet, and it's walking distance to Norfolk's shopping, restaurants, arts, entertainment and attractions. Mega-Yachts up to 300 feet can be accommodated. And last, but not least, the marina is located in the Waterside District, Norfolk's premier dining and entertainment district, where you can hang out, dine, and relax with your whole family. The Waterside District features the best of national, regional, and local restaurants and offers live music, festivals, and more. Located in the heart of the central business district and adjacent to Norfolk's world-class waterfront and festival site, the District is a central gathering place for local residents and visitors alike. The one and only problem with the Waterside Marina is that they do not offer fuel! So fuel up, guys, before you get there so that you don't have to hunt for fuel when you leave.
If you are military, active duty retired, or a DOD employee, you may want to consider the Norfolk Naval Station Marina. It's a great place to take a break and you will be able to enjoy the recreational boating area of Willoughby Bay and the James River in Virginia. This large sailing center has 200 deep-water slips and happily accommodates vessels up to 63 feet.
Off of the entrance to the Elizabeth River, approaching from the North, the Norfolk Yacht and Country Club is another marina that you may want to consider staying in. They welcome transient boaters. They are located on the Lafayette River on Hampton Boulevard between Old Dominion University and the Norfolk Naval Station. Yes, they have fuel for your boat, along with a variety of family, social and recreational activities, dining, tennis, fitness, and fun aquatic and youth programs. You can check out the Yacht Club and the rest of the marinas in the region at the Dockwa site.
In this series, we're comparing then and now, based on observations made by Dorothea and Stuart E. Jones in their 1958 National Geographic article titled, "Slow Boat to Florida,*" onboard their sailboat Tradewinds.
As part of the Jones' journey to Florida, the couple stopped by in Norfolk but did not make any reference to where they tied up. However, we can comfortably assume that none of the marinas that I am referring to here, with the exception of the Norfolk Yacht and Country Club, were there back then.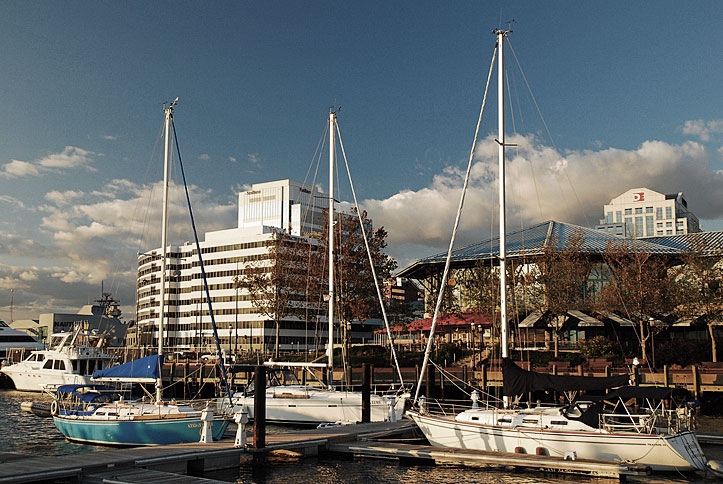 "Hampton Roads Swallows Motorists"
Back in 1958, the Jones' had a creative heading on a photo caption, "Hampton Roads Swallows Motorists," in their article. The caption continued, saying, "Cars dive into the new tunnel. Opened last November, the 3½-mile bridge-tunnel joins Hampton, Newport News, and Warwick on the peninsula to the north with Norfolk, Portsmouth, and Virginia Beach to the south. The 6,800-foot tunnel ranks as the world's 6th longest tube, exceeded only by Englands's Mersey River tunnel and New York's Holland, Lincoln, and Brooklyn-Battery tunnels. At its lowest point, automobiles pass 105 feet beneath the water."
Today, as part of another category of tunnels, crews are now building the world's longest 11.1-mile underwater tunnel between Denmark and Germany, having rail as well as automobile lanes. It will descend 130 feet beneath the Baltic Sea.
Also today, the Hampton Roads Bridge-Tunnel on Interstate 64 may no longer be on the list of longest tunnels. When you and I are sailing through the waters in the area, just be aware that there's been a massive amount of change that has taken place underwater as well as above it since 1958. In fact, the entire region has changed by leaps and bounds, in many ways. Most of the development took place after the Jones' trip, of course. Starting in the 1960s, multiple tunnels underwater as well as bridges were built to smartly weave together the geographic area comprising seven cities: Norfolk, Portsmouth, Newport News, Hampton, Suffolk, Virginia Beach, and Chesapeake.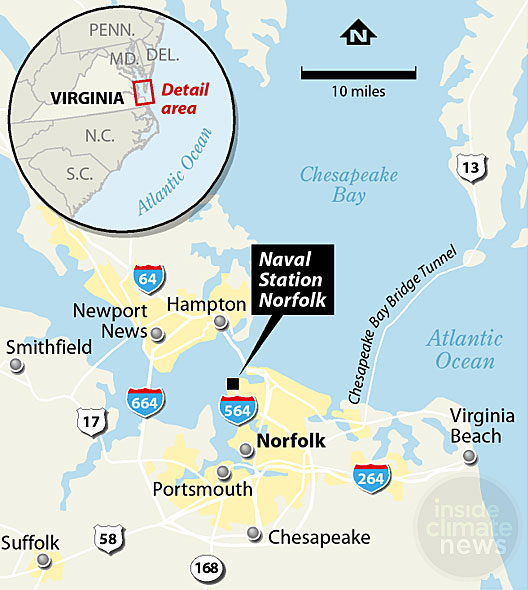 It seems that back in 1958, 6,000 vehicles a day used the available roads and bridges. Today, the Midtown Tunnel under the Elizabeth River, which opened in 1962, moves more than a million vehicles per month connecting Norfolk and Portsmouth. Then there is the Monitor-Merrimac Memorial Bridge-Tunnel that opened in 1964, on Interstate 664. This four-lane, dual-tunnel system connects the Virginia Peninsula cities of Newport News and Hampton to the South Hampton Roads cities of Suffolk and Chesapeake.
Talk about change! Then there is the downtown Elizabeth River Tunnel connecting Hampton and Newport News to Norfolk and Virginia Beach. And there are even a few more tunnels and bridges I'm not mentioning here.
Along the way, one of the major changes in the region has been the serious flooding being experienced due to climate change. This is caused by the sea level rising and, on top of it, by the sinking of the ground in the tidal areas of this entire region at the same time. Some areas are worse than others. For example, in 2020, the Chesapeake Bay Foundation abandoned its educational facilities and sold Fox Island in the center of the Chesapeake Bay, between Tangier and Pocomoke sounds, which is in the lower middle of the Bay. The educational programs there had been stopped in 2019, shifted instead to Port Isobel Island. Due to sea-level rise and the disappearance of protective barrier islands and marshes, the organization feared that the island would be unsafe during a storm. When originally surveyed in 1773, Fox Island had been a complex of seven or eight islands, totaling 426 acres of land. By 2020, it had shrunk to 34 acres of land. From a climate perspective, we are living in a very different world than that of the Jones' in 1958. In the Norfolk region, the seas are rising at twice the global average due to ocean currents and geology. Even the largest naval base in the world, the giant U.S. Naval base in Norfolk is under threat due to rising seas and sinking land.
Portsmouth
Portsmouth is a very interesting city with its history going back to 1608, when the area was first explored by Captain John Smith from Jamestown, Virginia. It was founded by politician William Crawford in 1752 and named after Portsmouth, England. In 1779, Portsmouth was sacked by British forces during the American Revolutionary War. The Trinity Church, which began as the Portsmouth Parish of The Church of England, goes back to 1761.
If you prefer to stay in Portsmouth rather than Norfolk, Tidewater Yacht Marina is a spot that you may want to select. They are across the Elizabeth River from the Waterside District of Norfolk and the Waterside Marina that I mentioned above. Their transient slips can accommodate boats as small as 20 feet and all the way up to megayachts over 150 feet in length. They have 30 and 50 amp electric services as well as 100 amp (single, 3-phase, 480) for the larger vessels. In addition, restrooms, showers, laundry, and free Wi-Fi are offered. If you stay in Tidewater Yacht Marina, you would be within walking distance of the Naval Shipyard Museum, the Lightship Museum, the Children's Museum of Virginia, the Courthouse Fine Arts Gallery, the Community Arts Center, and the Olde Towne Farmers Market. It's located in downtown Portsmouth on the riverfront within walking distance to restaurants, specialty shops, museums, and concerts at Portsmouth's Harbor Center Pavilion. It has unrestricted access from the Chesapeake Bay and the Atlantic Ocean. It also has 1,500 feet of alongside dockage for easy in and out of most vessels, while the marina has a 105-foot long fuel dock.

Ocean Yacht Marina is another good choice further down the river. They are 1/2 mile south of Mile Marker Zero on the ICW, and it has unrestricted access from the sea. The marina has 122 slips that can accommodate any vessel up to 250 feet. All slips have water, telephone and cable television, and electricity hook-ups. Wireless Internet Service is also available. Restrooms, showers, laundry room, and Ship's Store are located in the Dockmaster Building. Their conveniently located fuel dock is easily accessible from the main entrance off of the ICW. Upon check-in, you will receive a welcome package containing information about local shops, restaurants, pubs, museums, and scheduled events on the downtown waterfront. The welcome package also includes exclusive discounts and coupons to locally owned and operated businesses, which are just a short walk from the marina.
The U.S. Navy's Oldest Shipyard
While in the Hampton Roads area in 1958, the Jones' visited the Norfolk Naval Shipyard. The U.S. Navy's oldest shipyard has the distinction of dating back to 1767, and although it's named for Norfolk, it's actually located in present-day Portsmouth. Andrew Sprowle, a merchant and shipowner, established the Gosport Shipyard on November 1, 1767, on the western shore of the Elizabeth River under the British flag. When the American Revolution began in 1775, Sprowle chose to remain loyal to the Crown and fled the area aboard the Royal Governor's flagship. All his properties were confiscated by the Colony of Virginia. While being operated by Virginia, in 1779, the shipyard was burned by the British.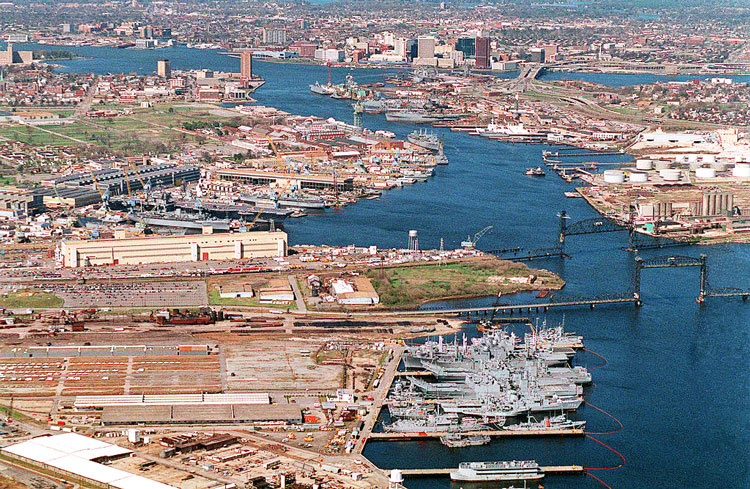 The current name of the Norfolk Naval Shipyard has been used since 1862. During its more than 230 years, the Norfolk Naval Shipyard has assisted the nation in winning nine major wars, putting an end to piracy, sending the Great White Fleet around the world, scientifically exploring the Pacific, and opening Japan to American trade.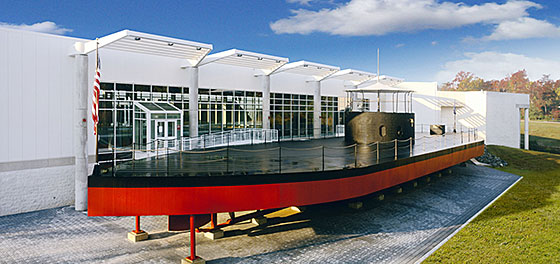 On another excursion, en route to the Jamestown Festival, the Jones' also stopped over and visited the Mariner Museum, founded in 1930. It seeks to connect people to the world's waters because that is how we are connected to one another.
Well, that's it for now. Stay well. I hope to say hello to you if you spot my boat, Life's AOK, in one of the locations that I'm hoping to visit in 2021, that is, if Coronavirus permits us.
I bid you Fair Winds and Following Seas.
---
Cover photo: How often can you find a battleship, nearly 3 football fields long and almost 200 feet tall, at the end of any street? Well, if you are in Norfolk, you definitely could. Go to the intersection of Boush and West Plume Streets and you will see the USS Wisconsin (in the background). Better yet, this amazing battleship is open to visitors. Photo by Thad Zajdowicz.
---
1 thing I learned
Once I started to plan to visit the Hampton Roads area and Norfolk, I realized that Norfolk is more than just home to another U.S. naval base. It does have a rich history of shipbuilding that significantly played a role in U.S. naval history. But beyond that, there's a lot of fascinating historical sites in the area, not to mention great museums and restaurants.
1 Thing I recommend
Plan to visit Norfolk, you would not be disappointed.
How easy?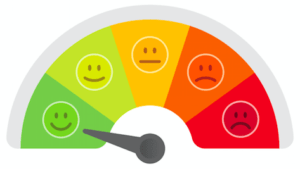 ---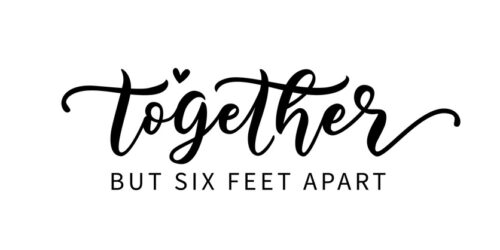 ---
*SBFL stands for Slow Boat to Florida. It is a series of my blog posts, which started with a posting that had the same title. Each numbered heading has two parts. The first is "Planned," and when we visit the planned location, a "Visited" label appears at the beginning, next to SBFL. The essence of this series is not to seek new lands and exotic cultures. Rather, it is to cover our journey of discovery (hence the title of our blog Trips Of Discovery) that has to do with seeing with a new eye the coastal locations of the Atlantic Intracoastal Waterway (ICW) where present-day America started to flourish. The SBFL series represents part travel, part current and historical anthropological highlights of selected locations and coastal life. We're comparing then and now, based on observations made by Dorothea and Stuart E. Jones in their 1958 National Geographic article titled, "Slow Boat to Florida" and a 1973 book published by National Geographic, titled America's Inland Waterway (ICW) by Allan C. Fisher, Jr. We also take a brief look at the history of the locations that I am writing about. Finally, we bundle it up with our observations during our actual visits to the locations and our interviews with local residents. Think of it as a modest time capsule of past and present. My wife and I hope that you, too, can visit the locations that we cover, whether with your boat or by car. However, if that is not in your bucket list to do, enjoy reading our plans and actual visits as armchair travelers anyway. Also, we would love to hear from you on any current or past insights about the locations that I am visiting. Drop me a note, will you?