Ah, Virginia … Inspired by history and adventure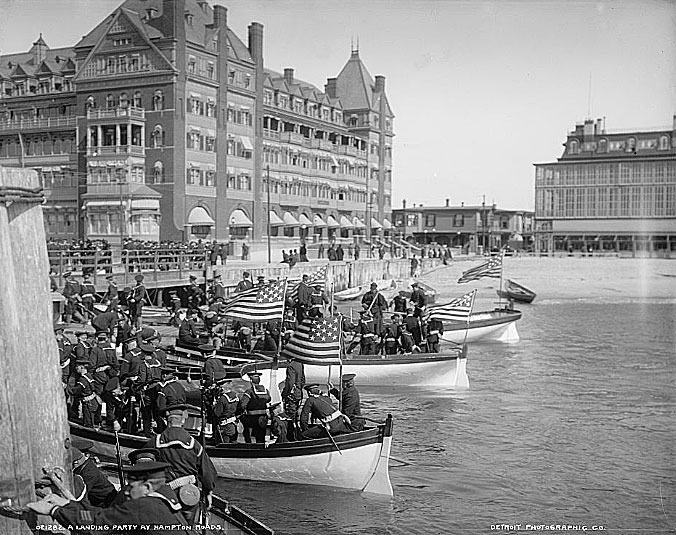 Estimated reading time – 10 minutes – SBFL 12* – PLANNING TO VISIT – It was a balmy spring Thursday on April 26 on the Virginia shores. After 4½ months at sea, some 104 people from Britain, horses, and supplies landed on Cape Henry to establish the first permanent English-speaking colony in the New World, North America. The year was 1607. As a Smithsonian Magazine article puts it, "One ebullient adventurer later wrote that he was "almost ravished" by the sight of the freshwater streams and 'faire meddowes and goodly tall trees' they encountered when they first landed at Cape Henry. After skirmishing with a band of Natives and planting a cross, the men of the Virginia Company expedition returned to their ships—the Susan Constant, Godspeed and Discovery — and the 104 passengers and crew continued up the Powhatan River (soon to be renamed the James in honor of their King, James I) in search of a more secure site."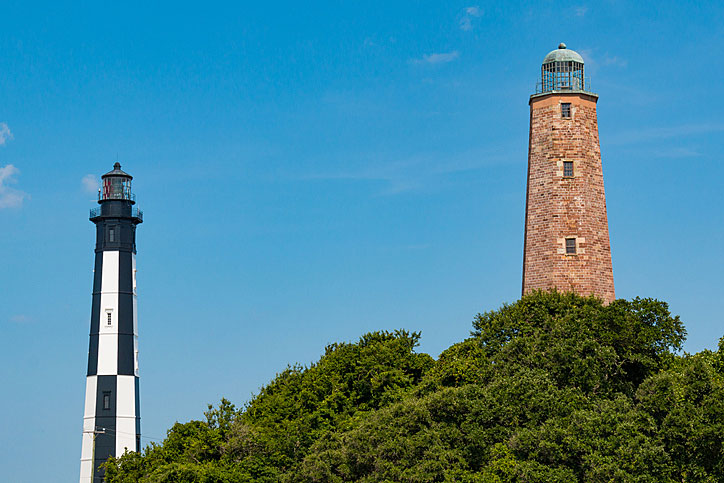 Mile zero of the ICW
We owe that particular event on April 26, 1607, to some venture capitalist and intrepid settlers when it comes to Cape Henry, Virginia, outside of the city of Norfolk, where mile zero (MM "0.0") is located at 36°50'54" N / 76°17'54" W. That is mile zero of the Intracoastal Waterway (ICW). Our first post on the topic was titled, Milliarium Aureum – Golden Milestone.

The Intracoastal Waterway is a 3,000-mile inland waterway along the Atlantic and Gulf of Mexico coasts of the United States. It runs from Annisquam River at Gloucester, north of Boston, Massachusetts, southward along the Atlantic Seaboard (AICW) and around the southern tip of Florida, then following the Gulf Coast to Brownsville, Texas, called the Gulf Intracoastal Waterway (GICW). One of the relatively easiest parts of the AICW, where you don't need to go out to the ocean, starts at mile zero and goes down all the way to Florida. We covered the GICW and much more in our 3-part series titled, "Tips for cruising through America's Great Loop."
This is really all about the "Slow Boat" to Florida
As our avid readers may recall, we marked the beginning of this Slow Boat to Florida series as "SBFL*." It is about our quest to follow the route taken by National Geographic's Dorothea and Stuart E. Jones in their essay published in 1958 and in the subsequent Allan C. Fisher, Jr. book published in 1973, to see what has changed between then and now. The essence of this series is not to seek new lands and exotic cultures. Rather, it is to cover our journey of discovery (hence the title of our blog, Trips Of Discovery) that has to do with seeing with a new eye the coastal locations of the ICW where present-day America started to flourish.
The SBFL series represents part travel, part current and historical anthropological highlights of selected locations and coastal life. We have been planning the trip since 2018 and had a target to start October 2020. However, due to the Covid-19 Pandemic, we had to postpone our trip to October 2023. So, sadly, we are still planning, hence the next label following SBFL is showing as -PLANNED- at the beginning of our posts with a few exceptions. When we can do quick breakouts, as in the case of Chestertown, a hidden gem on the Chesapeake Bay — 2 reasons to visit this summer and Baltimore Inner Harbor—mingle with history, enjoy the spirit of today, we are paying attention to our health and safety as well as others around us. That is the point when you are seeing – VISITED – label on top. So far we have been covering Maryland's coastal locations on the Chesapeake Bay. With this post, following our authors of 1958 and 1973, we now are crossing the line to Virginia, again. The reason I say "again" is because we did it once already when we planned and visited Tangier Island in the middle of the Chesapeake Bay on the Virginia side. Our post was titled "5 things to know about Tangier Island, Virginia."
On the way to Hampton Roads
Yes, we are crossing to Virginia now. As the state slogan says, " Virginia is for lovers" but honestly, when we enter the waters of Virginia we do not expect the trumpets of cherubs sounding out there. However, we know well that we are entering an area rich in history going back to 1607 and beyond, where a Native American tribe inhabited the area now known as South Hampton Roads. They occupied an area that is now comprised of Norfolk, Portsmouth, Chesapeake, and Virginia Beach. They spoke Algonquian.
Back in 1958, before heading to Hampton Roads, the Jones' wrote they had stopped over at a marina the night before. "At secluded King-Robins Marina off the York River, the obliging dockmaster directed us into a handy berth and helped us make fast. 'You look bushed' he remarked. 'You don't want to sleep aboard tonight, do you? How would you like hot baths and soft beds?' " The dockmaster took them to a new motel in a Virginia hamlet called Ordinary — a name that doubtless harkens back to colonial days when a tavern, or ordinary, welcomed travellers passing by. Today, while searching the area, I could not find King-Robins Marina. It may have been replaced with the sizable York River Yacht Haven. We will find out more about then and now when we visit the spot, as well as do excursions to YorkTown and other nearby locations.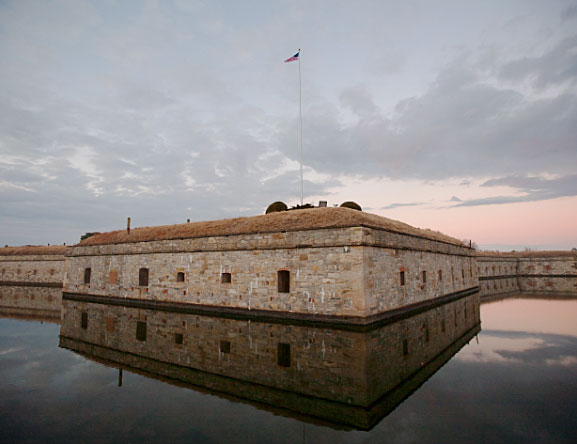 The next day, the Jones' passed Old Point Comfort and Fort Monroe while sailing into Hampton Roads, where there is a sizable U.S. Naval presence located. Looking at the waters, the Jones' wrote, "I was reminded of the naval revolution that had occurred here." In their essay, they were referring to the Battle of Hampton Roads.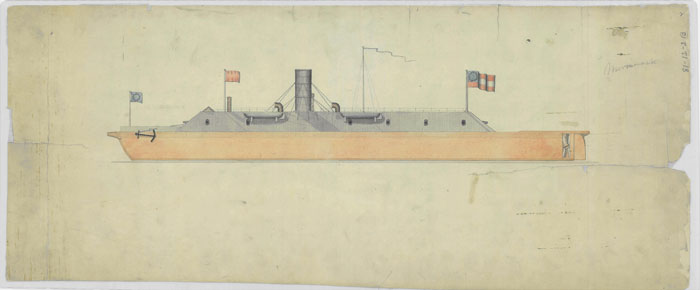 Around 7:00 a.m. on March 9, 1862, the Confederate ironclad CSS Virginia, in company with two smaller vessels, entered Hampton Roads. They expected to finish off the wooden U.S. Navy warships remaining there after the battle the day before, but instead were confronted by the Union Navy's USS Monitor. The Civil War Battle of Hampton Roads was thus the first engagement of ironclad warships.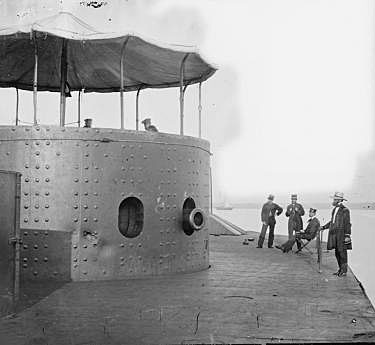 The end of the battle was inconclusive. The USS Monitor and CSS Virginia battled for hours before reaching a stalemate—neither carried the kind of armor-piercing shells necessary to pierce an iron hull. However, the Monitor halted Confederate threats to the Union blockade and prevented damage to the Federal fleet. The battle demonstrated the viability of ironclad technology and provided a glimpse into the future of naval warfare.
Visits always give pleasure
As one Portuguese proverb says, "visits always give pleasure — if not the arrival, the departure." We are planning to visit a large number of spots in Virginia, rather than just rush down to the Great Dismal Swamp Canal on the way to Florida. This time, I wanted to start my blog by opening a new time capsule that goes back to April 26, 1607. It is a prelude to what we are planning once we get to the area. In other words, visiting First Landing State Park in Cape Henry outside of Virginia Beach is in our plans. I want to be there and stand next to the Cape Henry Memorial Cross and just take in the environment for a while, and simply imagine that first landing of English settlers, almost all perishing within a year. However, before we get there, we have a few more stops to visit, of course. When you read or hear "Hampton Roads," just know that it is not a narrowly-defined spot but is a geographic area comprising seven cities: Norfolk, Virginia Beach, Chesapeake, Portsmouth, Newport News, Hampton, and Suffolk.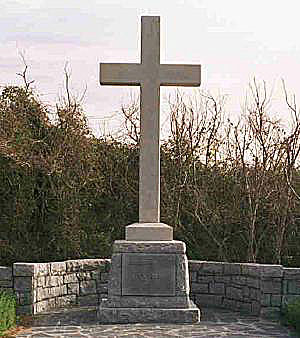 While the Jones' visited Norfolk and Newport News in 1958, sharing a few photos of the time, Fisher in 1973, after leaving Smith Island in Maryland, headed down to a marina in Portsmouth on the Elizabeth River and shared a few pictures relating to the Port of Hampton Roads. The port had 46 million tons of cargo back in 1973. Based on 2013 figures, it was, with 79 million tons of cargo, the 6th largest in the U.S. In other words, as the U.S. has been growing, naturally cargo volumes and facilities have been growing as well. Here is a tidbit for you to think about: The U.S. had 2.5 million people in 1776. At the time of the Jones' trip in 1958, the population had grown to be almost 175 million and in 1973, during Fisher's time, it had reached 212 million. Now, in 2021, it is projected to be 331 million people. I am looking forward to seeing what all those years and population growth brought to not just the Hampton Roads region, but all the way to Florida.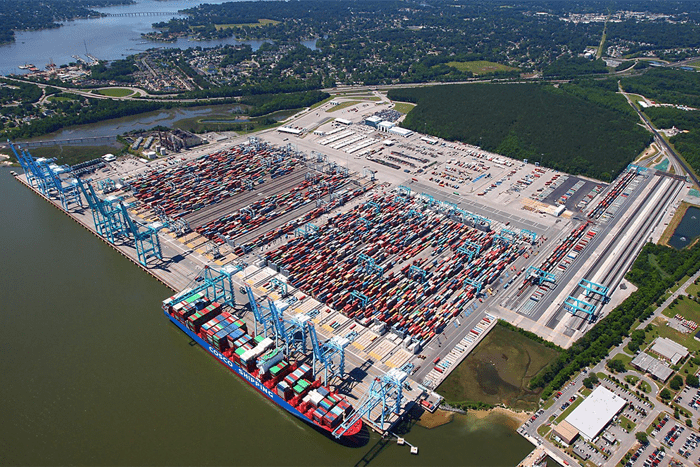 In our next posts, we'll share our plans with you to visit Norfolk, Portsmouth, and the Norfolk Naval Shipyard, the oldest in the nation, which has been around since 1767–that's 31 years before the creation of the U.S. Navy Department. Also, although the Jones' and Fisher did not cover a few other historical localities we are interested in, we may sprinkle a few in along the way.
Well, that's it for now. Stay well. I hope to say hello to you if you spot my boat, Life's AOK, in one of the locations that I'm hoping to visit in 2021, that is, if Coronavirus permits us.
I bid you Fair Winds and Following Seas.
---
Cover photo: Old Point Comfort, a landing party at Hampton Roads, Virginia. Photo between 1890 and 1901, courtesy of U.S. Library of Congress, contributed by Detroit Publishing Co.
---
2 things I learned
Virginia has a very rich history and played a critical role in the early development of America on the Eastern seaboard. "In 1607, the first permanent English settlement in America was established at Jamestown. The Jamestown colonists also established the first representative legislature in America in 1619. Virginia became a colony in 1624 and entered the union on June 25, 1788, the tenth state to do so. Virginia was named for Queen Elizabeth I of England, the "Virgin Queen" and is also known as the "Old Dominion." King Charles II of England gave it this name in appreciation of Virginia's loyalty to the crown during the English Civil War of the mid-1600s. Virginia is designated as a Commonwealth, along with Kentucky, Massachusetts, and Pennsylvania. In 1779, the capital was relocated from Williamsburg to Richmond," writes the Virginia Blue Book.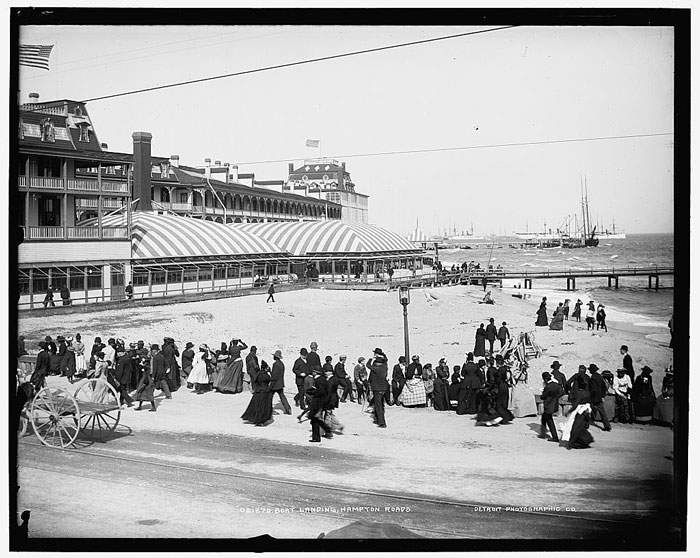 The Virginia State Capitol was designed in 1785 by Thomas Jefferson with help from Charles-Louis Clérisseau while Jefferson was serving as U.S. Minister to France. The Virginia General Assembly occupied the Capitol in 1788 and members of the Virginia executive and judicial branches moved into the building in 1789. It is the first American State Capitol designed after the Revolutionary War and the first public building in the New World to be constructed in the form of a classical Roman temple.

1 Thing I want to share with you
Yes, we are planning and visiting the coastal towns from Annapolis to Florida, however, in the spirit of our series "Slow Boat to Florida," we are in no hurry to reach Florida. For us, the entire trip from planning to actual visiting is the destination, rather than a single point somewhere in Florida. So, once we start to visit our planned locations in the coastal destinations, we are planning to leave our boat in marinas and go inland to other nearby interesting locations and simply enjoy the excursions, complete with staying in hotels, eating out in restaurants, and mingling with locals. As a matter of fact, once we start visiting our planned locations, we are planning to take advantage of marina or town restaurants and eat out most of the time and spend very limited time eating in our boat Life's AOK. Did I say we are in no hurry? This is really the Slow Boat to Florida show. Perhaps that is a bit different approach than that of spending most of the time on the water, complete with anchoring overnight and eating mostly in the boat. Once we start our planned visits, we will be producing The Slow Boat to Florida show to share with you a sense of the environment that we will be in and especially of the locals. In other words, we want to take you with us and share the local's stories, our findings, and feelings by writing less and showing you more on YouTube. At the heart of our discoveries will be our short documentaries, on then and now reflecting the spirit of our Trips of Discovery blog and Slow Boat to Florida series. We can't wait until we get going with some initial trips this summer.

1 Thing I recommend
It's worthwhile when planning trips to coastal locations on the Eastern Seaboard, not to focus just on the beautiful maritime environment and the marinas that you could visit, although these are indeed wonderful. For an even richer experience, check out what makes that location special or unique, including its history.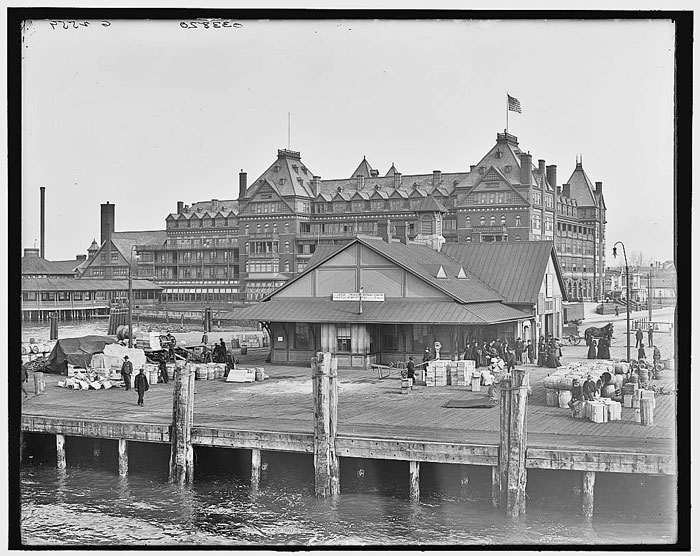 It's all too easy to speed by a locale that, had you taken a little extra time to look, had a fascinating historical record. And in the deeply historic Chesapeake Bay, especially in Virginia, you can't help but trip over one interesting historical site after another. You won't be sorry you devoted a little extra time to explore our coastal history.
How easy?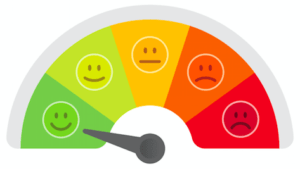 ---
*SBFL stands for Slow Boat to Florida. It is a series of my blog posts, which started with a posting that had the same title. Each numbered heading has two parts. The first is "Planned," and when we visit the planned location, a "Visited" label appears at the beginning, next to SBFL. The essence of this series is not to seek new lands and exotic cultures. Rather, it is to cover our journey of discovery (hence the title of our blog Trips Of Discovery) that has to do with seeing with a new eye the coastal locations of the Atlantic Intracoastal Waterway (ICW) where present-day America started to flourish. The SBFL series represents part travel, part current and historical anthropological highlights of selected locations and coastal life. We're comparing then and now, based on observations made by Dorothea and Stuart E. Jones in their 1958 National Geographic article titled, "Slow Boat to Florida" and a 1973 book published by National Geographic, titled America's Inland Waterway (ICW) by Allan C. Fisher, Jr. We also take a brief look at the history of the locations that I am writing about. Finally, we bundle it up with our observations during our actual visits to the locations and our interviews with local residents. Think of it as a modest time capsule of past and present. My wife and I hope that you, too, can visit the locations that we cover, whether with your boat or by car. However, if that is not in your bucket list to do, enjoy reading our plans and actual visits as armchair travelers anyway. Also, we would love to hear from you on any current or past insights about the locations that I am visiting. Drop me a note, will you?
---