Dock, dine, and dive into the endless summer – Hilton Head Island, SC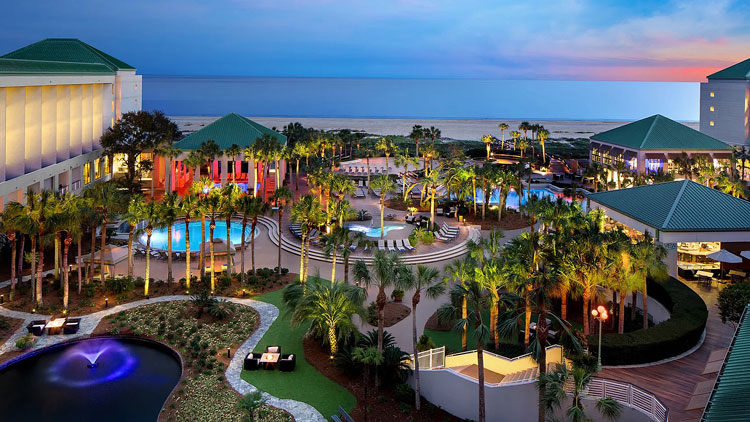 Estimated reading time: 17 minutes – SBFL* Stop 32 – Prepare to be enchanted as you drop anchor at Hilton Head Island, South Carolina. With sun-kissed, 70-degree days caressed by the Gulf Stream's embrace, this alluring, semi-tropical paradise will tempt you to linger longer than expected. Don't be surprised if you find yourself sailing away only to pack your bags and return, forever captivated by the island's irresistible charm. You will be in a place where the sand is golden, the waters are warm, and the laughter is contagious! A place where flip-flops are the official footwear, sunburns (please don't get one) are a badge of honor, and "island time" isn't just an expression but a way of life. So grab your sunscreen, loosen that belt buckle, and get ready to have out-of-boat experiences. This idyllic island destination is a haven for boaters, offering calm waters, breathtaking views, and an abundance of marine life. As you navigate your way through the island's meandering waterways, you'll find that Hilton Head Island is much more than just a picturesque pit stop – it's an aquatic playground teeming with unforgettable experiences and opportunities for adventure. Hilton Head Island's section of the Atlantic Intracoastal Waterway (ICW) is a boater's dream, offering over 40 miles of protected waters to explore. As you cruise through this aquatic wonderland, you'll be greeted by a diverse array of scenery, from serene salt marshes to densely wooded forests. Along the way, you'll encounter a myriad of wildlife, including playful dolphins, graceful egrets, and the occasional curious manatee. The island's waterways are not just a visual treat. They're also home to some of the best fishing in the region, providing anglers with the chance to reel in a prized catch.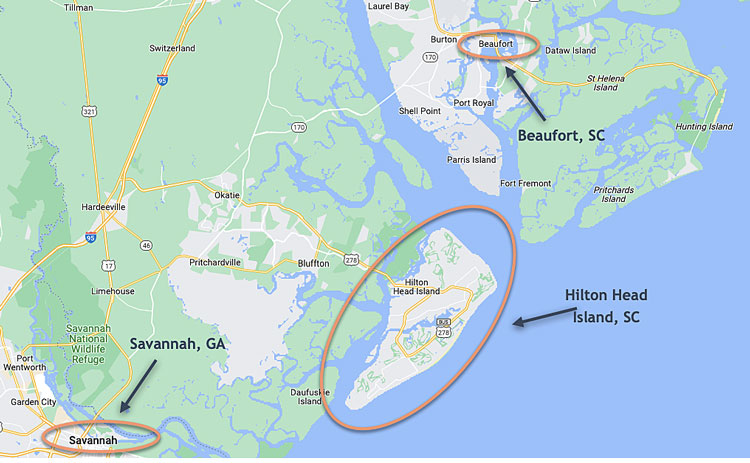 Surrounded by nature 
You are now on a dazzling gem in South Carolina's Low Country region. The order of the day is to relax and enjoy this boater's paradise. It has almost forty thousand souls, with a median age of 46. You can find everything your heart desires, from art and culture to pure luxurious relaxation. This stunning 69-square-mile oasis boasts 42 square miles of lush landscapes, where nature takes center stage. This is because the rest of the wetlands are left untouched, by design. With over 50 miles of well-maintained public pathways and nature trails on the island, you'll have all the access you desire to explore nature and more. 
Getting there is easy
If you are on the ICW, you are on the correct course. Just plan, set the course, and get there. If you are already in Beaufort, South Carolina, our Slow Boat to Florida trip destination number 31, you are almost at Hilton Head Island. Cruise or sail down there. The distance between Beaufort and Hilton Head by boat can vary depending on the specific route taken, as waterways may not always follow a direct path between the two locations. The approximate distance between Beaufort and Hilton Head is around 25-30 nautical miles. Of course, the actual distance and travel time may vary depending on factors such as the specific marinas or docks you are traveling between, your boat's speed, and the waterway conditions.
If you are not in a boat, there are other ways for you to get there. The island is easily accessible by car. Yes, it is connected to the mainland by a bridge. If driving is not your thing, that too is not a problem. The island has its own regional airport, Hilton Head Island Airport (HHH). Serviced by American Airlines, Delta Air Lines, and United Airlines, this charming airport offers convenient connections to destinations across the eastern United States, including Charlotte, Atlanta, and Washington D.C.
However, if you are looking for a larger airport with more extensive flight options, the Savannah/Hilton Head International Airport (SAV) in Savannah, Georgia, is approximately 47 miles away from Hilton Head Island. This airport offers a broader range of domestic and international flights through various airlines, making it a convenient choice for travelers coming from or connecting through major cities. The drive from Savannah/Hilton Head International Airport to Hilton Head typically takes around 50-60 minutes, depending on traffic.
A mindfully developed island

Back in 1973, Allan C. Fisher, Jr., one of two authors who inspired our Slow Boat to Florida* series, appreciated the island's untouched nature as well as developed amenities.  He wrote, "Harbour Town on Hilton Head Island is the handsomest marina on the entire Waterway. Here people with talent, taste, and a great deal of money created an attractive little town designed to look like a Mediterranean village. Three companies have developed Hilton Head Island's 30,000 acres with homes, golf courses, and all the commercial amenities. Basically, I do not like to see any wild and beautiful place developed, but Hilton Head has been done with concerns for the ecology and natural scenery. This is particularly true of developer Charles Fraser, who has left beaches, tidal marshes, and woodland largely undisturbed."
Here at TripsOfDiscovery.com, we're taking you with us while we follow in the footsteps of three National Geographic editors – Dorothea and Stuart E. Jones and Allan C. Fisher, Jr. Using the Joneses' 1958 National Geographic article, "Slow Boat to Florida" and Fisher's 1973 book, "America's Inland Waterway," for inspiration, we are comparing then and now. We are finding that a lot of things have changed since then on the ICW.
For example, while the Joneses were passing Hilton Head Island back in 1957, there was no reason for them to visit it, hence there was no reference to it in their story. The island was a vastly different place than it is today. At that time, it was a sparsely populated island with only a few hundred residents, primarily engaged in farming, fishing, and oyster harvesting. The island was accessible only by boat, and there were no bridges connecting it to the mainland. Visitors would have experienced an untouched, natural environment with beautiful beaches, marshlands, and dense maritime forests.
However, right around that time and the early 1960s, the island began to undergo significant changes. In 1956, Charles Fraser, a visionary developer, purchased land on the island and started developing the Sea Pines Resort, which would become one of the first major residential and resort communities on Hilton Head Island. The first bridge connecting the island to the mainland was completed in 1956, which allowed for more accessible transportation to and from Hilton Head.
By the time Fisher arrived at the island's marina in 1972, Hilton Head Island had started its transformation into the popular vacation destination that it is today. The Sea Pines Resort was well-established, featuring a variety of amenities, including golf courses, tennis courts, and the iconic Harbour Town Lighthouse. Other resort communities, such as Palmetto Dunes and Shipyard Plantation, had also been developed by this time. The island's population had grown significantly and there was a greater focus on tourism, with more restaurants, shops, and recreational activities available.
After the early 1970s, Hilton Head Island continued to grow and develop as a premier vacation destination. Numerous other residential and resort communities were established, and the island became known for its world-class golf courses, beautiful beaches, and lush natural environment. The infrastructure improved with the construction of new roads, bridges, and public facilities, making the island more accessible and accommodating to visitors.
Today, Hilton Head Island is a thriving vacation spot that attracts visitors from around the world. While it has seen substantial development since the 1950s and 1970s, the island has maintained its natural beauty and charm, with a strong focus on preserving its environment and promoting sustainable development.
The history of the island goes back thousands of years
Hilton Head Island boasts a rich history that dates back thousands of years. Its story is one of Native American settlements, European exploration, plantations, and, eventually, a thriving modern community.

Long before European explorers set foot on Hilton Head Island, it was home to Native American tribes, including the Cusabo and the Yemassee. These indigenous people lived off the land and the abundant resources provided by the surrounding waterways, hunting, fishing, and cultivating crops.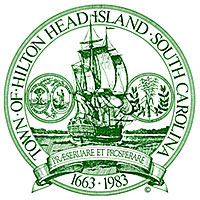 In 1663, English sea captain William Hilton sailed to the area aboard the ship "Adventure." He named the island after himself, calling it "Hilton's Head" after observing the distinctive shape of the island's headland.

Despite Hilton's discovery, permanent European settlement on the island wouldn't begin until the early 18th century. In the early 1700s, English colonists began to establish plantations on the island, primarily for the cultivation of crops like indigo, rice, and Sea Island cotton. The plantation system relied heavily on the labor of enslaved Africans, who were brought to the island through the transatlantic slave trade. The Gullah people, descendants of these enslaved Africans, continue to have a significant cultural impact on the island today.

During the Civil War, Hilton Head Island played a crucial role as a Union base due to its strategic location along the Atlantic coast. Union forces occupied the island in 1861 after the Battle of Port Royal, and it served as an important supply depot for the duration of the war. Following the war, the island entered a period of Reconstruction, during which the freed slaves began to build new lives for themselves.
A reset in the 20th century
As we discussed above, in the early 20th century, Hilton Head Island remained relatively undeveloped, with a small population of Gullah people, farmers, and fishermen. (See: A few things I learned- Gullah culture and cuisine to taste.) However, the construction of the first bridge to the island in 1956 marked the beginning of a new era. While much of the island has been developed, it has retained a commitment to preserving its natural beauty and unique cultural heritage.
Let's start a mini-discovery with the island's many world-class golf courses. You'll quickly learn that "fore!" isn't just a warning – it's also the average number of balls you'll lose per hole. As you watch your ball soar into a lagoon (for the umpteenth time), just remember: you're in good company. After all, the local alligators and turtles (see more on them below in the 'A few things I learned' section) have seen it all. If you don't fancy golfing with reptiles, don't worry; there are plenty of other ways to get a good simple smile or belly laugh, depending on your frame of reference. 
Ready for a bike ride? Hilton Head's extensive bike paths weave their way through lush forests and past breathtaking coastal vistas, providing the perfect opportunity for some unintentional slapstick comedy. Keep your eyes peeled for the occasional "breakdancer" – the island's term for tourists who take an unexpected tumble off their bikes. If you happen to be one of them, remember that laughter is the best medicine (and maybe a band-aid, too).

Catch the Breeze, for free all summer
The Breeze trolleys serving Hilton Head Island are fare-free for all passengers. The Breeze operates on a seasonal schedule, 7 days a week from 1 pm to 10 pm, and until 11 pm on Fridays and Saturdays. Trolleys arrive at each stop approximately every 30 minutes. In 2023, the trolley service will operate from April 1 to Labor Day.
Harbour Town
No visit to Hilton Head Island would be complete without a jaunt to Harbour Town, where the iconic red and white striped lighthouse stands tall, offering the perfect backdrop for your next selfie. While you're there, be sure to pop into the quirky boutiques, where you'll find beach-themed novelty items. And don't forget to grab a scoop of ice cream from a nearby parlor – watch out for those sneaky seagulls eyeing your treat with mischief in their eyes!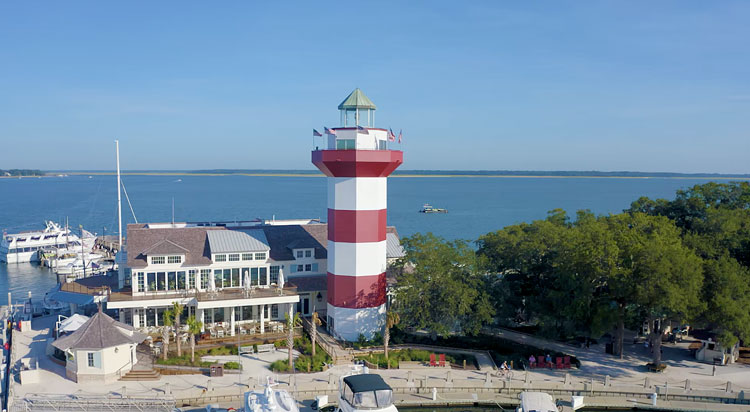 For those seeking a taste of the island's vibrant culture, there's no better way to do so than by docking at one of Hilton Head's lively marinas. Shelter Cove Harbour and Palmetto Bay Marina are both popular destinations for boaters, offering a variety of amenities and entertainment options. At these bustling hubs, you can refuel, restock, and even indulge in some retail therapy at the charming waterfront shops. Once you've worked up an appetite, you can choose from a wide array of restaurants that serve up scrumptious local fare – all while enjoying panoramic views of the ICW.
While several marinas on Hilton Head Island cater to a diverse clientele, Harbour Town Yacht Basin is often considered the most prestigious and is known to attract wealthy and famous visitors. Situated in the heart of the renowned Sea Pines Resort, the marina is located just steps away from the iconic Harbour Town Lighthouse and is surrounded by upscale amenities.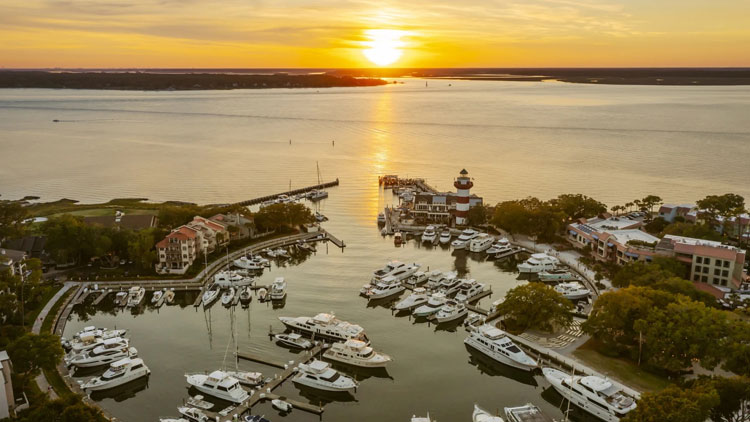 Harbour Town Yacht Basin offers world-class facilities, accommodating boats up to 150 feet in length, and provides top-notch services for boat owners and their guests. The marina is also home to a number of annual events, including the RBC Heritage golf tournament, which attracts celebrities, professional athletes, and other high-profile individuals.
While visiting the marina, guests can take advantage of its close proximity to various shops, restaurants, and recreational activities, including golf and tennis. It's important to note, however, that slips at Harbour Town Yacht Basin can fill up quickly, especially during popular events and peak season, so it's wise to make reservations well in advance.
Your daily dose of activities 
Hilton Head Island offers a wide variety of recreational activities for boaters and other visitors to enjoy. Boaters can take advantage of the island's numerous waterways by partaking in activities such as fishing, sailing, kayaking, paddle boarding, and jet skiing. The island also offers several guided boat tours, including dolphin-watching excursions and sunset cruises.
Hilton Head is famous for its beautiful beaches, which provide opportunities for sunbathing, swimming, beachcombing, and enjoying various beach sports.
The island is home to more than 20 world-class golf courses designed by renowned architects, making it a premier golf destination. Golfers of all skill levels can enjoy picturesque fairways and challenging greens.
With numerous tennis and pickleball courts throughout the island, visitors can engage in friendly matches or take lessons from professionals to improve their skills.
The island's natural beauty can be enjoyed through visits to the Coastal Discovery Museum, Pinckney Island National Wildlife Refuge, and Sea Pines Forest Preserve, where visitors can observe local flora and fauna, including alligators, birds, and other wildlife.
Hilton Head offers a range of shopping and dining experiences, from charming boutiques and local markets to fine-dining restaurants and casual eateries. Popular areas include Harbour Town, Shelter Cove, and Coligny Plaza.
The island is home to several art galleries, studios, and cultural events, such as the Hilton Head Island Art Festival and the Hilton Head Symphony Orchestra.
Visitors can indulge in relaxing spa treatments, attend yoga classes, or participate in fitness programs at various wellness centers and resorts across the island.
Make sure to check out the Cultural Trail brochure and the Interactive Cultural Trail Brochure to learn more about your options for your daily dose of activities.
After a day of exploring the ICW, find the perfect anchorage, and prepare to be mesmerized as the sun dips below the horizon, casting the sky in a kaleidoscope of colors. As the day comes to a close and the sky turns to twilight, you'll undoubtedly feel a sense of camaraderie with fellow boaters as you all share in the simple pleasure of being out on the water.
Embrace the excitement and tranquility of Hilton Head Island's Intracoastal Waterway as you embark on a boating adventure like no other. With endless opportunities for fun and exploration, it's no wonder that pleasure boaters consider Hilton Head Island a little slice of paradise.
Museums on the island, including for kids
Hilton Head Island is home to a few museums and cultural centers that provide insight into the island's history, culture, and natural environment. Some of these include:
Coastal Discovery Museum: This museum is dedicated to preserving the history and ecology of the Lowcountry region. Visitors can explore exhibits on the area's wildlife, cultural history, and natural environment. The museum also features beautiful grounds, including the historic Honey Horn Plantation, butterfly habitat, and marsh-side boardwalks.
Harbour Town Lighthouse Museum: Inside the iconic Harbour Town Lighthouse, visitors can explore a small museum showcasing the history of the lighthouse and the surrounding area. As you climb the lighthouse, you'll find exhibits on each level detailing various aspects of the island's past.
Gullah Museum of Hilton Head Island: This small museum is dedicated to preserving and promoting the Gullah culture, which is unique to the Lowcountry region of South Carolina and Georgia. The museum offers exhibits and educational programs to help visitors learn about the Gullah people's history, traditions, and contributions to the area.
The Sandbox, an interactive children's museum: This museum offers a fun, hands-on learning experience for children aged 8 and under. With interactive exhibits and play areas, children can explore and learn about various topics, including marine life, construction, and imaginative play.
Keeping children busy
Hilton Head Island offers numerous attractions and activities to keep children engaged during their visit. These attractions and activities offer a variety of ways to keep children entertained, ensuring a fun and memorable family vacation on Hilton Head Island.   
Beaches: The island's beautiful beaches, such as Coligny Beach Park and Driessen Beach Park, offer children the chance to swim, build sandcastles, and enjoy various beach activities.
Adventure Cove Family Fun Center: This entertainment complex features two 18-hole miniature golf courses and a large arcade, providing hours of fun for the entire family.
Pirates of Hilton Head: A family-friendly pirate cruise where children can dress up as pirates, participate in a treasure hunt, and engage in a water cannon battle.
Island Playground: An indoor play area designed for children aged 10 and under, featuring soft play structures, slides, and obstacle courses.
Lawton Stables: Located within the Sea Pines Resort, Lawton Stables offers horseback riding lessons, guided trail rides, and a small animal farm where children can interact with a variety of friendly animals.
Water sports and activities: Rent kayaks, paddleboards, or jet skis for a fun-filled day on the water, or sign up for a guided tour to explore the island's waterways.
Dolphin-watching tours: Join a family-friendly boat tour to spot Atlantic bottlenose dolphins in their natural habitat.
Bike rentals: Rent bikes for the whole family and explore the island's extensive network of bike paths, which connect to parks, beaches, and other attractions.
Seasonal events and festivals: Depending on the time of your visit, you may find family-friendly events such as the Hilton Head Island Art Festival, HarbourFest, or holiday-themed celebrations taking place on the island.
What if you have only one day to spend on the island?
If you have only one day in Hilton Head Island, you'll want to make the most of your time by experiencing some of the best attractions and activities the island has to offer. Here's a suggested itinerary to help you get the most out of your day:
Morning beach visit: Start your day by enjoying the beautiful beaches of Hilton Head Island. Coligny Beach Park and Driessen Beach Park are popular choices for their pristine sands and amenities. Take a leisurely walk, sunbathe, or swim to kick off your day.
Bike ride: Rent a bike and explore the island's extensive network of bike paths. Pedal through scenic routes, marshlands, and maritime forests, taking in the unique beauty of Hilton Head.
Lunch: Choose one of the island's popular eateries to refuel before continuing your day. Skull Creek Boathouse, Lowcountry Backyard, or Kenny B's French Quarter Café are great options that showcase local flavors.
Visit Harbour Town: Head over to Harbour Town in the Sea Pines Resort to explore the area's shops, restaurants, and attractions. Don't forget to climb the iconic Harbour Town Lighthouse for stunning views of the marina and surrounding areas.
Dolphin-watching tour: Embark on a dolphin-watching boat tour to spot Atlantic bottlenose dolphins in their natural habitat. These tours typically last 1-2 hours and provide an unforgettable experience.
Dinner: Conclude your day with a delicious meal at one of the island's many dining options. Choose a waterfront restaurant like Hudson's Seafood House on the Docks or Fishcamp on Broad Creek to enjoy a picturesque sunset while you dine.
This itinerary offers a mix of activities that showcase the best of Hilton Head Island. However, feel free to tailor it to your preferences and interests, ensuring you make the most of your one-day visit.
Get ready to let loose, laugh, and make memories on Hilton Head Island. We promise you'll leave with a boat full of unforgettable moments.
Well, that's it for now. Stay well. I hope to say hello to you if you spot my boat, Life's AOK, in one of the locations that I'm hoping to visit in 2023, that is, if whatever the latest version of the pandemic permits us.
I bid you Fair Winds and Following Seas.
---
Cover photo: The Westin Hilton Head Island Resort & Spa. Courtesy of Starwood Hotels & Resorts.
---
A few things I learned
Alligators
Alligators are native to the Lowcountry region of South Carolina, and Hilton Head Island is no exception. While alligators are a natural part of the island's ecosystem, visitors should indeed exercise caution and be aware of their presence, especially when near freshwater lagoons, marshes, and golf course ponds, where alligators are more likely to be found. Remember, they are not pets.
Here are some safety tips for you to keep in mind when encountering alligators on Hilton Head Island:
Keep a safe distance: Maintain at least 60 feet (about 20 meters) between you and an alligator. Never approach or try to feed an alligator, as this can be dangerous and is also illegal in South Carolina.
Do not feed alligators: Feeding alligators is not only illegal but also alters their natural behavior, making them more likely to approach humans, which can lead to dangerous situations.
Keep pets on a leash: Ensure that your pets are leashed and under control at all times when near bodies of water, as alligators may perceive them as potential prey.
Supervise children: Always keep an eye on children when they are near bodies of water that could potentially be home to alligators.
Be cautious during mating and nesting seasons: Alligators can be more aggressive and territorial during their mating season (typically April to June) and nesting season (June to August). Be extra cautious during these periods, especially near bodies of water.
Report aggressive alligators: If you encounter an alligator that appears to be aggressive or poses a threat, contact local authorities or Hilton Head Island's security services to report the situation.
Sea turtles of Hilton Head Island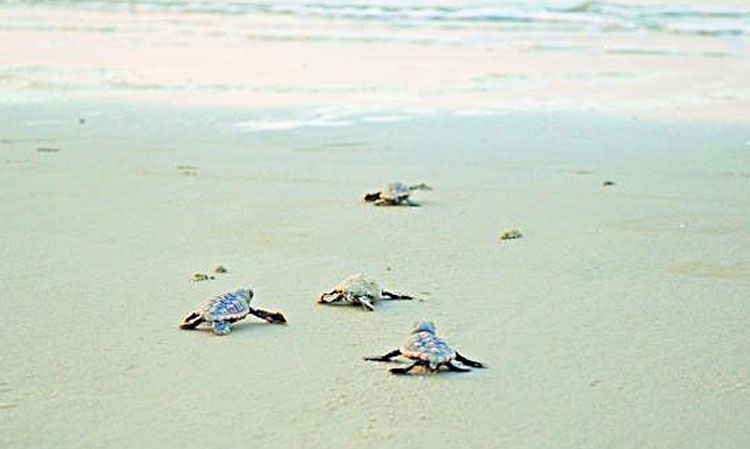 Every year between May and October, sea turtles visit the beaches of Hilton Head Island. In 2022, 423 nests were laid on their pristine beaches. Two volunteer organizations, Sea Turtle Patrol Hilton Head Island and Turtle Trackers, work hard every morning and evening during nesting season to protect sea turtle nests and ensure the hatchlings can make a safe journey from the beach to their ocean home. Learn how you can help preserve endangered turtles. Keeping turtles safe is a proud tradition on the island and you can join in on your next visit to Hilton Head during nesting season. Sea turtle hatchlings use the light of the moon to get to the ocean, so artificial lighting visible from the beaches can be confusing and make it impossible to get to their sea home.
That's why it's important to:
Turn off lights at night
Close window shades
Fill in holes on the beach
Do not disturb any nests you might find

Boat repair facilities and marine service centers
Hilton Head Island and the surrounding area offer several boat repair facilities and marine service centers capable of handling various maintenance and repair needs. Some of these facilities include:
Broad Creek Marina: Located on Hilton Head Island, Broad Creek Marina offers a range of services such as engine repairs, fiberglass work, and electrical system repairs. They also provide haul-out services for boats up to 50 feet.
Shelter Cove Marina: This marina, also on Hilton Head Island, provides access to marine service providers that can assist with boat repairs, maintenance, and detailing.
Palmetto Bay Marina: Another marina on Hilton Head Island, Palmetto Bay Marina offers a variety of marine services, including boat repairs, engine maintenance, and detailing.
Skull Creek Marina: Situated on the north end of Hilton Head Island, Skull Creek Marina provides access to marine services, including boat repairs and maintenance.
Jarvis Creek Boat Repair: Located just off the island in nearby Beaufort, Jarvis Creek Boat Repair offers comprehensive boat repair and maintenance services, including engine repairs, fiberglass work, and painting.
Port Royal Landing Marina: Also in Beaufort, Port Royal Landing Marina provides access to marine service providers that can handle a range of boat repair and maintenance needs.
It's essential to check with each facility regarding their specific services, availability, and capacity to handle your boat's requirements. In some cases, you may need to travel to nearby areas such as Beaufort, Savannah, or Charleston for more specialized services or larger boat repair facilities.

Medical facilities
It is important to know the location of the nearest medical facility when traveling and to have a plan in place for accessing emergency medical care if necessary. Hilton Head Island has medical facilities to handle various healthcare needs, including emergencies. The primary medical facility on the island is:

Hilton Head Regional Healthcare – Hilton Head Hospital: Located on the north end of the island, this hospital provides a range of medical services, including emergency care, surgical services, diagnostic imaging, and specialized care in areas such as cardiology and orthopedics. The hospital's emergency department is open 24/7 to handle urgent medical situations.
In addition to Hilton Head Hospital, there are urgent care centers on the island that can address non-life-threatening medical issues:
Main Street Medical: Offering walk-in services for minor injuries and illnesses, this urgent care facility is a convenient option for patients seeking prompt medical attention.
Doctors Care – Hilton Head: This urgent care center provides treatment for non-emergency medical conditions and is equipped to handle a range of healthcare needs, from minor injuries to diagnostic services.
For more specialized care or in cases of extremely serious emergencies, patients may be transported to larger hospitals in nearby cities such as Savannah, Georgia, or Charleston, South Carolina. These cities offer more extensive medical facilities and specialists to handle complex healthcare needs.
2 things I recommend
1- Hilton Head Island offers a variety of dining options, from casual eateries to upscale restaurants. Here are some popular choices for both everyday dining and more luxurious experiences:
Everyday popular dining options:
Lowcountry Backyard: Known for its delicious Southern cuisine, Lowcountry Backyard serves up classics like shrimp and grits, crab cakes, and fried green tomatoes in a casual, laid-back atmosphere.
Skull Creek Boathouse: A local favorite, Skull Creek Boathouse offers an extensive menu of seafood, sushi, and American fare, as well as stunning waterfront views.
Kenny B's French Quarter Café: This casual eatery features a mix of Cajun and Creole cuisine, with dishes like jambalaya, gumbo, and beignets that transport diners straight to New Orleans.
The Sea Shack: A hidden gem, the Sea Shack is known for its affordable prices and fresh, delicious seafood in a no-frills, relaxed setting.

Upscale dining options:

Charlie's L'Etoile Verte: A fine dining establishment, Charlie's L'Etoile Verte offers a sophisticated menu of French-inspired cuisine, with an emphasis on seafood and locally-sourced ingredients.
Michael Anthony's Cucina Italiana: This upscale Italian restaurant offers a refined dining experience, with classic Italian dishes made from high-quality, fresh ingredients.
The Sage Room: Located within a renovated beach cottage, the Sage Room offers an intimate and elegant dining experience, featuring innovative cuisine and an extensive wine list.
The Old Fort Pub: Situated on the grounds of Hilton Head Plantation, the Old Fort Pub serves up Lowcountry-inspired cuisine with an upscale twist, in a charming, historic setting.
As the popularity and pricing of these establishments may change over time, it's always a good idea to check recent reviews and make reservations in advance, especially during the peak season.

2 – While Hilton Head Island does not have many traditional 5-star hotels, there are several luxury resorts and accommodations located near marinas that provide top-notch services and amenities. Some of the highly-rated options include:
The Inn & Club at Harbour Town – The Sea Pines Resort: This luxury boutique hotel is located within the Sea Pines Resort, close to the prestigious Harbour Town Yacht Basin. The property offers elegantly appointed rooms, personalized service, and a range of amenities, including access to golf courses, tennis courts, and a beach club.
Marriott's Harbour Club: Situated within walking distance of Harbour Town Yacht Basin, this resort features spacious villa-style accommodations with fully-equipped kitchens and separate living areas. Guests can enjoy access to the resort's pool, fitness center, and various on-site dining options.
Sonesta Resort Hilton Head Island: While not directly adjacent to a marina, the Sonesta Resort is located near Shelter Cove Harbour & Marina. It offers upscale accommodations, multiple dining options, a full-service spa, and access to a private beach.
Disney's Hilton Head Island Resort: This family-friendly resort, inspired by the rustic elegance of the Carolina Lowcountry, is located near Shelter Cove Harbour & Marina. The property offers spacious rooms and villas, as well as a wide range of recreational facilities, including swimming pools, a fitness center, and a variety of children's activities. However, Disney's Hilton Head Island Resort will undergo refurbishment beginning in July 2023, with updates coming to areas across the Resort. While most Resort amenities will remain available, you will see and hear refurbishment work during daytime hours. 
Omni Hilton Head Oceanfront Resort: Situated near Palmetto Bay Marina, this oceanfront property provides luxurious accommodations with private balconies or patios. The resort features multiple dining venues, a full-service spa, and easy access to nearby golf courses and other recreational activities.
These luxury accommodations offer exceptional comfort and amenities for visitors to Hilton Head Island. It's essential to consider factors such as proximity to the marina, personal preferences, and budget when selecting the most suitable accommodation for your stay.
How easy?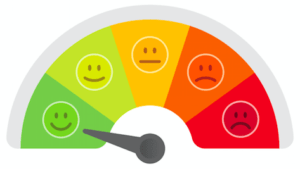 Marinas where you can stay overnight or longer
Hilton Head Island and its surrounding areas offer several marinas that provide excellent facilities and services for boaters. Some of these marinas include:
Shelter Cove Harbour & Marina: Situated in the heart of Hilton Head Island, Shelter Cove offers boaters a wide range of amenities and services. The marina is surrounded by shops, restaurants, and entertainment options, making it an attractive destination for visitors.
Palmetto Bay Marina: This marina is located on the south end of Hilton Head Island and offers a more laid-back atmosphere. Palmetto Bay Marina provides easy access to the Intracoastal Waterway and features several dining options, as well as water sport rentals and fishing charters.
South Beach Marina: Located within the Sea Pines Resort, South Beach Marina offers a picturesque setting and a family-friendly environment. The marina is adjacent to the South Beach Village, which features a variety of shops, restaurants, and recreational activities.
Skull Creek Marina: Nestled along Skull Creek, this marina provides a serene setting for boaters. It offers easy access to the Intracoastal Waterway and is conveniently located near the Skull Creek Boathouse restaurant, making it an ideal spot for a relaxing meal after a day on the water.
Hilton Head Harbour RV Resort & Marina: This marina caters to both boat owners and RV enthusiasts, providing a unique combination of services and amenities. Located on the north end of the island, it offers easy access to the Intracoastal Waterway and is close to several recreational activities, including golf courses and nature preserves.
Each marina has its own unique atmosphere and amenities, so it's essential to consider your preferences and needs when selecting a marina for your visit to Hilton Head Island.
---
*SBFL stands for Slow Boat to Florida.  Each numbered heading has two parts. The first is "Planned or Planning to Visit," and when we visit the planned location, a "Visited" label appears at the beginning, next to SBFL. 
Join us on our journey of discovery along the Atlantic Intracoastal Waterway (ICW)! We're taking you with us, through our blog "Trips of Discovery," as we follow in the footsteps of three National Geographic editors – Dorothea and Stuart E. Jones and Allan C. Fisher, Jr.  In this series, we'll show you the past, present and a glimpse into the future, as we compare and contrast the locations visited by the Joneses (1958 National Geographic article, "Slow Boat to Florida") and Fisher (1973 book, "America's Inland Waterway"), respectively. But don't worry, we'll add our own personal touch by sharing our observations and interviews with local residents during our visits.
In this series, we'll take you to some of the most historic and charming spots along the ICW and share our personal observations and experiences. Who knows, you might even be inspired to plan your own adventure!
My wife and I hope you'll be able to join us on the journey, either by boat or by car. Don't hesitate to reach out and share your own insights or experiences about the locations we visit. We'd love to hear from you and keep the conversation going! And if not, don't worry, you can still follow along as armchair travelers! So sit back, relax, and let's embark on our Trips of Discovery of the ICW.