Wrightsville Beach, NC – Elevate your beach experience and have every day be an exceptional day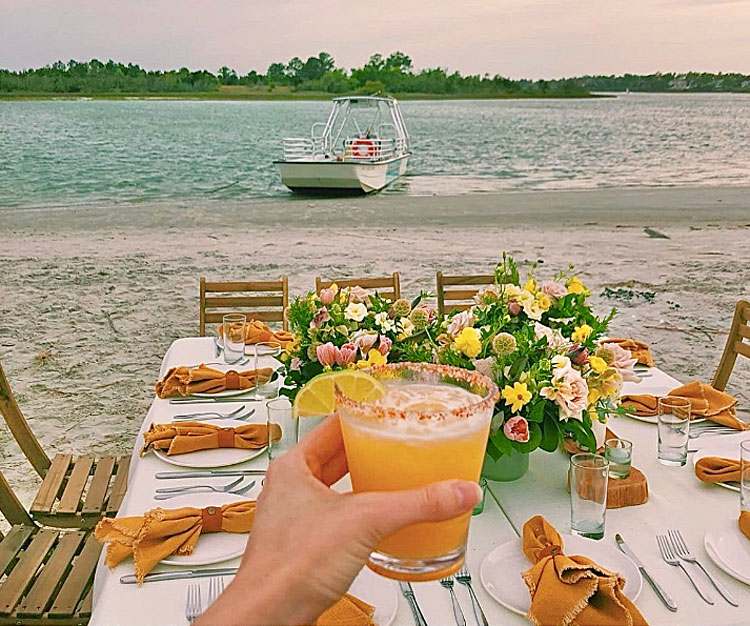 Estimated reading time: 9 minutes – SBFL 27* – PLANNING TO VISIT – Go ahead, start planning, and have that special escape you've dreamed of.
Imagine this, a table for two, exquisitely set up, waiting for you, along with champagne on a beach on, yes, an uninhabited island. Better yet, imagine that you can afford such a thing even if you're not a super-rich person. Okay, if this doesn't entice you, let me up the ante. Imagine that you find the ultimate glamping setup for a night to be remembered on the same island, having only you there. Enjoy an evening by the fire, and make s'mores as you relax to the sound of the ocean on your own private island.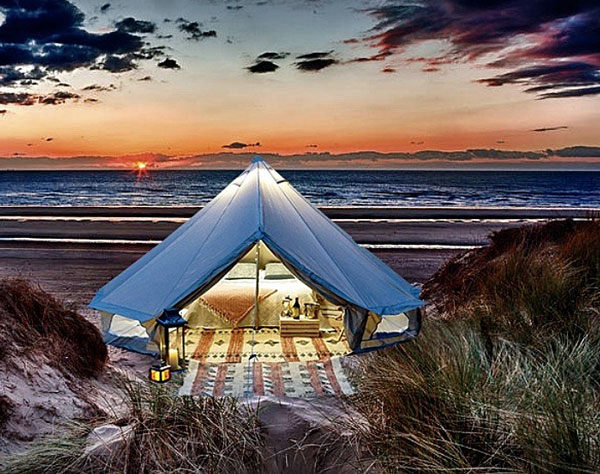 Frankly, if this type of fantastic experience is your cup of tea, you do not need to go out of your way to exotic locations, spend hours getting there, have jet lag, and dish out boatloads of money (pun intended). It's all here on the east coast of the U.S., in Wrightsville Beach, North Carolina.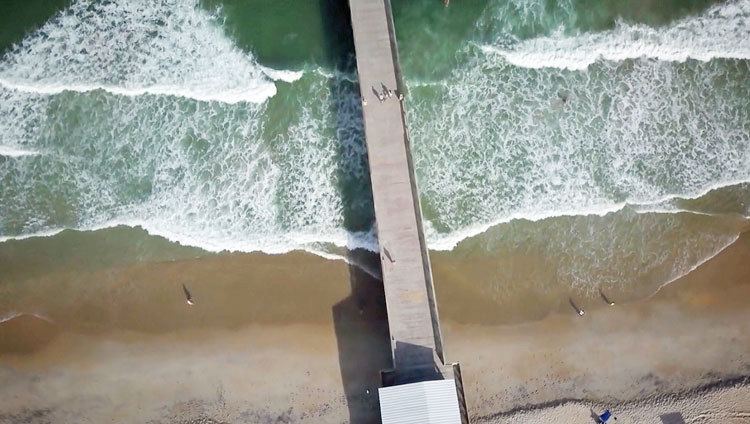 If you are on the Intracoastal Way (ICW) going down to Florida, just make sure to stop in Wrightsville Beach. Heck, even if you are not on the water, go by land or by air. Yes, air.  Wrightsville Beach is only 8.5 miles—or about 10 minutes—away from Wilmington, a major city that is home to Hollywood East. It has five movie production studios, along with a great history going back a few hundred years.

We are planning to do just that, stop at Wrightsville Beach, as well as visit Wilmington as part of our Slow Boat to Florida (SBFL*) journey on the ICW with our power boat, Life's AOK.
Before we reached Wrightsville Beach, we talked about stopping in Morehead City and its neighboring town, Beaufort, North Carolina. The distance between those two towns and Wrightsville Beach on the ICW is about 80 nautical miles. If that's too long for a day's sailing for you, there is a good mid-point spot where you can stop over. It's Sneads Ferry, one of the largest fishing villages in North Carolina.  Every year, they have a shrimp festival to prove it. This year's festival took place in October.
We are still on a Slow Boat to Florida
As our avid readers know, we are planning a long journey from Maryland's Chesapeake Bay to Florida on the ICW. We call it our version of SBFL.*

We are tracking two ICW journeys profiled in National Geographic and are comparing then and now. It is based on observations made by Dorothea and Stuart E. Jones, in their 1958 National Geographic article titled "Slow Boat to Florida" and a 1973 book published by National Geographic titled America's Inland Waterway (ICW) by Allan C. Fisher, Jr. Naturally, we are finding many things have changed since the 1958 and 1973 journeys of the authors.
The remnants of the region's deep history, some going back to the 1600s, is still there. Once we start searching and reaching out, we are finding that people with their memories and stories, some handed down through the generations, are still there. We are seeking out those people and talking to them. That is one of the most fun parts of our journey, along with cruising, of course.
Shoaling, shoaling everywhere
Shoaling in parts of the ICW is as natural as wind and waves, as well as strong currents, crosscurrents, and tides.  In those known areas, it's hard to rely on our paper maps and GPS units only. Marked shoals, just like a crawling crab, may have moved overnight or perhaps a few days before. All of us boaters need to plan and be ready for that potential and real danger. We need to proceed in shoaling areas very slowly, with great caution, and keep as much distance as possible from any boats in front of us, just in case.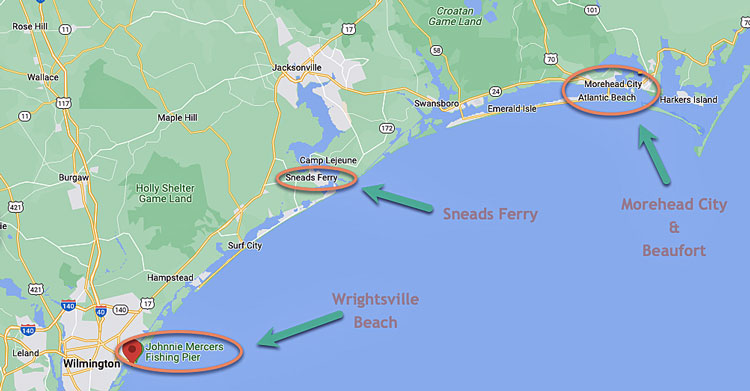 One of the funniest moments the Jones' experienced in their 1958 trip was one of those shoaling events. Leaving Morehead City and going down to Wrightsville Beach, they remembered one of the fishermen's warnings, after they grounded on a shoal. Recalling that event, they wrote, "From Morehead City we decided to make Wrightsville Beach, 80 miles away, in one day's sail. This meant getting underway by 5:15. At 6 we were at anchor in Bogue Sound, unable to proceed because of a pea-soup fog. After an hour's wait the fog lifted, and we moved again. But, as we moved, we carelessly wandered out of the channel; at 7:30 we were aground and ruefully recalling a Morehead City fisherman's words of caution: "Mind the channel markers in Bogue Sound. The water there is spread mighty thin!" Luckily, we were able to back off the shoal with our own power. As we moved south, steering cautiously, we were startled to see clam diggers standing knee-deep only a few feet away."
On the way to Wrightsville Beach, the Jones' gift came soon afterward. They saw their first bottlenose dolphins, or porpoises, in the Bogue Sound. They wrote, "First a single pair of arched backs with hooked dorsal fins appeared off our starboard bow. Then another pair breached, and another. From then on we were seldom without the company of these graceful seagoing merry-andrews. For an unforgettable half hour or so two porpoises held station a few feet ahead of Tradewinds [the Jones' sailboat] and sped along before us like leashed dogs. By crawling out on the bowsprit, we could look down on the animals and see the spiracles, or blowholes, in their heads, through which they breathed. Small orifices, like valves, opened with a sharp explosive hiss."
Wrightsville Beach
This seaside town on the ICW, not too far from Wilmington, was named one of the world's best surf towns by National Geographic and is the perfect place to practice all water sports. Here you can get a true feel for island life, a vibrant mixture of old and new, and experience the uncrowded shore and mild temperatures. 
Wrightsville Beach is on an island. Once, it was owned by the State of North Carolina, and it was known as New Hanover Banks. Transfer of the lands into private hands took place in three separate grants between 1791 and 1881. 
Sailing soon became popular, and frequent races led to the founding of the Carolina Yacht Club in April 1853. Its members built a clubhouse, the first structure on what was now being called Wrightsville Beach after the Wright family, who owned land on the nearby mainland. The Carolina Yacht Club held dozens of races every year and is now an integral part of the history of Wrightsville Beach, being recognized as the third oldest yacht club in the country. 
Lumina, a magical beach destination of olden days
Accessibility to the beach began to improve when Shell Road, a passage for horse-drawn carts topped by oyster shells and following the route of the current Wrightsville Avenue, was completed. Then came the incorporation of the village of 40-50 mostly seasonal residents in 1899.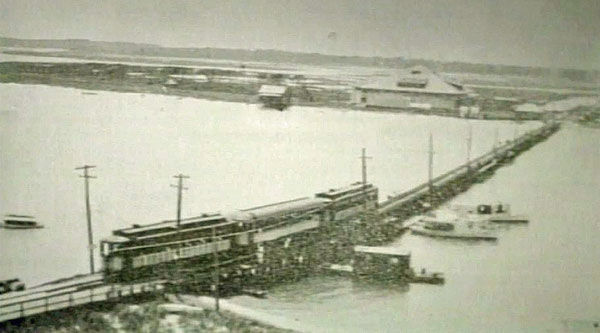 Just a few months later, Wilmington Seacoast Railroad Company built rail transportation with a trolley, known as the open-air Beach Car, from downtown Wilmington to the Hammocks, and then built a footbridge to the beach. The Hammocks, known today as Harbor Island, was a sizable land mass formed as a result of dredging spoils from the Intracoastal Waterway in the early 20th century. The Beach Car transported thousands of visitors to Wrightsville Beach every summer.
At the end of the Beach Car trolley line was the sprawling and magnificent Lumina Pavilion, built in 1905 and offering 12,500 square feet of games and activities – including a dance hall, bowling alley, snack shop, shooting gallery, and movie screen in the surf – on three levels. It was a magical place in magical times. Virtually every Big Band-era band played there.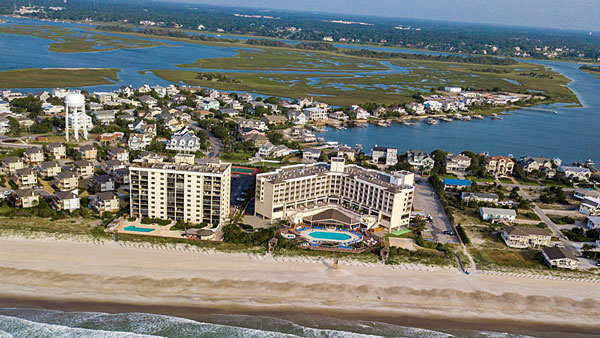 Today, only the name of Lumina remains. This year OTO Development has rebranded an oceanfront property in Wrightsville Beach along the coast as Lumina on Wrightsville Beach, a Holiday Inn Resort.
There is a lot to do in Wrightsville Beach and nearby Wilmington. I would recommend taking advantage of that and stopping over for a few days. You will not be disappointed.
Well, that's it for now. Stay well. I hope to say hello to you if you spot my boat, Life's AOK, in one of the locations that I'm hoping to visit in 2023, that is, if whatever the latest version of the pandemic permits us.
I bid you Fair Winds and Following Seas.

---
Cover photo: A private lunch on an uninhabited mini island near Wrightsville Beach, North Carolina, offered by Epic Excursions.
---
A few things I learned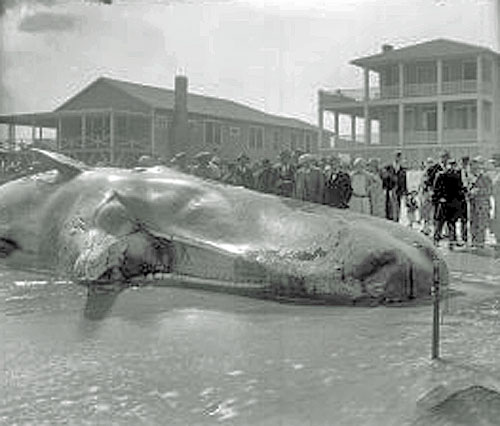 Going down south on the ICW
Bridge Chaos on the Way from Beaufort, North Carolina, to Wrightsville Beach, North Carolina
Notorious Shoaling on the Way from Wrightsville Beach, North Carolina, to South Carolina
Going up north on the ICW
A boat trip from Wrightsville Beach, NC to Beaufort, NC via the Intracoastal Waterway
2 things I recommend
While you are in Wrightsville Beach you must take advantage of Epic Excursions' offerings. Pack your bags and let them whisk you away on a cruise over to an uninhabited island or to some other unique experience that would be hard to find anywhere else.
Tempt your taste buds with fresh, creative cuisine in Wrightsville Beach. Enjoy one of the many local restaurant options, some including true farm-to-table restaurants. There are even some with dock-and-dine options for those who arrive by boat.
How easy?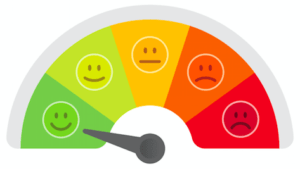 ---
*SBFL stands for Slow Boat to Florida. It is a series of my blog posts, which started with a posting that had the same title. Each numbered heading has two parts. The first is "Planned or Planning to Visit," and when we visit the planned location, a "Visited" label appears at the beginning, next to SBFL.
The essence of this series is not to seek new lands and exotic cultures. Rather, it is to cover our journey of discovery (hence the title of our blog Trips Of Discovery) that has to do with seeing with a new eye the coastal locations of the Atlantic Intracoastal Waterway (ICW) where present-day America started to flourish.
The SBFL series represents part travel, part current, and historical anthropological highlights of selected locations and coastal life. We're comparing then and now, based on observations made by Dorothea and Stuart E. Jones, in their 1958 National Geographic article titled "Slow Boat to Florida" and a 1973 book published by National Geographic titled America's Inland Waterway (ICW) by Allan C. Fisher, Jr. We also take a brief look at the history of the locations that I am writing about. Finally, we bundle it up with our observations during our actual visits to the locations and our interviews with residents. Think of it as a modest time capsule of the past and present.
My wife and I hope that you, too, can visit the locations that we cover, whether with your boat or by car. However, if that is not in your bucket list to do, enjoy reading our plans and actual visits as armchair travelers anyway. Also, we would love to hear from you on any current or past insights about the locations that I am visiting. Drop me a note, will you?