The Tri-Villages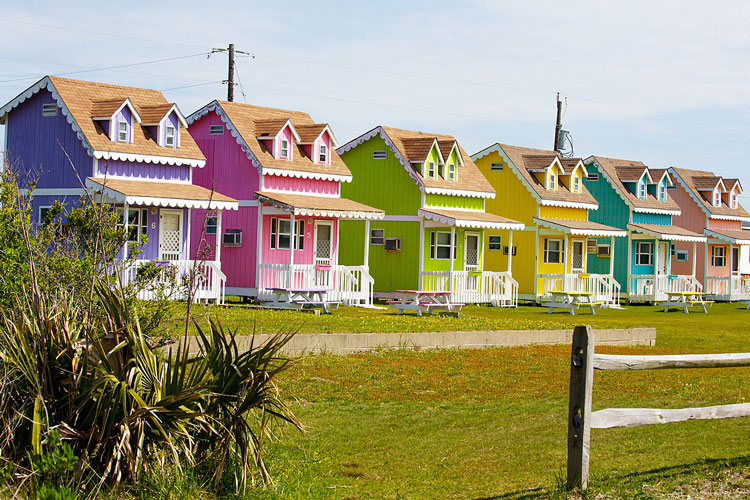 OBX, where coastal legends are born – Part 4 – Hatteras Island, Stop 2
… Estimated reading time: 9 minutes – SBFL 19* – PLANNING TO VISIT – Here we are in 2022. Happy New Year! As our avid readers know, we are not seeking new lands and exotic cultures. Through our boating journey of discovery, we are out there to see what was always just over the horizon with a new eye.
All of the islands of the Outer Banks (OBX) remind me how much we love the coastal lifestyle. Although we, too, are very much a part of such a lifestyle in general terms, the OBX is definitely different and a cut above. I would say from its shifting sands and shoals that may appear as well as disappear, sometimes in the same day at the same place, to its windy environment, coastal ecosystem, its habitat, and long history of legends, they are in a class by themselves.
Continuing down the OBX from North to South
Here in 2022, due to the Coronavirus Pandemic, we are still continuing to plan rather than doing our journey in our boat and being there. In this planning series, we have been exploring the Outer Banks of North Carolina.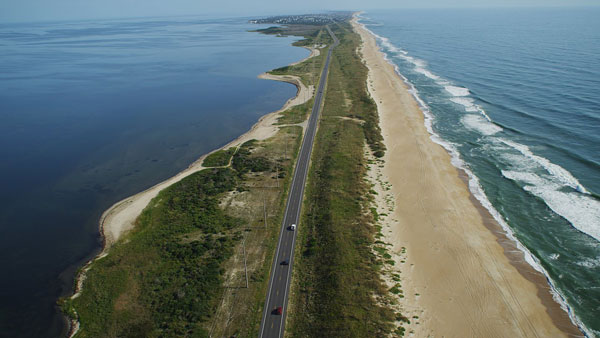 The East Coast, of course, faces the mighty Atlantic Ocean. The western coast of the islands is just like the Atlantic coast, shallow with shoals. Shoals are a cluster of shifting, underwater sandbars and newly-created sandbars that may or may not be exposed at low tide. Back in 2017, Cape Hatteras National Seashore Superintendent Dave Hallac first saw signs of an emerging new island, named "Shelly Island," during the winter. By the summer, the stretch of sand located off Cape Point was gaining notoriety nationwide as being the Outer Banks' newest island. To me that natural phenomenon makes OBX a perfect destination to visit with a car. As I mentioned in our previous posts, our plan is to leave our boat in Elizabeth City, North Carolina, and have a car excursion to OBX just like Dorothea and Stuart E. Jones did in their 1958* National Geographic article titled, "Slow Boat to Florida* which we are tracking in our very own Slow Boat to Florida* journey.
Legends everywhere
In OBX, we found legends everywhere to talk and write about. The more we dug into the legends of these 320-mile-long OBX barrier islands, the more we started to feel that every inch of it was full of legends and perhaps some myths as well. So much so that, finally, I decided to give up trying to separate fact from fiction while we were planning our visit to Hatteras Island.
Once you cross the Oregon Inlet via the Marc Basnight Bridge (Bonner Bridge Replacement), basically you leave the very well-developed, more populous Northern Island part of the OBX behind and enter into Hatteras Island, which has one of the cleanest beaches in the world.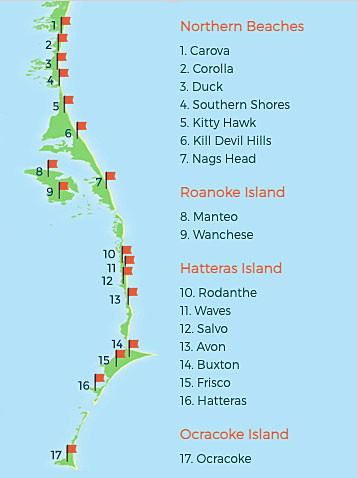 This area is a part of the Outer Banks referred to as Cape Hatteras National Seashore, a U.S. national seashore which is preserved from Bodie to Hatteras and Ocracoke Islands, stretching over 70 miles, and is managed by the National Park Service. I am told that it is not unusual to catch a glimpse of rough seas and surfers along the open Atlantic shoreline on the eastern side of the island. There you will quickly feel that you have entered into where the pure Outer Banks living is. When someone refers to Hatteras, some may think that Hatteras and Hatteras Island are the same. In reality, Hatteras Island is made of 7 villages. Going down south on Route 12, the main road of OBX, you will cross Rodanthe, Waves, Salvo, Avon, Buxton, Frisco, and finally at the end of the road you will reach Hatteras Village (35°13′10″N 75°41′25″W), population 460 as per the 2020 Census. All 7 villages are family-friendly.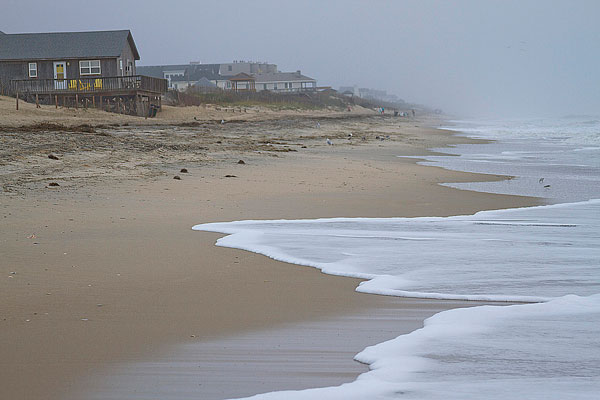 By the way, each of these villages are quaint towns without that typical fast food and chain stuff in them. However, rest assured that you will find an abundance of all kinds of delicious food, including great seafood. The land is untouched, and there are very strict conservation laws that keep the area, as well as the wildlife, maintained. In addition to a number of campgrounds, there are hundreds of vacation rentals in Hatteras Island, just like in the rest of the OBX. You can be sure that you will find something suitable for all your accommodation needs.
The Tri-Villages
On the way to Hatteras Village on the southernmost tip of the island, first, you will reach Rodanthe, one of a group of three villages. Then comes Waves and Salvo, which all are within a 4-mile stretch. They are referred to as the Tri-Villages. Just because they run into each other, at a first glance we outsiders may think it all is one village. However, the villages are distinct places, each with a unique identity, history, and personality. Then why do the three villages appear to be one? A local legend says that there was a time you could tell the three apart, but you needed the village limit signs to do so. The same legend claims that surfers or beach-loving vacationers wanted a souvenir to take home, so they stole the "Welcome to Waves" sign every time a new one went up. Finally, the powers-that-be decided to remove the signs permanently, hence leaving the impression of the villages running into each other. This area is the prime water access location for kite-boarders (Hello, brand-new class of 2024 Summer Olympic athletes!), windsurfers, surfers, and an avid ocean lover's paradise.
Rodanthe, location of Nicholas Sparks' book, Nights in Rodanthe
Rodanthe is the first of the Tri-Village stretch. Nights in Rodanthe is a well-known romantic novel by American writer Nicholas Sparks, published in September 2002. In the novel, Rodanthe is the setting of the fictional intense romance of a divorced mother and a divorced father and surgeon. On the north end of Rodanthe, the historic 19th Century Chicamacomico Lifesaving Station is located. The building may be the best-preserved and most complete site of its kind in the country. Established in 1874, the Chicamacomico Life Saving Station was a predecessor to the modern U.S. Coast Guard, of which it became a part in 1915. The station features fantastic architecture and special summer programs and events for the family. Nearby you will be able to find a fishing pier and a small cluster of convenience stores, tackle shops, and restaurants.
The Chicamacomico Lifesaving Station is located in a subdivision called Mirlo Beach; named after a British tanker that was sunk off the coast in WWI.
If you enjoy camping with an RV or tent, Camp Hatteras is a world-class campground that welcomes you with open arms. In Rodanthe, fourteen private campgrounds are centrally located about 30 minutes away from the northern and southern regions of the Outer Banks, on both the beach and the sound side of Hatteras Island.
Waves, home of kiteboarders
The second village of the Tri-Villages is Waves. It has long been viewed as a little sister to Rodanthe. There's no signage demarcating the two villages, though heavy woods and a marsh (now the Sound-side site of a campground) once separated the two villages. Locals say that as Waves was developing its own personality, it went by many names: South Chicamocomico, Little Kinnakeet, and eventually South Rodanthe. It wasn't until 1939 when Postmaster Anna E. Midgette (a family name you'll see often on Hatteras) renamed the post office and the town "Waves." Today, that's the only post office in the Tri-Villages, "North Rodanthe" is just plain old Rodanthe, and Waves keeps calling visitors to come to see what the name is all about.

It's safe to say watersports are a way of life in Waves.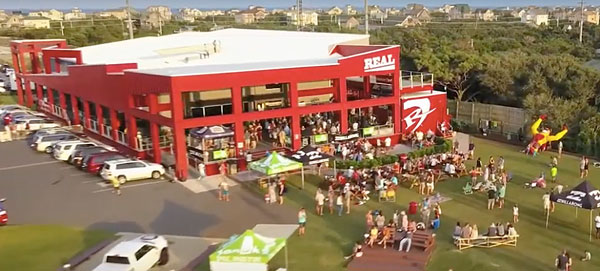 At REAL Watersports, a devoted group of surfers and kiteboarders have set up a watersports campus in the center of the village. Founded in 2001, REAL has become the number one kiteboarding and surfing shop and lesson center in the world. Given that kiteboarding is now a newly-added 2024 Olympic Water Sport, enhancing the sailing lineup, you may want to take due notice of this establishment, not least because tomorrow's Olympic champions may come out of there.
Next to the REAL Store and Gear Rental Shop, you can satisfy your hunger and mingle with water sports enthusiasts, pros, and locals at the Watermen's Bar & Grill. They are well known for their super fresh, best local tuna fish. By the way, they do over 100 live entertainment shows during the season, hosting some of the best musicians around. Within the same campus, Watermen's Retreat, a 5-star-quality waterfront resort, has 14 suites, 1 cottage, and 8 cabanas.
Salvo, home of the former tiniest U.S. Pot Office
Finally, before you get to Avon Village you will pass Salvo, the third village of the Tri-Villages. Initially called Clarks, according to legend, the name is said to have changed during the Civil War when a Union gunboat commander spied a cluster of buildings on Hatteras Island. Looking on maps, he and his men couldn't find a named settlement, but the commander said, "Give it a salvo anyway." They did and someone marked "Salvo" on the map and that's been the name ever since. Officially, it was named Salvo in 1901 when the post office – a tiny one – opened. At only 8'x10' or 12,' it was just big enough to move into the yard of whoever happened to be Postmaster at the time. From 1901 to its decommissioning in 1988, it held the title "Smallest Post Office" and was frequently mistaken by visitors for an information booth or a restroom.
In Salvo, a few tackle shops and small grocers can help you get outfitted for a day or two on the water or at your rental home or campsite, but a full-service grocery store is a short drive away – south to Avon or north of Whalebone Junction. If you are in Salvo, there are a number of great restaurants and cafes in the Tri-Village area.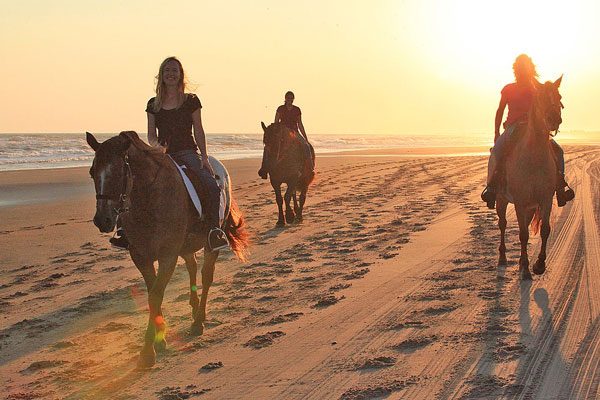 Immediately south of Salvo awaits an uninhabited 11.5-mile section of the Cape Hatteras National Seashore. The Salvo Day Use Area and other pull-offs and Off-Road Vehicle (ORV) ramps provide access to the Pamlico Sound and drive-on access to the beach. Most ocean-side ORV ramps have a small parking area and a boardwalk or path to the beach.
Well, that's it for now. Stay well. I hope to say hello to you if you spot my boat, Life's AOK, in one of the locations that I'm hoping to visit in 2022, that is, if whatever the latest version of Coronavirus permits us.
I bid you Fair Winds and Following Seas.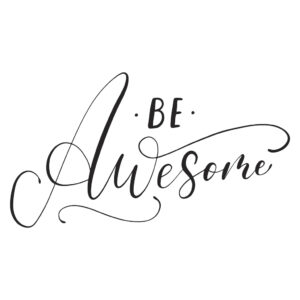 ---
Cover Photo: Multi-colored rental cabins on Cape Hatteras, Outer Banks, North Carolina
---
4 things I learned
You may want to take the Hatteras Tours bus that travels the famous Highway 12 from Duck to Ocracoke, visiting the top landmarks and most exciting attractions that the Outer Banks has to offer.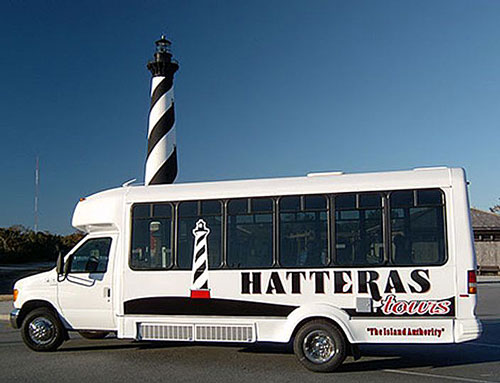 You can discover the unique maritime history, heritage, culture, and tradition of Hatteras & Ocracoke on North Carolina's Outer Banks with noted island author, historian, and storyteller, Danny Couch.
You'll need a permit to use a vehicle off-road at the seashore. You can drive on designated beaches only. However, before driving on designated off-road vehicle routes, they strongly recommend that tire pressure be lowered to at least 20 psi. The softer the sand, the lower the pressure needed. You will need to reinflate tires to normal pressure as soon as possible after returning to paved roads. Many local businesses have air pumps.

You can find alerts and conditions and beach access status for the Cape Hatteras National Seashore here.


2 things I recommend
I would say from its shifting sands and shoals that may appear as well as disappear, sometimes in the same day at the same place, its windy environment, coastal ecosystem, its habitat and long history of legends puts OBX in a class by itself. You should put visiting OBX in your bucket list for sure.

If you are in the Northern Beaches of the Outer Banks, North Carolina, I highly recommend going south to Hatteras Island. The end of Route 12 is where the pure Outer Banks living begins. As they say, "Grab your best playlist, hop in your car, roll the windows down, and get on your way to this magical place." That is, even if it is for a day, don't miss it.
How easy?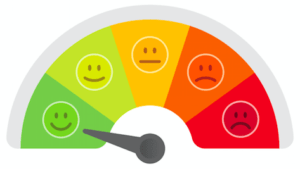 ---
*SBFL stands for Slow Boat to Florida. It is a series of my blog posts, which started with a posting that had the same title. Each numbered heading has two parts. The first is "Planned or Planning to visit," and when we visit the planned location, a "Visited" label appears at the beginning, next to SBFL. The essence of this series is not to seek new lands and exotic cultures. Rather, it is to cover our journey of discovery (hence the title of our blog Trips Of Discovery) that has to do with seeing with a new eye the coastal locations of the Atlantic Intracoastal Waterway (ICW) where present-day America started to flourish. The SBFL series represents part travel, part current and historical anthropological highlights of selected locations and coastal life. We're comparing then and now, based on observations made by Dorothea and Stuart E. Jones in their 1958 National Geographic article titled, "Slow Boat to Florida" and a 1973 book published by National Geographic, titled America's Inland Waterway (ICW) by Allan C. Fisher, Jr. We also take a brief look at the history of the locations that I am writing about. Finally, we bundle it up with our observations during our actual visits to the locations and our interviews with local residents. Think of it as a modest time capsule of past and present. My wife and I hope that you, too, can visit the locations that we cover, whether with your boat or by car. However, if that is not in your bucket list to do, enjoy reading our plans and actual visits as armchair travelers anyway. Also, we would love to hear from you on any current or past insights about the locations that I am visiting. Drop me a note, will you?