5 ways to love your woman captain at the helm – Part 3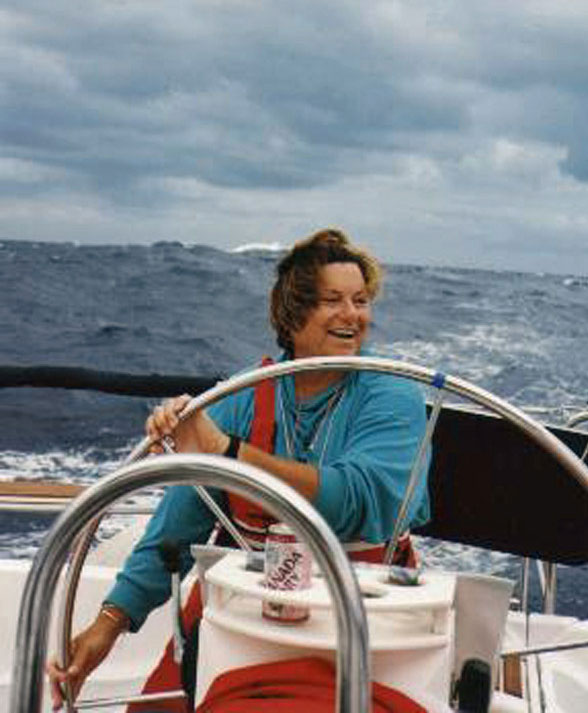 Estimated reading time, 14 minutes – Have you heard of Anne Bonny? How about Mary Read? What about Mary Ann DeGraw? If your answer is "no," let me introduce them to you. These are the names of three woman captains at the helm having full control. Mary Read was an English woman who led a normal life until her husband died. Then, forsaking everything to fill the void in her heart, she took to the sea. Anne Bonny was a wild, reckless, fascinating woman who was never able to deny her passions. She did whatever she pleased and took whatever she wanted.
Then comes Mary Ann DeGraw. She is another woman captain, but much, much different—pleasant and the type of woman captain that everyone, man or woman, would love to have in their boat, just like our previous captains covered in Part 1 and Part 2 of this 3-part series. If you wonder about the other two women captains I just mentioned, well, you do not want them in your boat nor would you want to meet them, ever, any time. They were two famous pirate queens of the Carolinas who mostly operated in the Caribbean. Renowned for their ruthlessness, these two female pirates challenged the sailors' adage that a woman's presence on shipboard invites bad luck.
When I first saw Captain Mary Ann's email, I was reading a book about pirates of the Carolinas. The first thing that took my attention was the "Capt MAD" on the email's "from" field. I smiled and wondered what that was about. I knew she was a member of the Professional Captains Association and the word "MAD" did not make sense. I had to ask her about it. "Those are my initials, not my disposition," said Mary Ann. She added, "Many years ago I signed a note with my initials without giving a thought and my friend said she thought I was actually mad. Somehow the initials stuck and they are mine!"
If you have an interest, you can start boating at any age
Ladies, please take due notice of this very important point: if you have an interest, you can start boating at any age, really. Mary Ann started her boating career as an adult. Then, after obtaining her United States Coast Guard (USCG) 100-ton license, she spent 30 years teaching boating skills, much of it in the Mediterranean–Greece, Turkey, Italy, and Croatia. During the winters she worked the Islands, mostly in the Caribbean, but as far away as New Zealand. These international trips were learning experiences for both teacher and students. Exploring the world by water and sharing skills with students provided the greatest pleasure.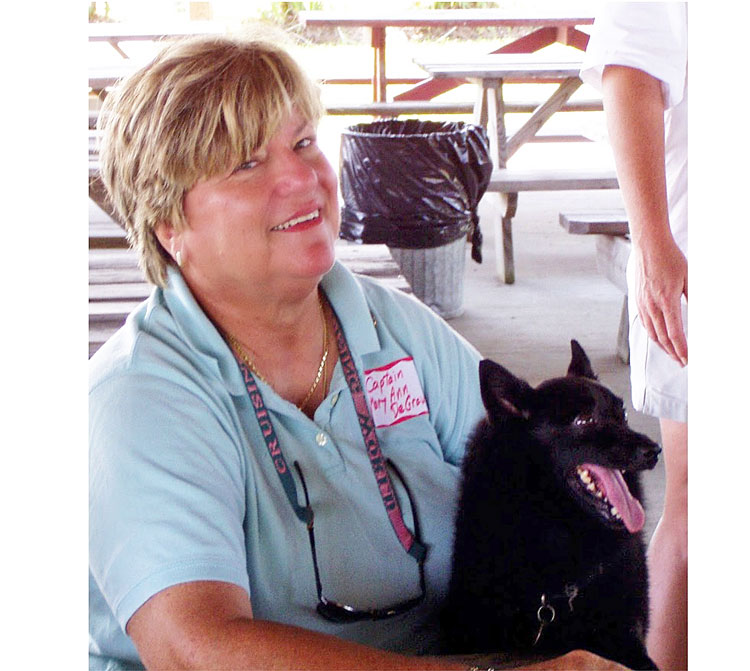 She had been married one year when she and her husband moved to Rhode Island. Neither of them had any experience sailing. However, her husband was a Naval officer. As officer of the day, her husband would have to stay on the aircraft carrier Intrepid while watching sailboats sail around the ship. This was the only spark her husband needed and Mary Ann was thrilled when they bought their first boat before their first home. It was a wooden double ender with an inboard engine and Egyptian Long Strand Cotton sails. She said, "It was a turtle to sail but we didn't know any better. It was like the blind leading the blind. We owned the boat for three years before we ventured on a 15-mile trip down Narragansett Bay to Newport."
There, their first learning adventure took place. Mary Ann said, "It was July 4th and not long after we cast off, the fog became so thick we couldn't see our hand in front of our face. We stumbled into water shallow enough to anchor. Then and there, I vowed I would take an active part in our cruising life. I signed up for the U.S. Coast Guard (USCG) Auxiliary public boating course. From there, I made navigation mine. Since we had a baby on board (with one exception we always brought our children with us), I plotted our course in detail in advance. I made sure we timed our day's sail to have the anchor down early afternoon. Always in the back of my mind was the "What If" scenario. We were not experienced nor equipped to be caught out after dark."
In her earlier boating days, she used an old-style steno pad to lay out their course. The top part was what she wanted to happen. For each day of their trip, she collected sunrise, sunset, moonrise and set, phase of the moon (full or new moon makes a big difference in the evening light, plus high tide and low tide for sailing and anchorage spots), and flood and ebb currents that could significantly affect the time underway. As all cruising boaters know, favorable currents could make the time underway shorter or, conversely, add a significant amount. On another page, she kept a "log" which reflected what really happened.
Tip number 1: Starting out with the same amount of boating experience as your male partner helps
Mary Ann said, "As I became experienced, I realized the value and need for keeping a log. In an emergency, a log can be used to inform help of our last fix, and our course and speed from there. Even more important for me, I used those logs to capture my days on the water, the locations, and information about the boats I was on. The United States Coast Guard requires registration numbers, tonnage, etc., when applying for a License."
She continued, "Gathering this information made me remember a few things that I feel are important and a big contribution to how I ended up where I am and how I got here. First and foremost, my husband needed me. Since we started out with the same amount of sailing experience, we were both learning. Couples who start out with one (usually the man) having much more experience than the other can be tricky. That person may not need the other to sail the boat, but there are other ways that make two people better than one no matter the sailing experience of either."
Tip number 2: Pick out at least one thing you can do to contribute to a sailing trip
Mary Ann, referring to woman boaters, said, "As a mate, it helps to pick out at least one thing you can do to contribute to a sailing trip. Hopefully, as you gain experience you will want to add to your skills. Participating will greatly increase not only your knowledge and safety, but your pleasure." Gentlemen, this is something that you can offer your women partners. Don't demand, pull them into your boating world gently.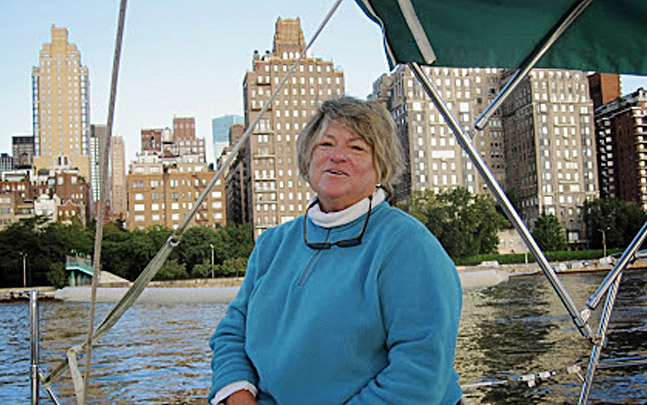 As an experienced teacher who taught many women how to sail, Mary Ann recommends signing up for a sailing course. She said, "I loved teaching. I figured I gave my students knowledge and skills that equated to adding years of experience. Watching the students, I could relive vicariously the joys of discovering something that has given me so much pleasure through the years and that is what I wanted to pass on to the women. Check out the United States Coast Guard Auxiliary and the United States Sail & Power Squadrons (now called America's Boating Club). Both organizations offer public boating courses and it is worth joining either (or both) for their other boating activities and advanced courses."
Emphasizing her previous point strongly, she said, "Again, pick out something you enjoy about sailing and make it your own. It can be as simple as the challenge of provisioning a trip, or as helpful as taking the helm when needed, in the end, be open to learning a new skill."
Tip number 3: Educating women about pleasure boating requires a different approach
As was pointed out in Part 1 and Part 2 of this story, Mary Ann also supported the fact that educating women about pleasure boating requires a different approach. She said, "Yes, by and large men are more competitive. Women are more supportive of each other in learning a new skill, as well as helping each other confront their fears, if any. I joke that women will study a situation before venturing out, whereas men head out the door and, after giving it a try, they return home to read about it. I think it may be a matter of control. If women learn the dynamics of moving a boat using sails, it helps them learn how to control the boat and their comfort."
Recalling her own initial learning experiences in boating, since neither her husband nor herself knew anything about sailing, Mary Ann explained, "It was the blind leading the blind. I realized I needed to learn what I could to contribute to the safety and enjoyment of our sailing. My husband, just like most men, tended to go out and do it, and then come back and maybe read about it. However, the women study it before they go out and do it, by and large."
I joke that women need to use the muscle between their ears to make up for less strength in their arms.

Captain Mary Ann DeGraw
She explained that most of her teaching with women was on the boat, rather than in a classroom, which she loved. She said, "Also when there are men and women in a course, the men often step into 'help' the women. In the early learning stage, women can benefit from sailing with other women unless they decide to take a couple's course. Although men may feel they know it all and therefore this would be a waste of time, with a good instructor the couple learns how to become a team. Men and women have different strengths. I joke that women need to use the muscle between their ears to make up for less strength in their arms."

Finally, she added, "Women are more verbal and benefit from planning ahead and making sure they understand their instructions. You only have to watch a couple of docking to see what works and what doesn't. Having a clear plan is important. I also find women are great at being at the helm when docking. Most men have a longer reach for handling dock lines and women tend to use finesse when maneuvering a boat under power. Again, docking under power is probably best taught by an experienced instructor and then practice, practice, practice on calm days to start. Learn what your boat can do when it is not affected by wind and current before trying to dock on a windy day."
Tip number 4 – Give women a chance
Spoiler alert, some of the points you will read here are being used during commercially-offered boating classes for women. Mary Ann was one of the top instructors of the Womanship programs. Although the company is no longer in existence, nowadays there are many that have taken its place. Mary Ann said, "I became aware of Womanship at the 1985 Annapolis Boat Show and started working for them in 1986. Womanship gave women an opportunity to 'try' sailing in a safe environment." She worked for them long enough to see repeat students of hers coming back for more. She said, "I loved hearing how the original course inspired them to enjoy sailing. More than one woman left with the desire to own their own boat."
She recalls her first trip sailing with an assorted group of women friends a few miles down the Pamlico River to Bath, North Carolina, which these days has grown in population to 259. Mary Ann, recalling the funny moments of the day, said, "One of the most important things to remember is to have fun, so when we docked at the town pier, Anne Crawford, our senior representative, emerged in a grass skirt, coconut bra, the goggles one used to wear when using a sunlamp, and a mop on her head that had been trimmed to look like a wig with bangs. She was prepared for the Islands. We raised more than a few eyebrows with our laughter if nothing else."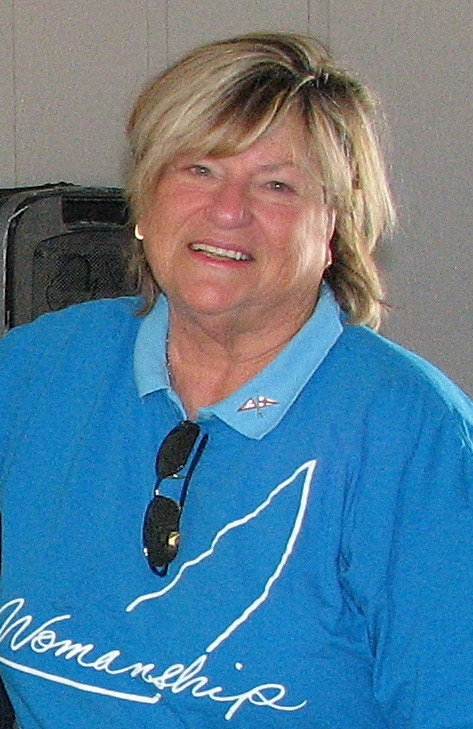 So, what is a typical approach to teaching women on the boat, I asked. Mary Ann said, "Let me just quickly go through what happens. Basically, the women used to arrive—say they're doing a five-day trip or seven-day trip from wherever the boat is. It could be in San Diego. It could be down in the islands. It could be in New Zealand, wherever it is that they've signed up for a trip. Almost all of the courses are on chartered boats. Each time, on each trip, I taught on a different boat. For that, you have to really learn the basics, and that's what I try to teach them. I try to teach them some basic skills that they can take back. They usually arrive mid-morning and after an introduction pick their berth and stow their gear. After lunch, I go through a safety presentation. Some of the things the students need to know before departing are where the life jackets are stowed (easily reachable) and how to put them on if necessary, the location of fire extinguishers, how to operate the VHF (they can call for help), and how to operate the head. They do some really basic navigation. I want them to know where we are on the chart and then basically what to look for on the water."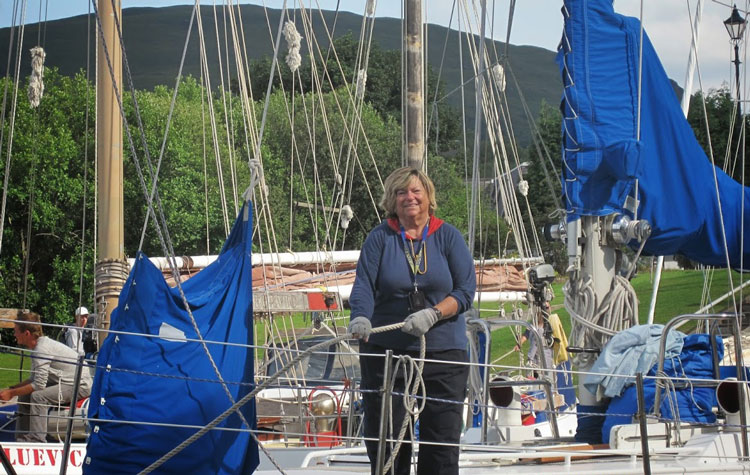 She said that she made a trip planning sheet that students fill out. It's not that the students know how to pick out a symbol on the chart or anything. After all, it's their first day and the trip's not going to be very long. However, the activity introduces the women to the concept of where they are going, to keep track of where they were sailing, and give them a plan." Continuing to explain her typical first day, Mary Ann said, "Then before we leave, I go over just the things that they need to get us out of the slip, basically that's it. If we're going to anchor for the night, I will go over and show them the anchor before we get to wherever it is we're going to spend the night, because I don't want to be out there trying to teach them. I want them to be familiar with it before they need it. The second time they hear it, it's much, much better."
Pointing out that basic sailing can be challenging, Mary Ann said, "It's a whole new language. Of course, you can sail without learning the language but it's like visiting Italy without learning at least a few basic words that will add to your pleasure" A lot of students, the women especially, they're coming from no experience at all and it can be overwhelming. I mean, the boat heels, it moves differently. They have to know different skills, but I try to make it really simple to start with. And then each day I add another layer and I add another layer. And if I have done my job, by the fifth day or the seventh day, whatever type of course they've taken, I can sit back and let them organize everything. By then they have a pattern for how we do things, they have a routine to follow."
Tip number 5: Give women the opportunity to be in charge
Mary Ann's teaching method is like having a touristic trip to Provence, France, to take a French cooking course, to travel and have fun while learning. In essence, it involves just-in-time teaching. She said, "They don't need to know five knots to leave the dock or come back in. Three things will suffice for 99% of everything they might have to deal with: knowing how to cleat a line down, tying a bowline knot and attaching a line with a clove hitch. Learn those three and they will be welcome as valuable crew on most any boat." However, she cautions people that a part of the experience of being in a foreign country is participating in the local culture. She recommends that students learn the basics, take a basic course in the U.S. first, and then go for it.

Mary Ann's first foreign teaching trip with the Womanship program was in the Mediterranean. Womanship arranged a trip out of the big Kalamaki-Alimos Marina for Athens, Greece. There were six boats, each with six women and an American captain. The company also hired one woman Greek captain who would go from boat to boat. Before she went to locations, Mary Ann thoroughly researched and studied charts of the area and cruising guides. She read everything she could about it before going over there. She also read about the country before she went over. She also quickly learned that on land, you don't want to eat along the waterfront where the boats are. She said, "You want to go up a couple of blocks behind the waterfront where the locals eat, where you get a feel for the country."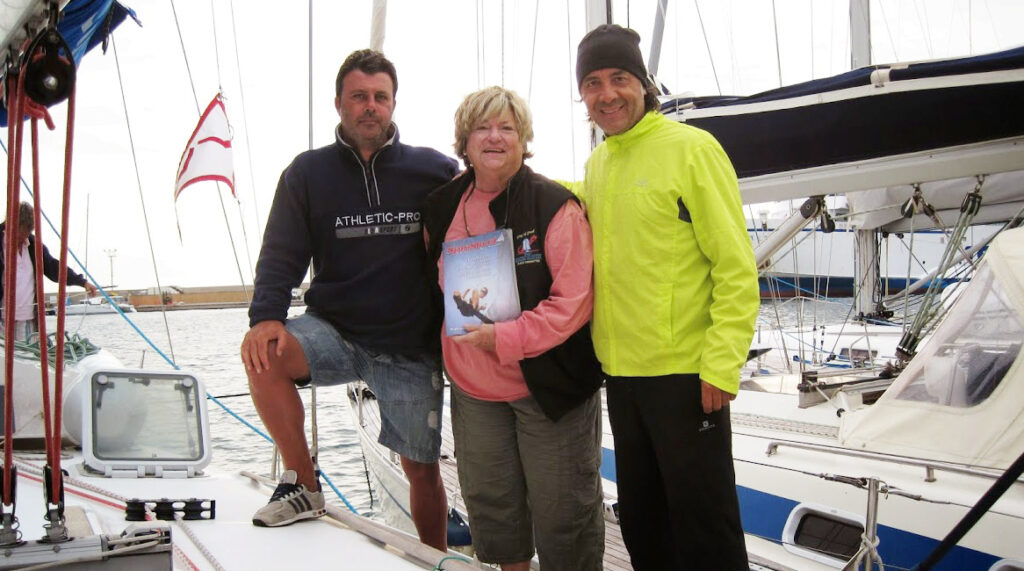 The Womanship program catered primarily to American students. Mary Ann's students took the course for all different reasons. Some of them came just because their husband had died and this was an adventure for them. They weren't particularly interested in sailing, but in meeting a wonderful group of people. Some women came because their husbands wanted to buy a boat and they didn't particularly, but wanted to learn about it. As she puts it, "Not everybody has to be a captain. You need a crew as well. If somebody wanted to go a step further, they had the ability to do that within the program." She said, "At the end of the trip, I would hear from them afterward that they loved it. You know, they had a boat that was partially theirs. They learned how to make certain things their own. I also had women who would get on the helm and one of them actually burst into tears. She realized she could steer the boat without having someone yell at her"
Mary Ann concluded sharing her experiences in teaching women sailing, saying, "My goal at the end of the trip is to give them the opportunity to be in charge."
Well, that is it for now. Stay well. I hope to say hello to you if you spot my boat, Life's AOK, in one of the locations that I'm hoping to visit in 2021, that is if Coronavirus permits us.
I bid you Fair Winds and Following Seas.

Photos are courtesy of Mary Ann DeGraw
---
Cover photo: Captain Mary Ann DeGraw off Cape Hatteras going North on a spring delivery from Key West to Annapolis. "I was never really impressed when I was out there. What I love about this picture is the reminder of the pure joy I felt."
---
3 things I learned
My outtakes, that are by themselves worth reading:
When I asked about learning, Mary Ann said, "After over 50 years of sailing, it is hard to single out just one serious anecdote. How serious? I have some that are not quite as serious as this, but I was dismasted in the Gulf of Mexico on delivery (with students) from Annapolis, Maryland, to Burnt Store Marina, Charlotte Harbor, Florida. This is an advanced sailing #999 event." (Dismasting, also spelled demasting, occurs to a sailing vessel when one or more of the masts responsible for hoisting the sails that propel the vessel breaks. Dismasting usually occurs as the result of high winds during a storm acting upon masts, sails, rigging, and spar.) We limped safe, but not sound, into the marina some 30 hours later. The take-away from this story is that when I got home, months later, I pulled out Nigel Calder's Repairs at Sea, but I did not remember reading it. I must have because somewhere in my subconscious I found I had followed his few paragraphs dealing with dismasting verbatim. In other words, you do not have to do something physically to learn about it."
Reflecting on one of the many Womanship classes that she taught American women students by traveling overseas, Mary Ann recalled, "A bit less daunting (maybe) happened in Greek waters. While preparing to pull into Hydra for the night, the engine wouldn't start. I like to arrive early enough to allow for the "what if" situation and here it was. We were not in a state of emergency and I firmly believe in handling non-emergency issues onboard. Since the harbor at Hydra is very small and crowded with no area for anchoring anywhere near enough to dinghy in, I checked the charts and cruising guide for an alternative. Ermioni was less than 5 miles across the Gulf of Hydra and, with the light winds, we were able to sail into the small area off the harbor and anchor under sail. From there I could dinghy in and make a call to the Charter Office, which was closed for the weekend, of course. We got a tow into the dock (from a British couple) and med mooring (having an anchor off the bow and dock lines off the port and starboard stern) without an engine was a serious challenge, but the girls handled it like pros. Our neighbor (I think he was Swiss) pulled out his spare parts and we jury-rigged a connection to take the place for the starter button that was not functioning. Charter boats do not have much in the way of spare parts. The companies do not want their charters "repairing" their boats.
I asked her about the most interesting location in the world where she gave sailing classes to her students. Mary Ann said, "That is hard to answer. Sailing in New Zealand and Turkey probably were my most exotic ones. However, my favorite was my two-month trip circumnavigating Scotland with Captain Travis. Priscilla had an experienced hand and I was not in charge. A true vacation. Yes, you can circumnavigate Scotland using the Caledonian Canal. And, I got my wish to visit the Scottish Islands, the Hebrides, Orkneys, and Shetlands. How exotic, if not interesting, does that sound?"
1 thing I recommend
Women who are interested in boating, but who don't have a boat should not let that be an obstacle. You do not need to own a boat, you can go out there and do it and enjoy your boating experience with any size and kind of vessel on water. Read my post, "You want to buy a boat, eh?"
How easy?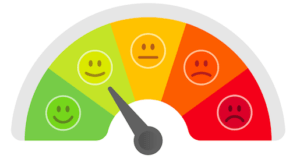 ---